Product Quality
We specialise in creating high-quality kitchen and bathroom fixtures that unite durability with style.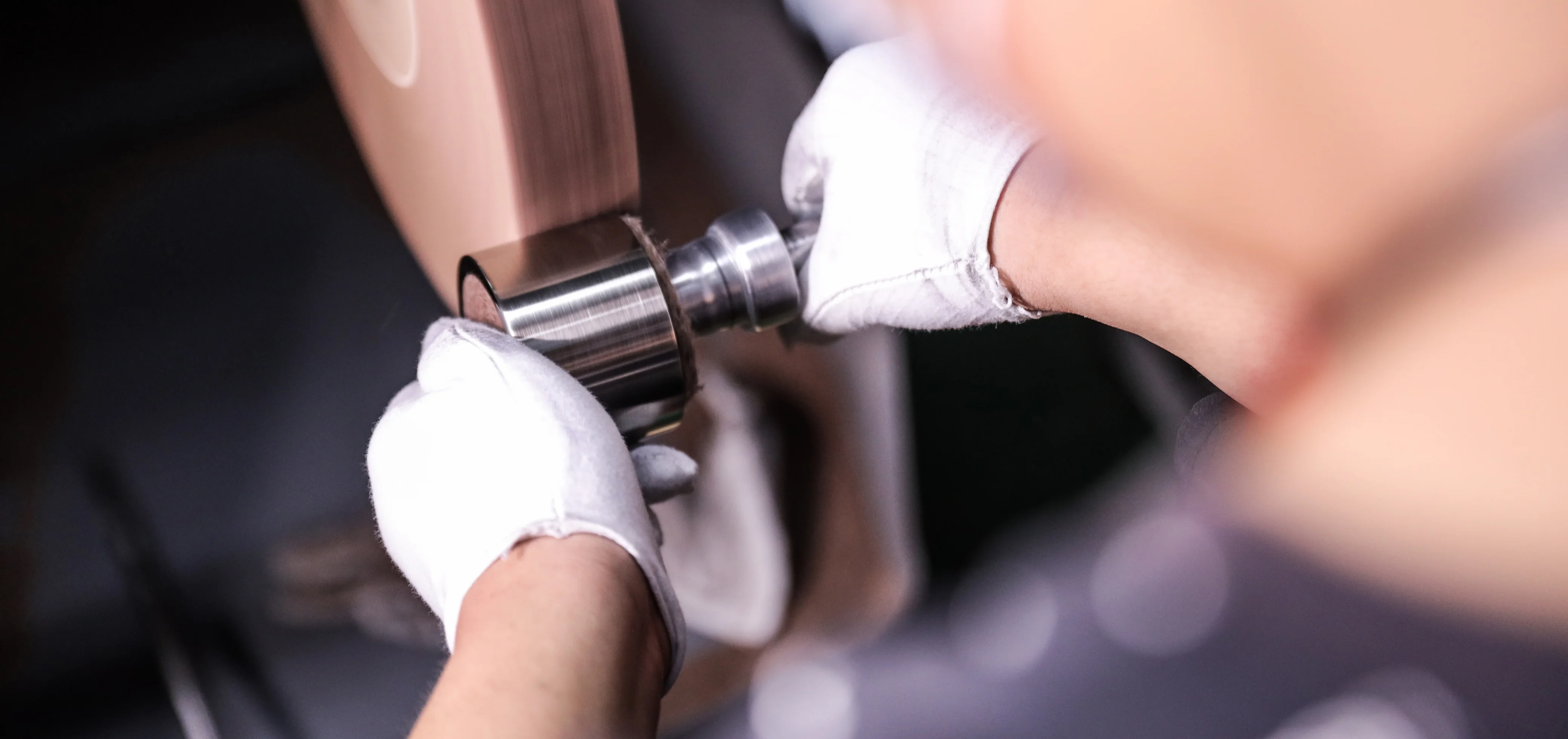 Our team thoughtfully designs and develops each item in-house in order to maintain an excellent standard of care and precision across our entire range.
By embracing elegance, simplicity, and functionality as the foundation of our designs, our products will add value to the everyday experience for many years to come, with our 25-year additional warranty as a testament to this promise.
Parts and Materials
We take great care in sourcing product components of the utmost quality from around the world. Our selection process involves thorough testing and analysis of performance data to ensure excellent functionality and proven longevity, safeguarding the mechanical integrity of all our products.
We adopt the same thorough approach when selecting our materials, including solid brass, stainless steel, solid surface, and acrylic.

Our strict commitment to sourcing high-quality materials is maintained through careful examination of each raw material's ingredient levels before construction begins.
Solid Brass
Solid brass is the most commonly used material across our entire range. Our solid brass is an alloy of 61% copper and 36% zinc and other elements, including phosphorus, aluminium, magnesium, and lead.

The Australian standard for lead levels cannot exceed 4.5%. The lead content within our solid brass products is significantly under the required limit.
Stainless Steel
Our stainless steel products contain no lead and are very resistant to corrosion, with high-yield strength. This means they can withstand high-stress conditions with a reduced chance of permanent damage. Our stainless steel items come in either two grades: 304 stainless steel or 316 stainless steel.
304 Stainless Steel
304 grade stainless steel is more durable than brass, making it a premium offering that is well-suited for commercial and indoor use. 304 stainless steel contains a high amount of nickel and chromium content. Other major alloying elements include manganese, silicon, carbon, and iron.
316 Stainless Steel
316 grade stainless steel is applied to our outdoor product range. This grade is commonly used for marine applications due to its higher resistance to acids, and chlorides, including salt. 316 has a similar composition to 304, with the notable addition of molybdenum, giving it superior resistance to corrosion and making it suitable for use in chloride environments.
Solid Surface
Our solid surface is an engineered material composed of aluminium trihydrate (ATH), acrylic, epoxy or polyester resins and pigments. This combination is remarkably strong and durable, giving a natural stone-like feel. Solid surface is mainly applied in the construction of our basins and baths.
Acrylic
Acrylic is a material we use across our range of baths. They are vacuum moulded products made of acrylic resin and reinforced with fibreglass. Additionally, our acrylic baths feature double walls to increase thermal insulation.
By dedicating time and resources to selecting our parts and materials, we can continue to create an extensive range of structurally reliable products that promote longevity.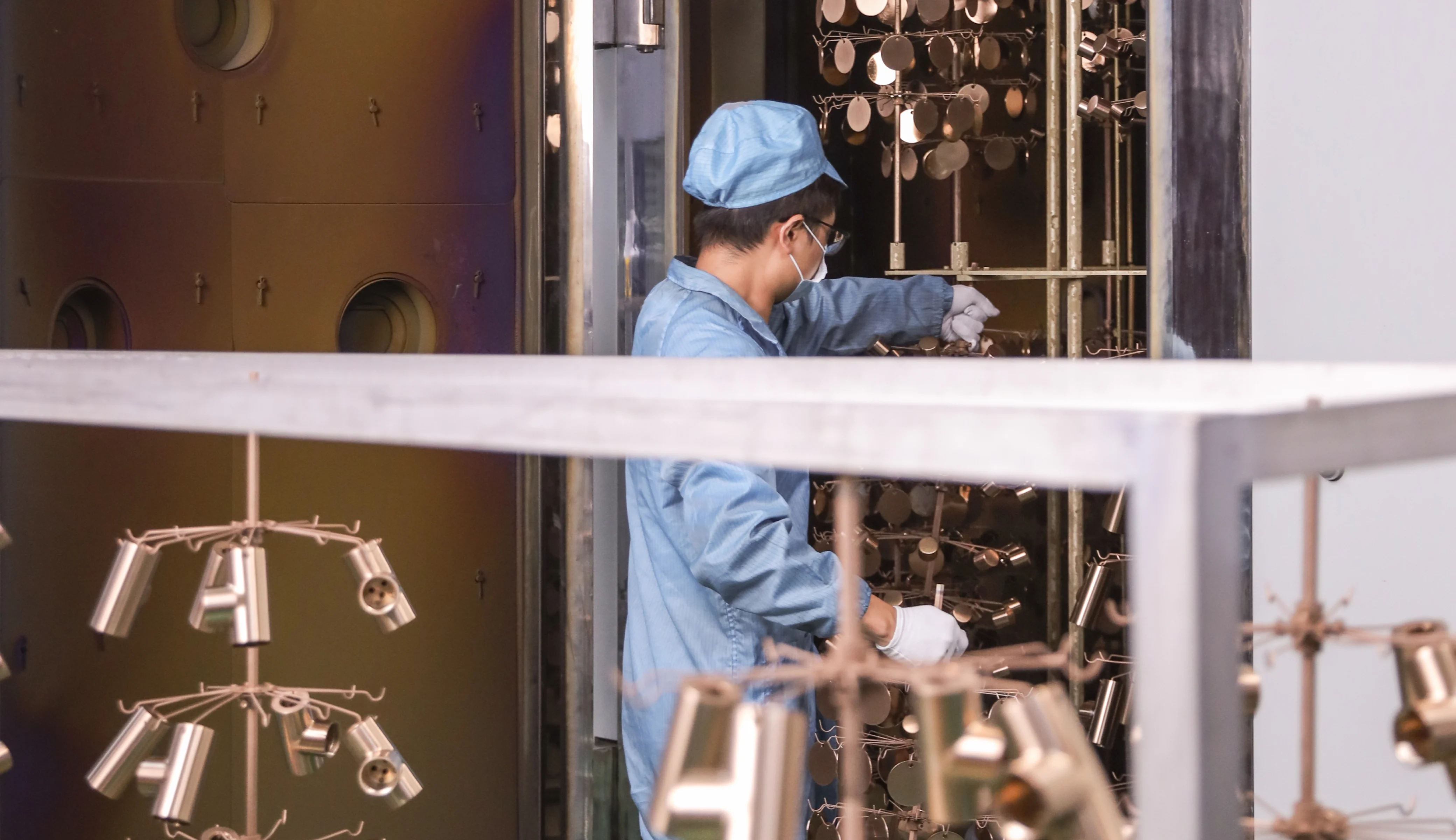 Colouring Process
After determining the most reliable and consistent colouring processes for our products, we have developed a signature range of finishes used across our entire collection. This allows us to offer our customers greater design possibilities for their projects, with products that maintain their brilliant finish for as long as possible.
There are three different processes we use to colour our products:
Physical Vapour Deposition (PVD)
With the highest durability, our PVD treated finishes include brushed brass, brushed copper, brushed nickel, brushed gunmetal, and select matte black products. PVD is a technique in which a solid material is placed in a vaporised vacuum environment and then deposited onto substrates as a pure material or alloy composition coating. The process transfers the vaporised atoms from the target to the substrate. The coating builds up and bonds to the surface, providing an extremely pure and high-performance coating.
Advanced Electroplating Application (AEA)
Our second most durable colouring process, AEA, is applied to our chrome and some of our matte black finishes. This is when a product is coated with a layer of chromium, nickel, or coloured alternative using the process of electrolysis. This aids the product's overall longevity, including its resistance to corrosion and general wear and tear.
PrimeShield Lacquer Technology (PSLT)
We treat all of our white products that are composed of solid brass or stainless steel with PSLT. This process sees a dry powder applied to a surface electrostatically and cured under elevated temperatures. Lacquer coating is easy to maintain — no special solvents or cleaners are required. Because these coatings are highly resistant to corrosion, there is less concern for rust and other cleaning-related damage.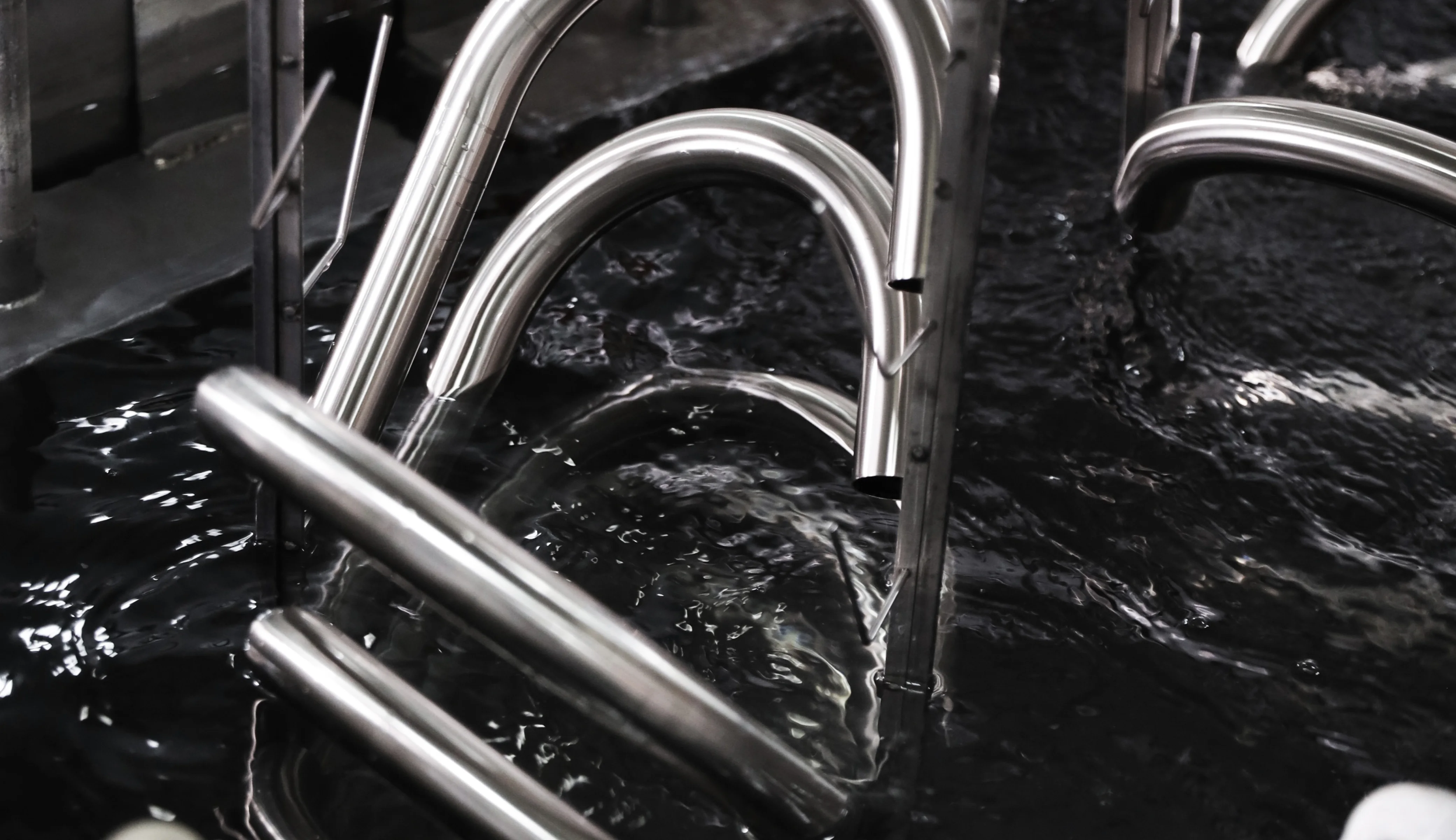 Assembly and Quality Control
While our components and materials are sourced from around the world, the final product is assembled in China. The reason for producing in China comes down to technology and its strategic position logistically. It allows us greater design flexibility and shorter lead times, ensuring that our customers receive the best possible value.
We have a team based in Guangzhou that consists of over 60 staff. They are responsible for managing our manufacturing process and performing advanced quality control procedures. Our testing laboratories analyse and ensure our innovative technologies comply with all water-saving and regulatory standards.

Each product undergoes a strict, tailored procedure that identifies manufacturing defects, encompassing both human inspection and machine testing. This can include:


1. Human inspection
2. Salt testing
3. Pressure testing
4. Abrasion testing
5. Colour spectral analysis
6. Weight-bearing test
7. Water-saving test
8. Longevity test
9. Material testing
Accreditations
Every ABI Interiors product meets strict Australian guidelines.
All applicable products are WaterMark certified under
AS/NZS 3718:2005 and the Water Efficiency Labelling Scheme (WELS).