Carmichael Build Embraces Coastal Home Design In Modern Duplex Basking In Sunlight | Behind the Design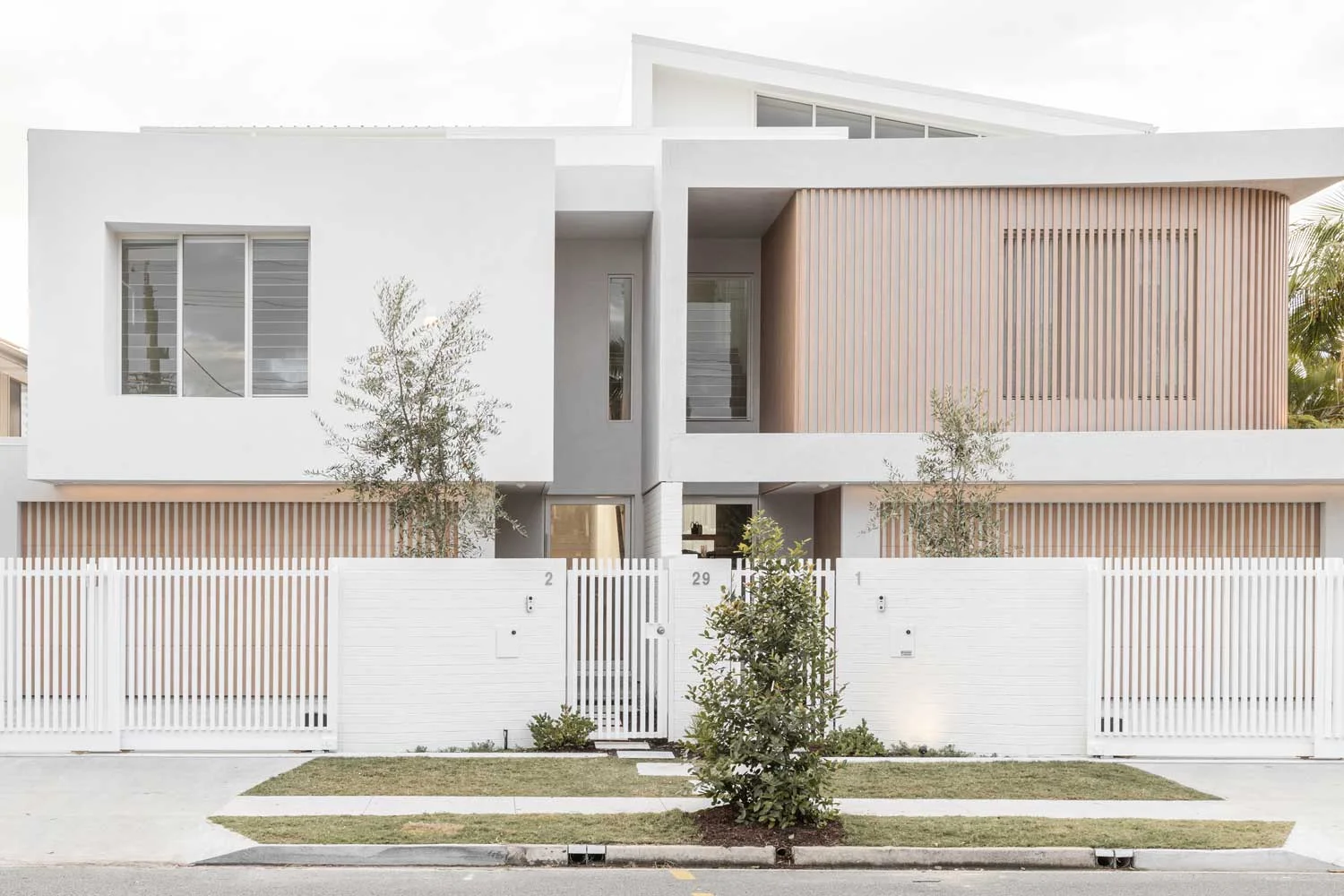 You may remember Sam and Nicquel Carmichael from their luxurious, monochromatic build, 'Onyx', featuring their distinctive Melbourne-inspired design. This time around, the team at Carmichael Build have swapped brutalist architecture for coastal home design, embracing light interiors for a modern duplex.
"For the past twelve months, we've been building the 'Bask' duplex pair in Palm Beach," says Nicquel. "As you can see, it's very different from Onyx. We love all the fresh colours and beachy vibe and coastal theme we've got going on here."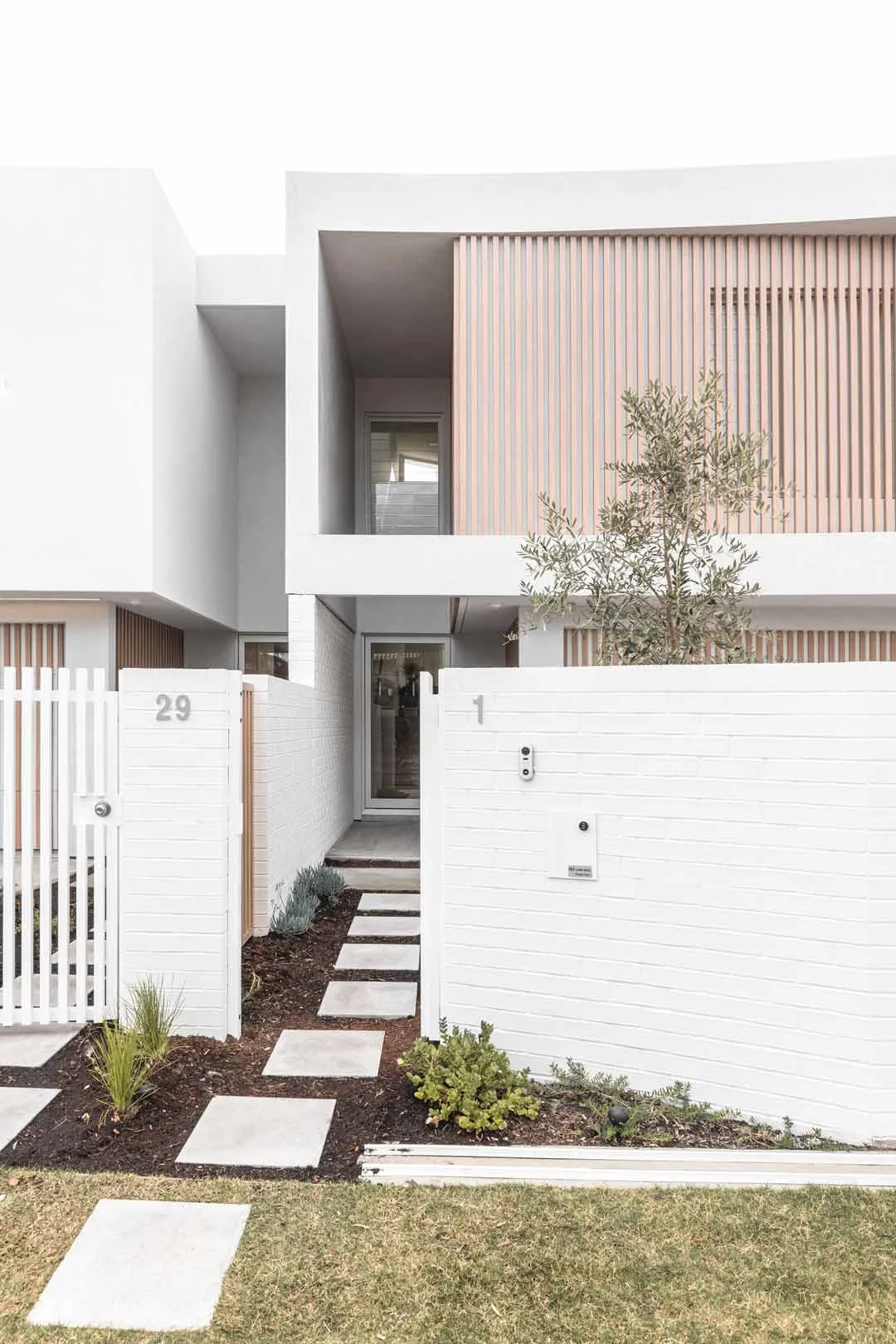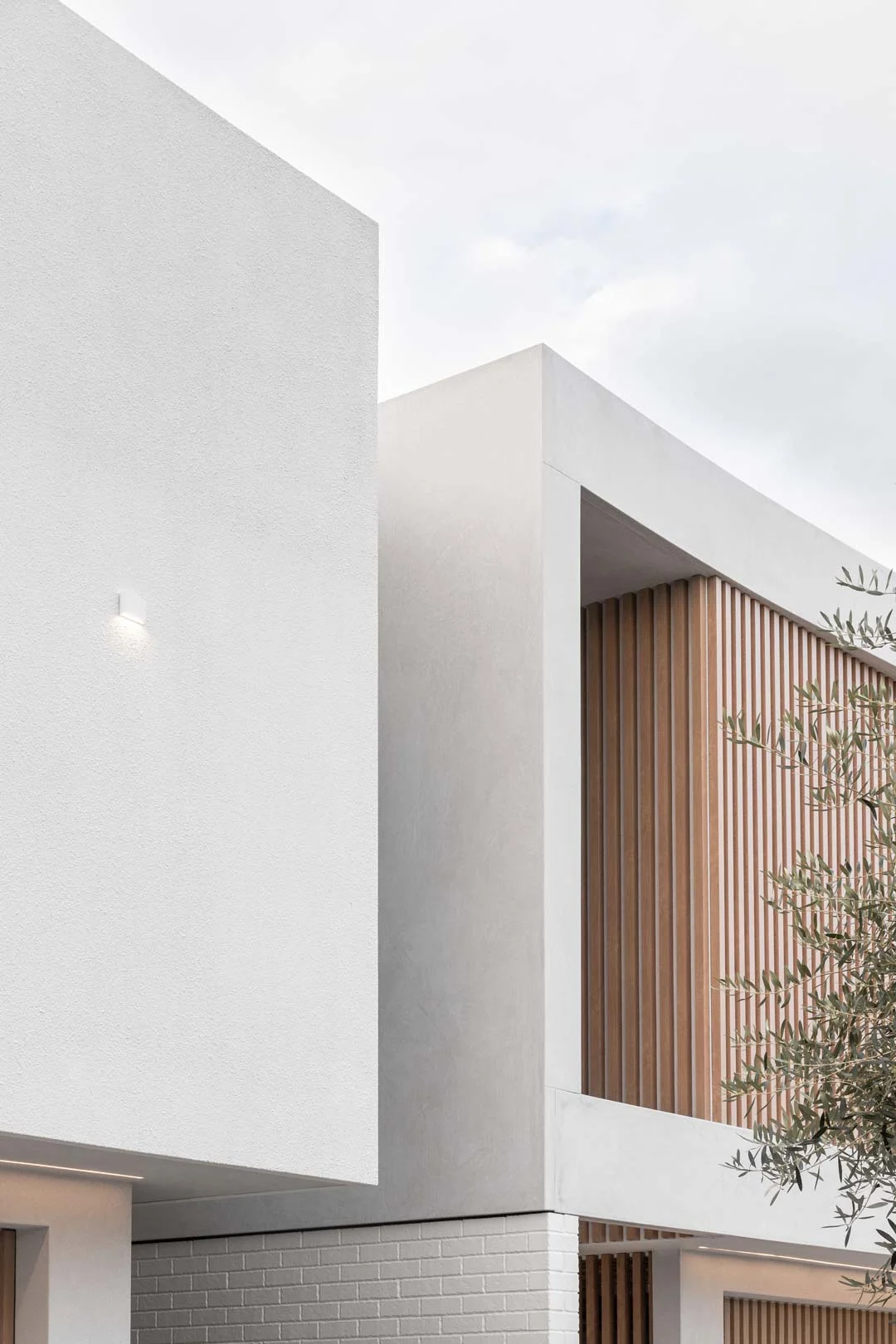 In stark contrast to Onyx, Bask presents radiant white walls, light interiors, and architectural features reminiscent of coastal landscapes. Despite the division of the property into two, both residences emanate a feeling of spaciousness, attributed to cantilevered staircases and an open-plan layout that expertly capitalises on available space.
"We're basically a stone's throw from Tallebudgera Creek, which is infamous on the Gold Coast for summer and basking in the sun — that's where the name Bask came from," explains Nicquel.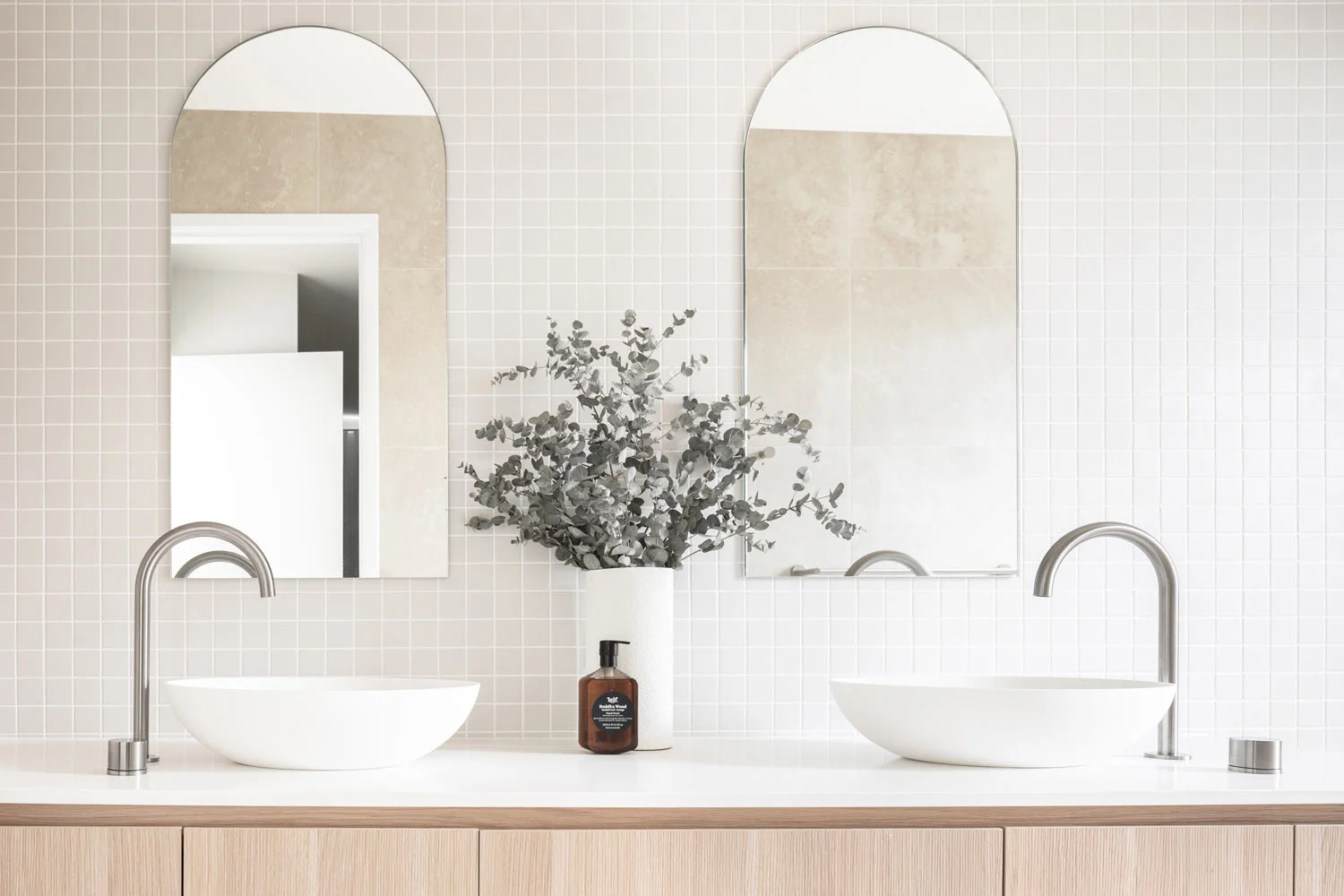 Embodying the home's name, skylight ceilings and various windows throughout drench the home in natural light, further augmenting the perception of a more expansive, stand-alone home. "We obviously wanted to make it feel as spacious as we can," says Sam.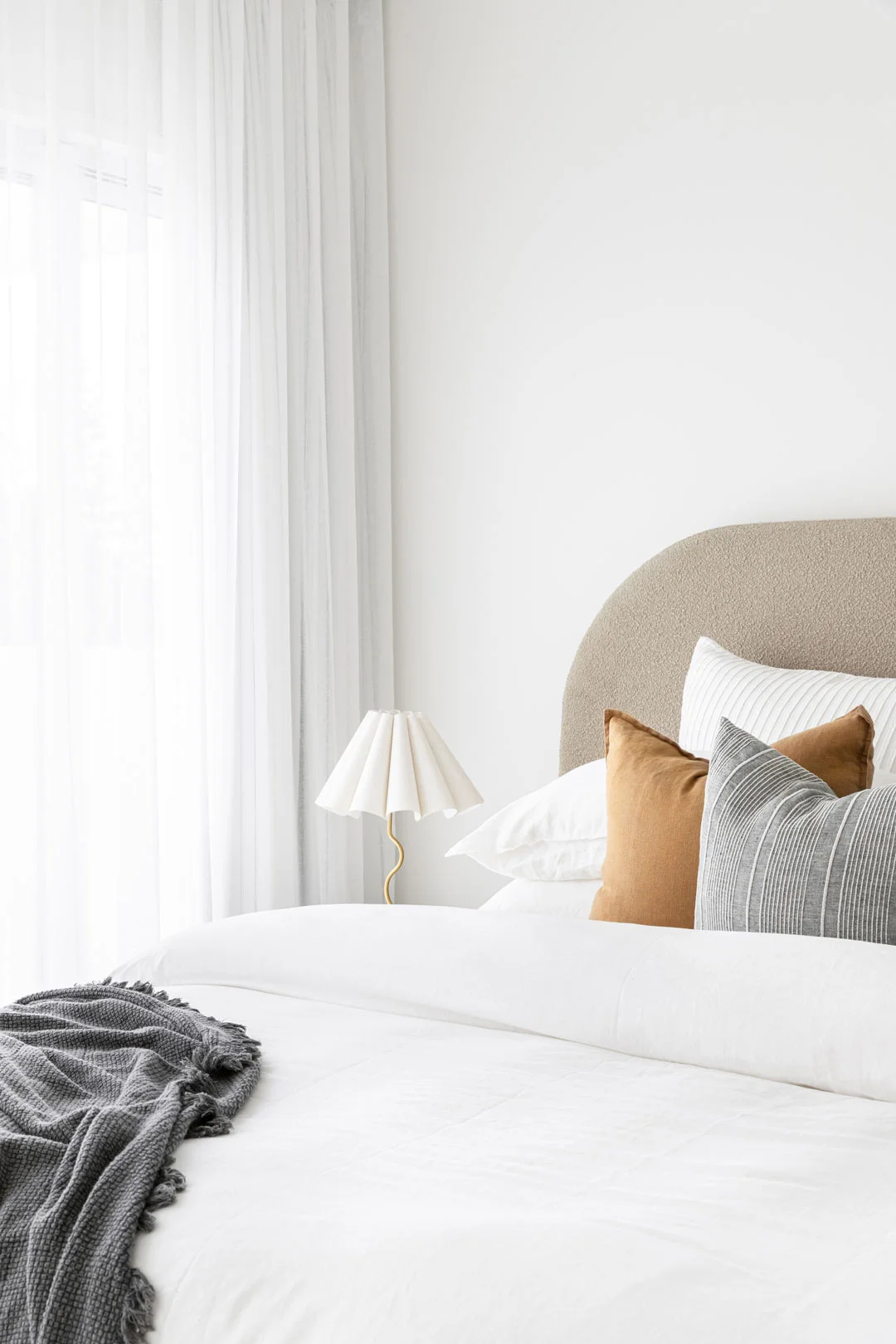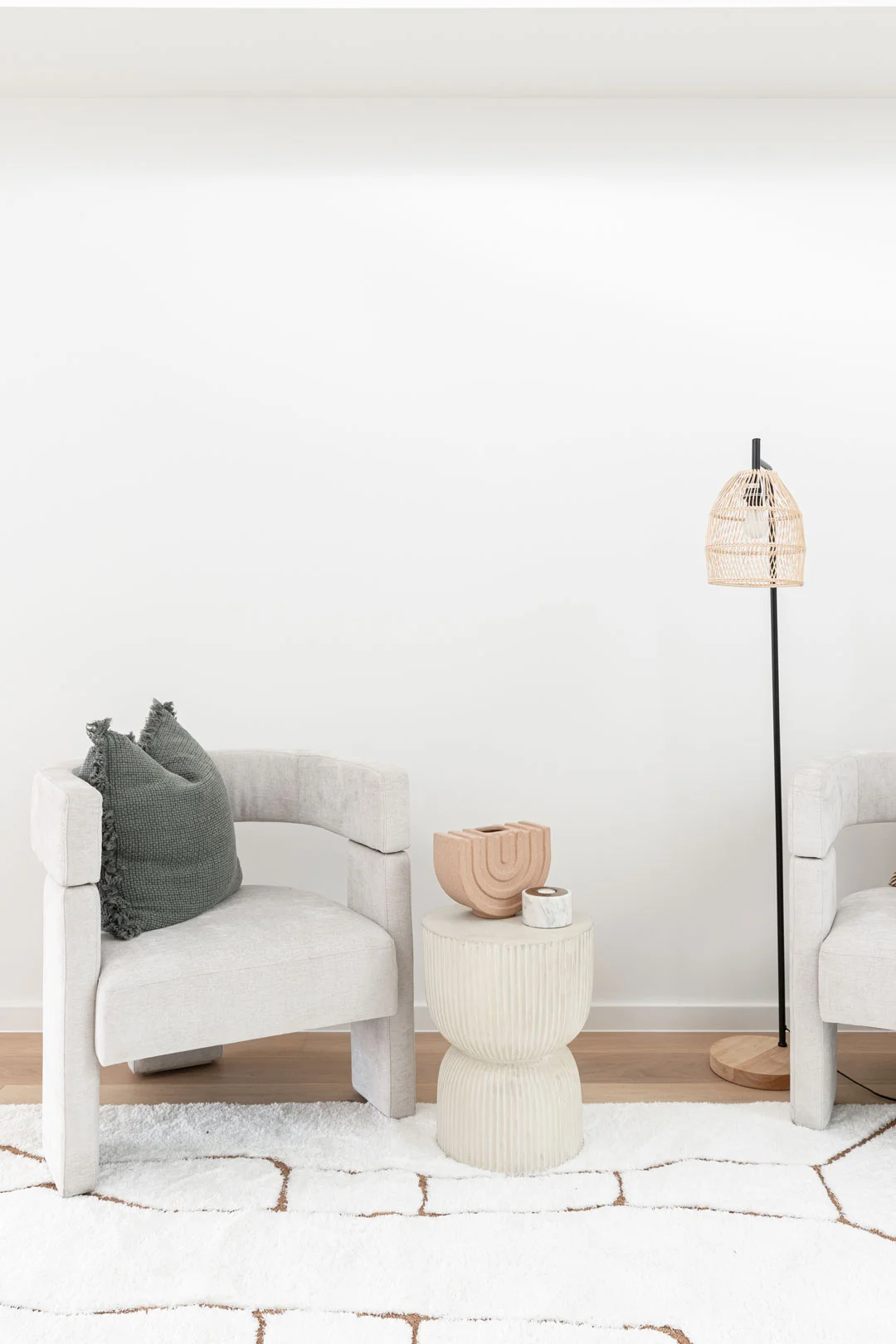 A sense of warmth and unity between the two levels is achieved through the use of light timber flooring and cabinetry reminiscent of sandy shores. Custom tiling throughout the home not only enhances the play of light but highlights architectural nuances, seen particularly on the tiled island bench's contours emulating the undulating forms of shoreline waves — a captivating counterpoint to the home's linear architectural style.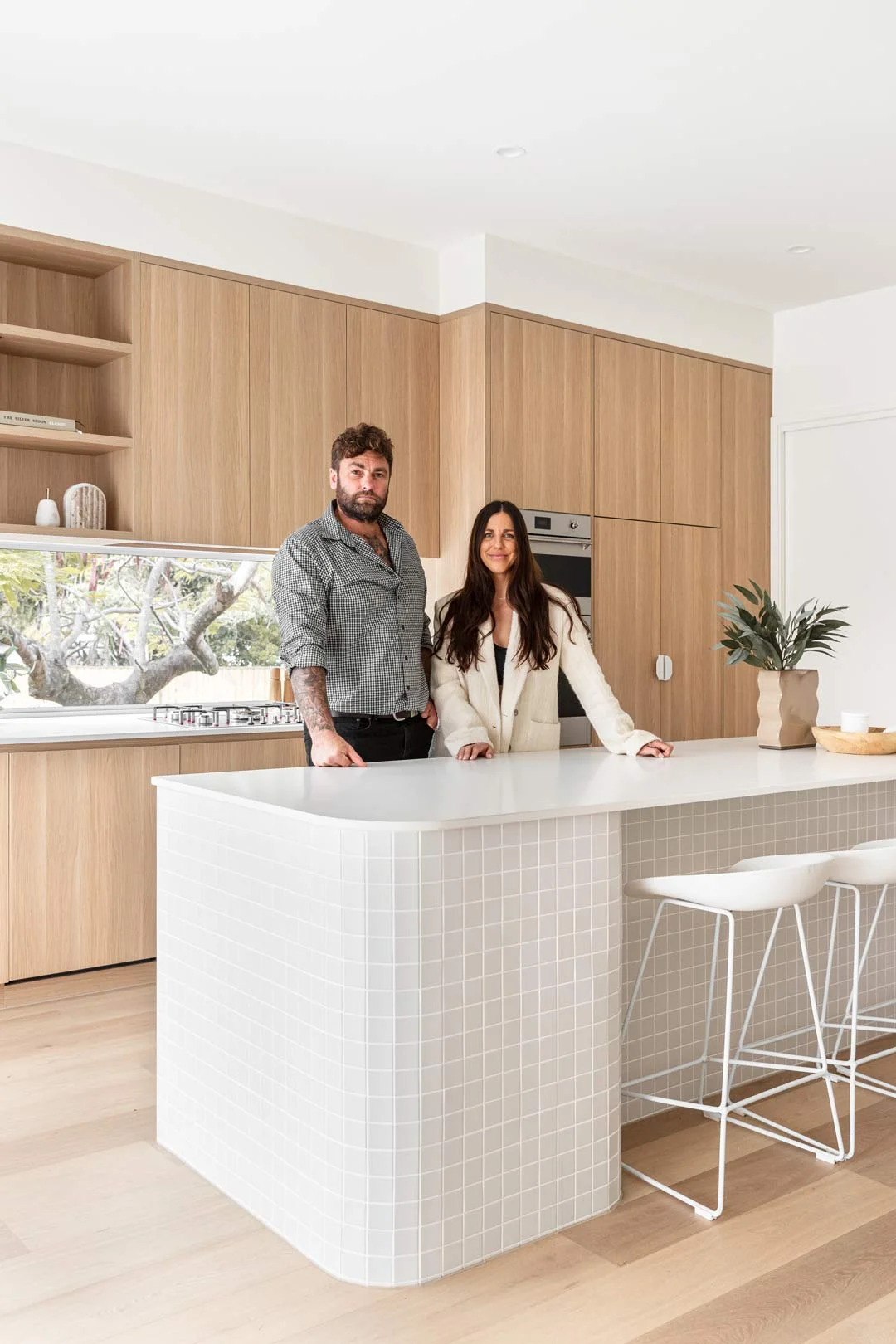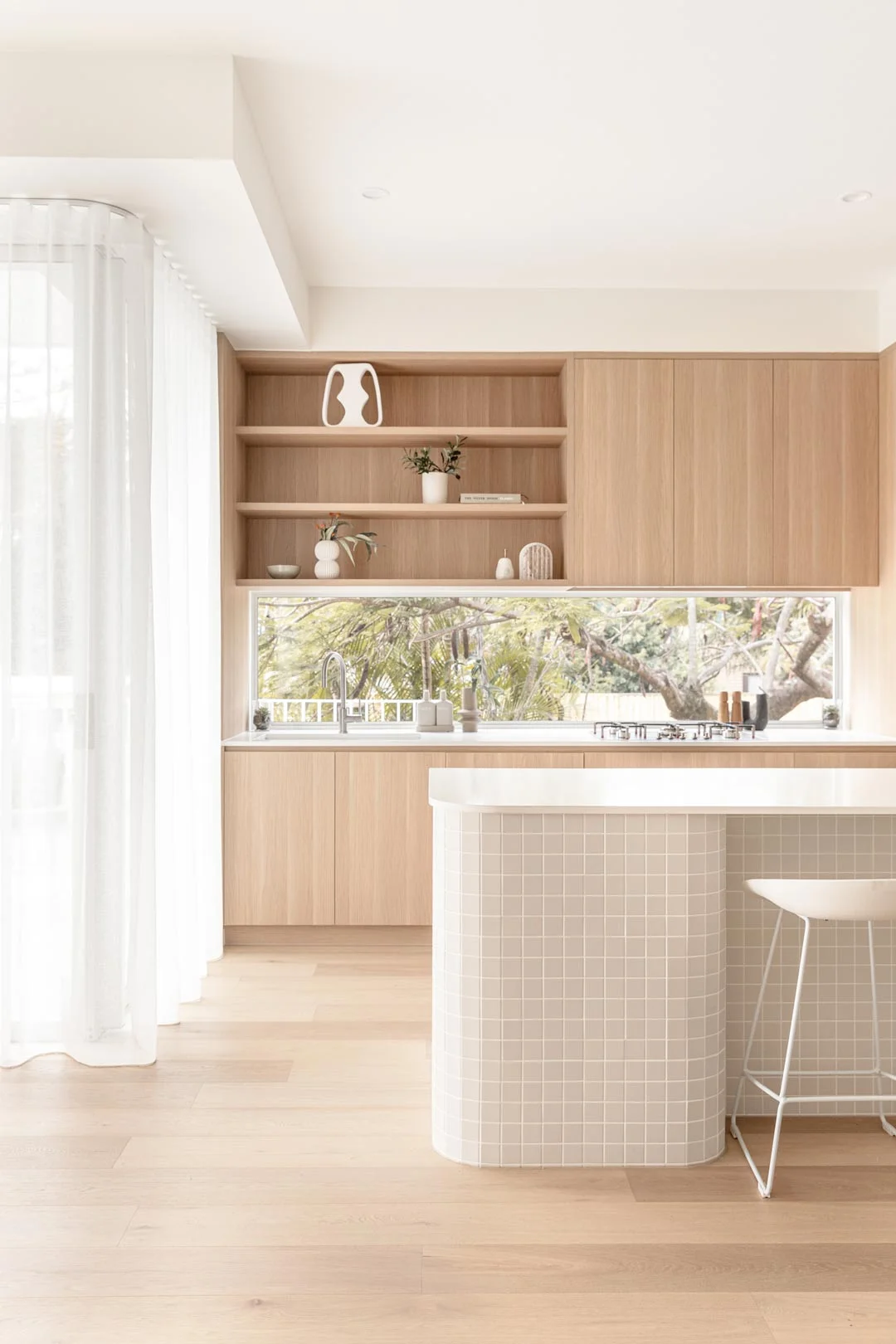 Though Bask and Onyx might appear to be in contrasting opposition, a common thread between the two is the consistent use of ABI Interiors' brushed nickel tapware.
"We stuck with the brushed nickel ABI tapware that we actually used in Onyx build as well," says Nicquel. "It's so interesting to see how different it looks versus a dark palette to a light palette."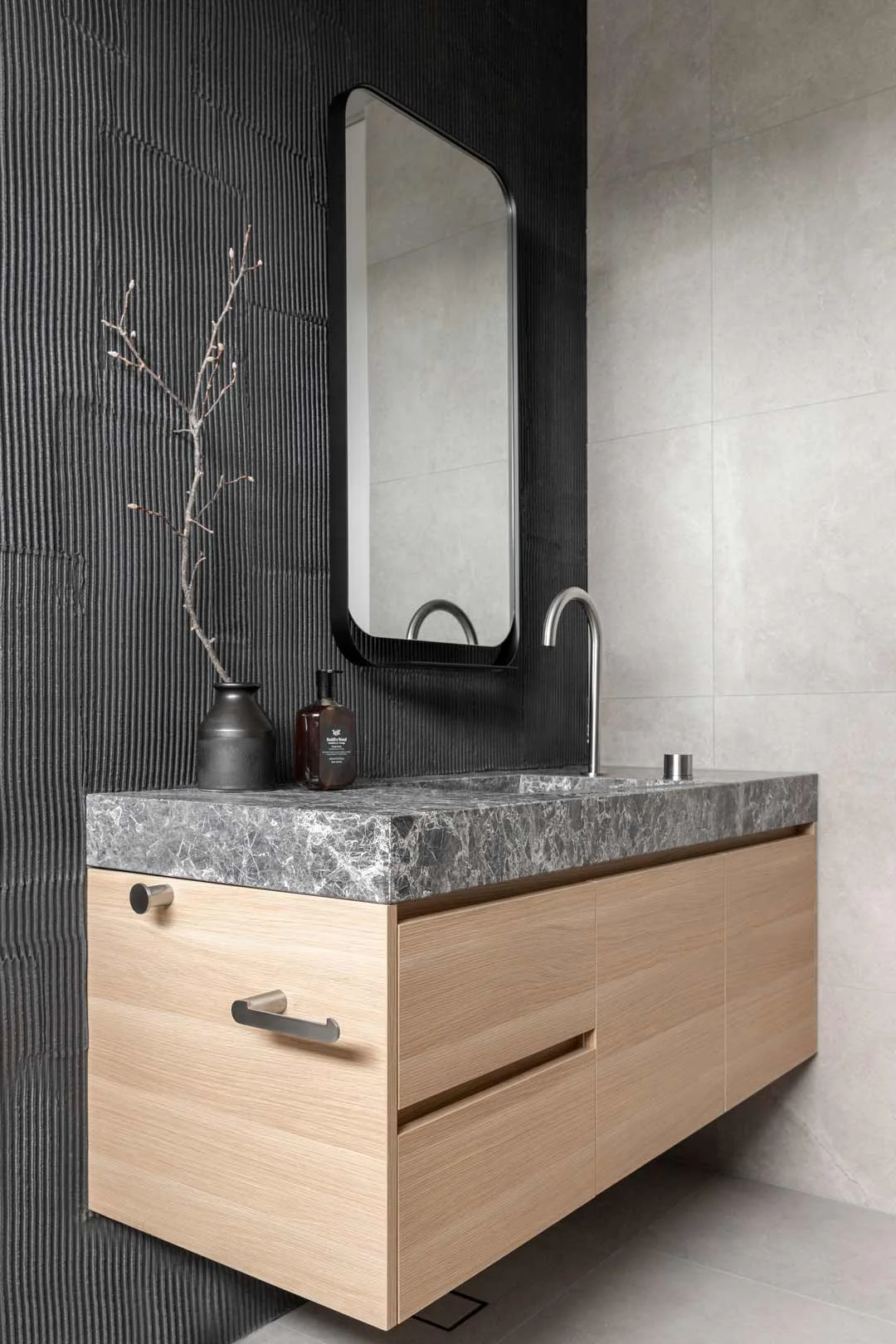 "It's our favourite," agrees Sam.
The sandy tones of the kitchen cabinetry extend upstairs, flowing into the built-in shelving and bathroom vanities. Beige travertine tiles in both bathrooms create a striking contrast against the sleekness of the brushed nickel tapware, collectively creating a calming ambience. A variety of clerestory windows on the second floor continue the home's intent and allow unobstructed light to flood each room.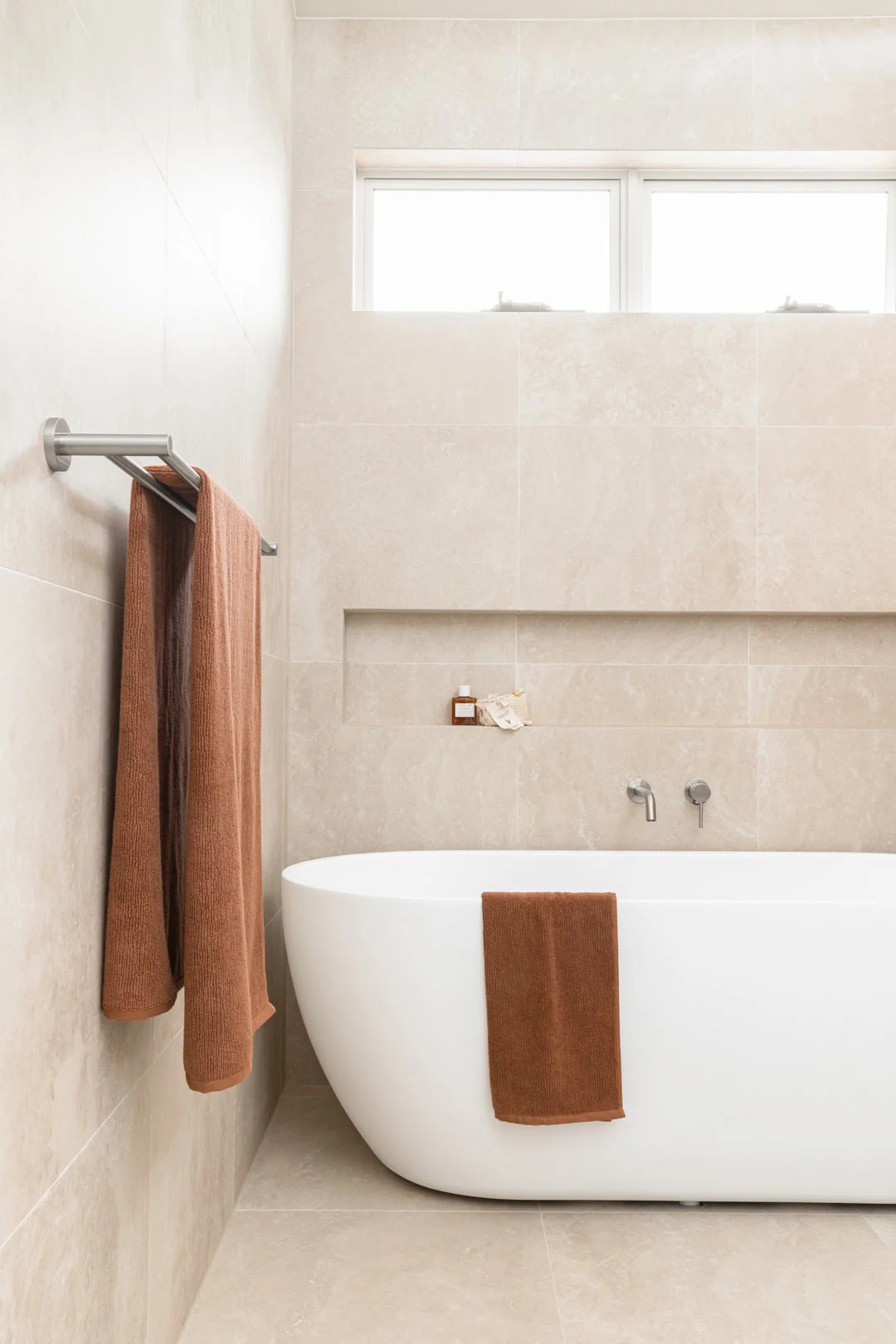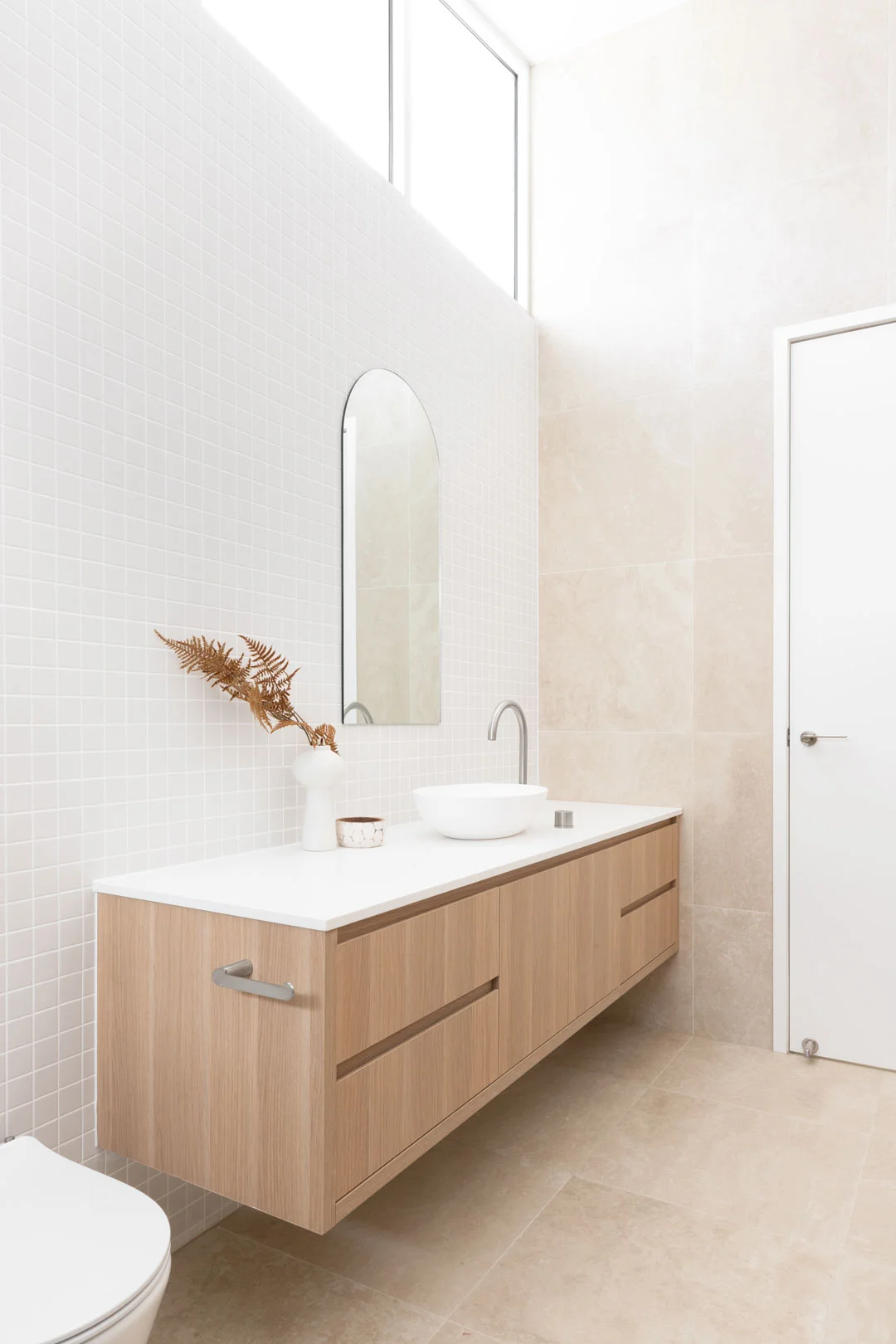 "I feel like ABI tapware is super affordable and that's why we keep using it in all our builds," says Sam.
"Yeah, it has such a nice high-end finish… that we love," continues Nicquel. "Everyone has done such a beautiful job and we couldn't be more happy with the result. It's another really great feather in the cap for Carmichael Build."
Interested in more coastal duplex designs? Go Behind the Design on 'Kaari on Kiers' for A Scandinavian Spin on a Modern Coastal Home.