Guide to the Best Outdoor Kitchen Ideas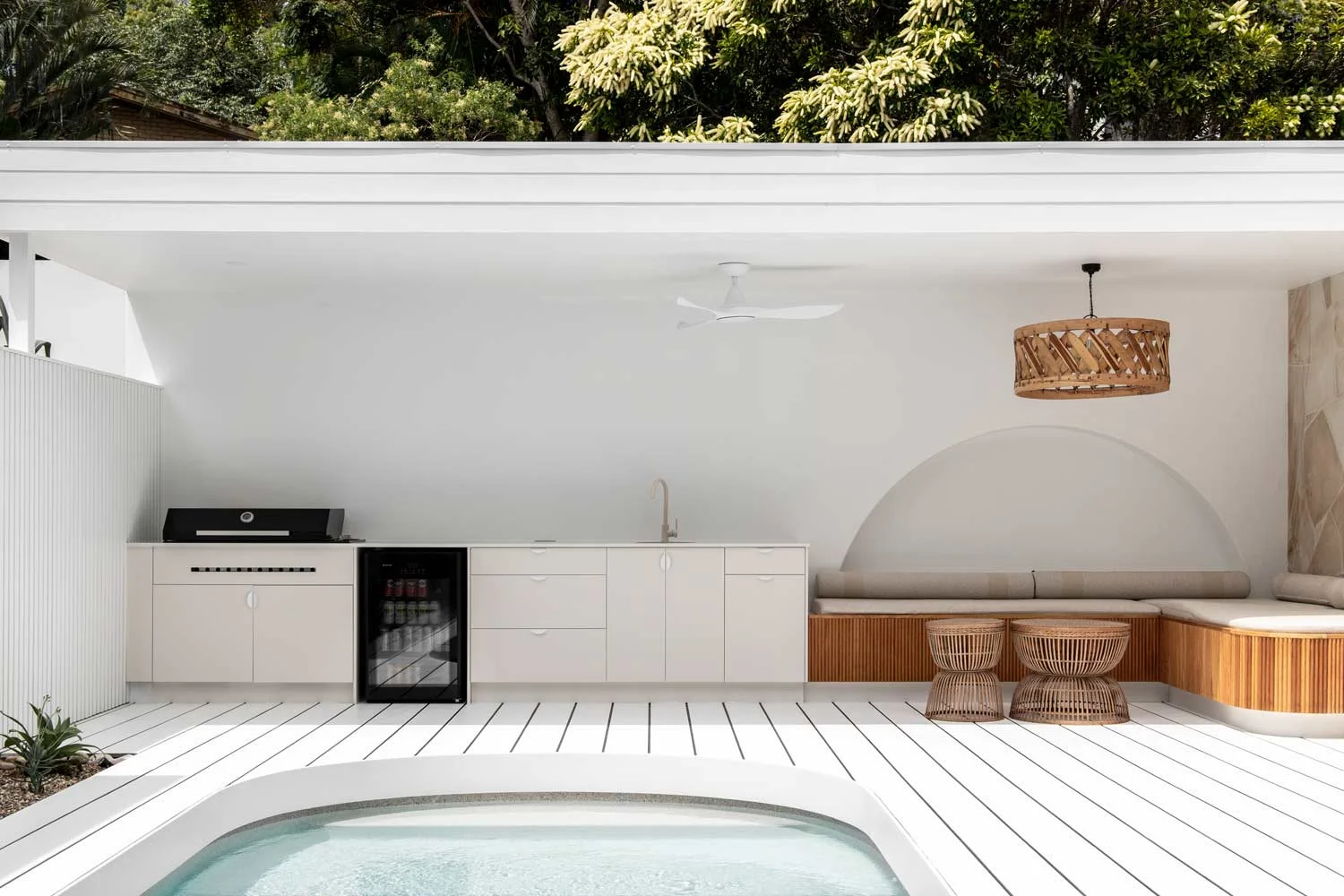 With summer on the horizon, we are reminded that the great Aussie barbeque is synonymous with our social culture. It's a tradition we're understandably proud of — the enjoyment of cooking and conversation with friends and family in the idyllic outdoors.

So, wouldn't it be something to combine the best outdoor kitchen ideas to create the perfect exterior space that caters for all your alfresco dining and entertainment needs?

The quintessential outdoor kitchen can be realised with attention to aesthetics and functionality. Whether you want it to blend in with your surroundings or stand out to make a statement, we explore outdoor bbq kitchen ideas from experts that will transform how you entertain.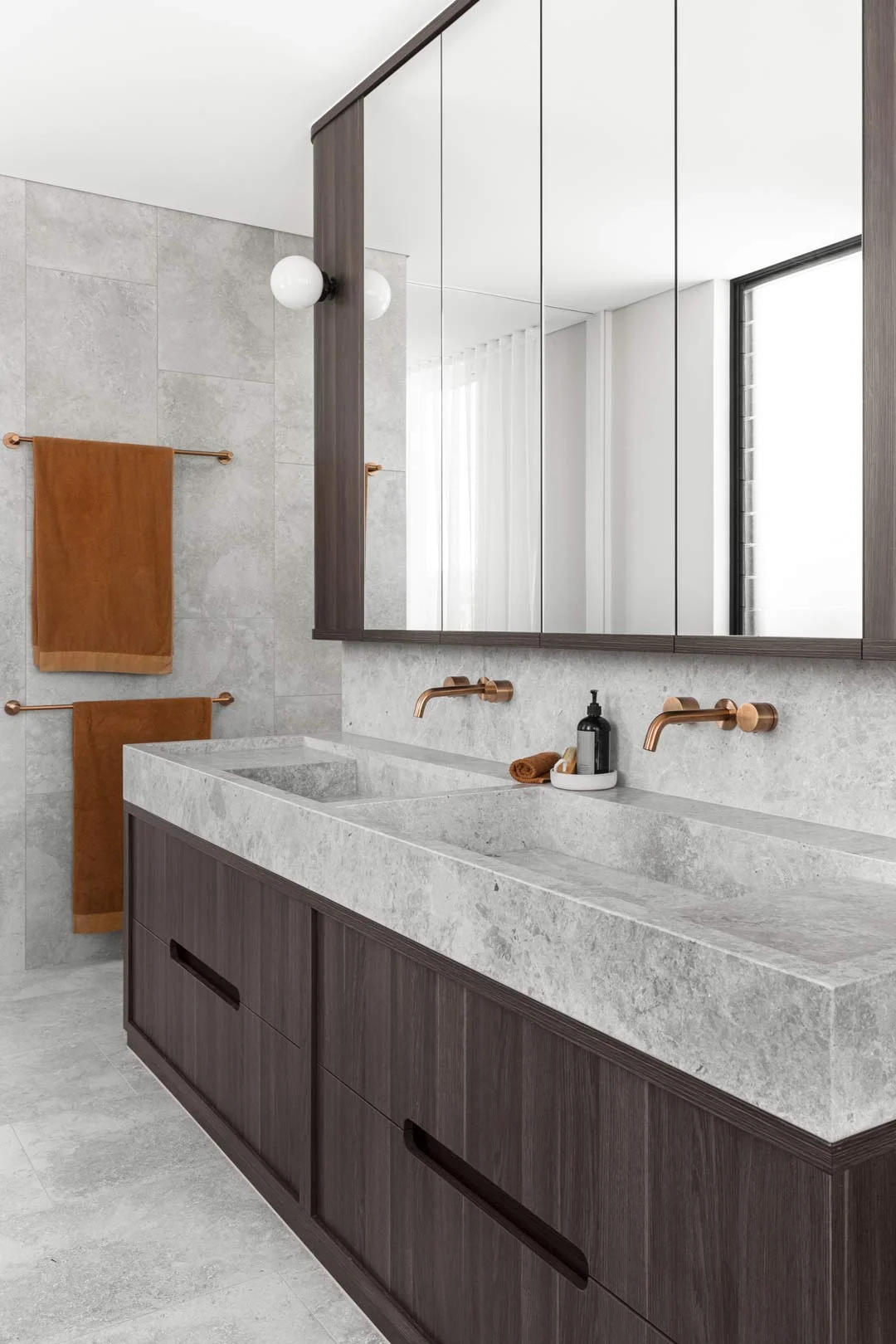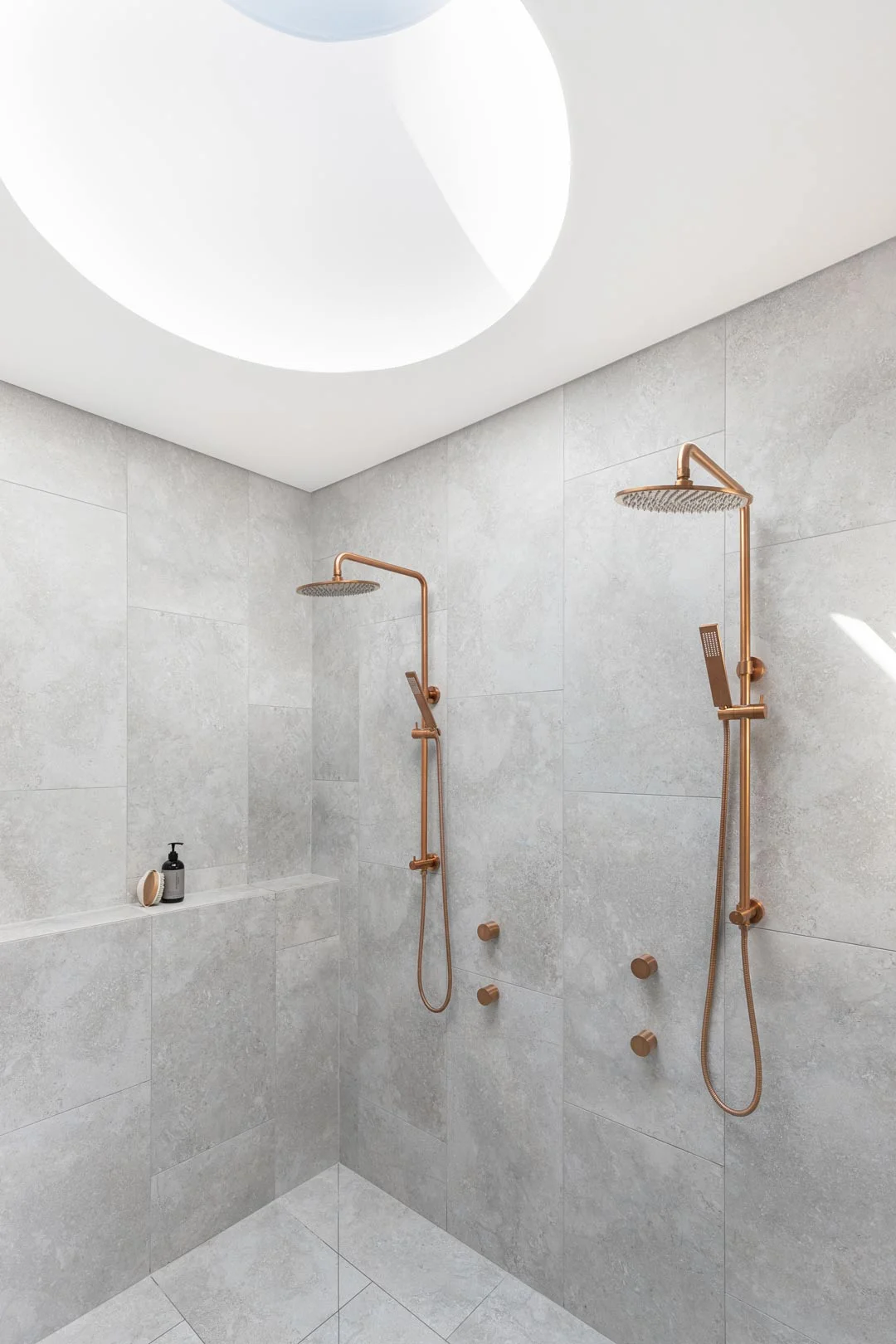 Outside, the opulent alfresco area delights with its beer tap, barbeque, and Gozney pizza oven — a superb finishing touch to a dream open plan home.

Seeking further architectural fulfilment? Check out 'Our Sabbath Home' — a masterpiece that harmoniously blends brutalist architecture with a unique artistic vision.
Barbeque Durability and Benchtops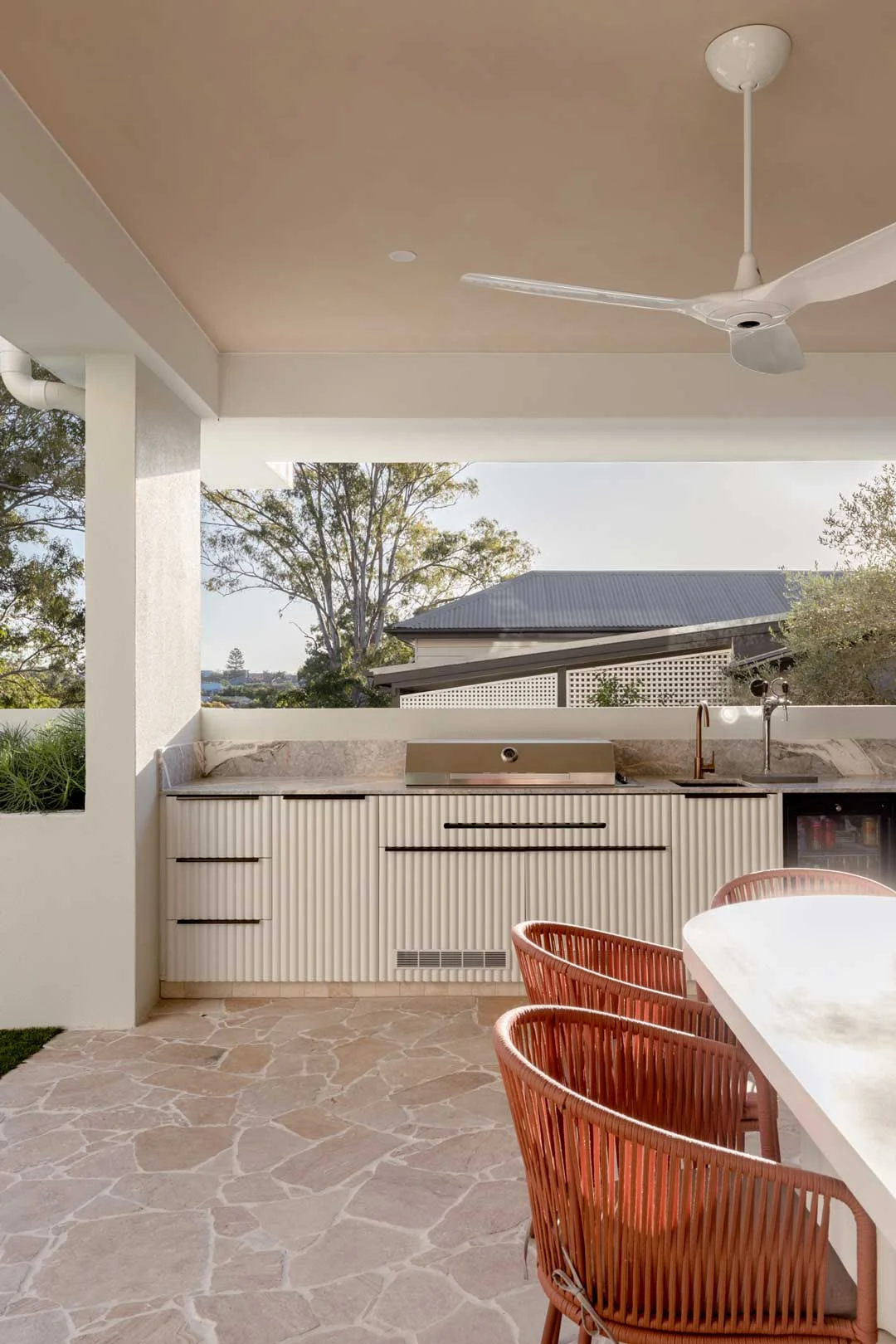 Choosing the ideal barbeque depends on various functional, style, and practical factors. However, durability should be a prime consideration with so much outdoor exposure.

"We recommend using barbeques that come with their own insulated jacket to get that ultimate built-in look, and doors that are made of outdoor grade compact laminate, such as polytec or laminex," says Kerri Hutchings, a kitchen designer for Artform Kitchens.

"The other functional and aesthetic element to consider is your benchtops — these can also be compact laminate in a wide range of colours, including a timber look, and many stone benchtop suppliers have an outdoor range suited to the elements, such as caesar stone and dekton."

Fajar Rajput, a digital marketing associate for Persimmon Design, echoes these outdoor kitchen benchtop ideas, particularly concerning purposefully durable benchtops.

"Install durable and weather-resistant countertops like granite, concrete, or stainless steel for food preparation and serving," she says. "Consider fold-down or pull-out countertops in compact spaces to save space when not in use."
Cater For Cabinetry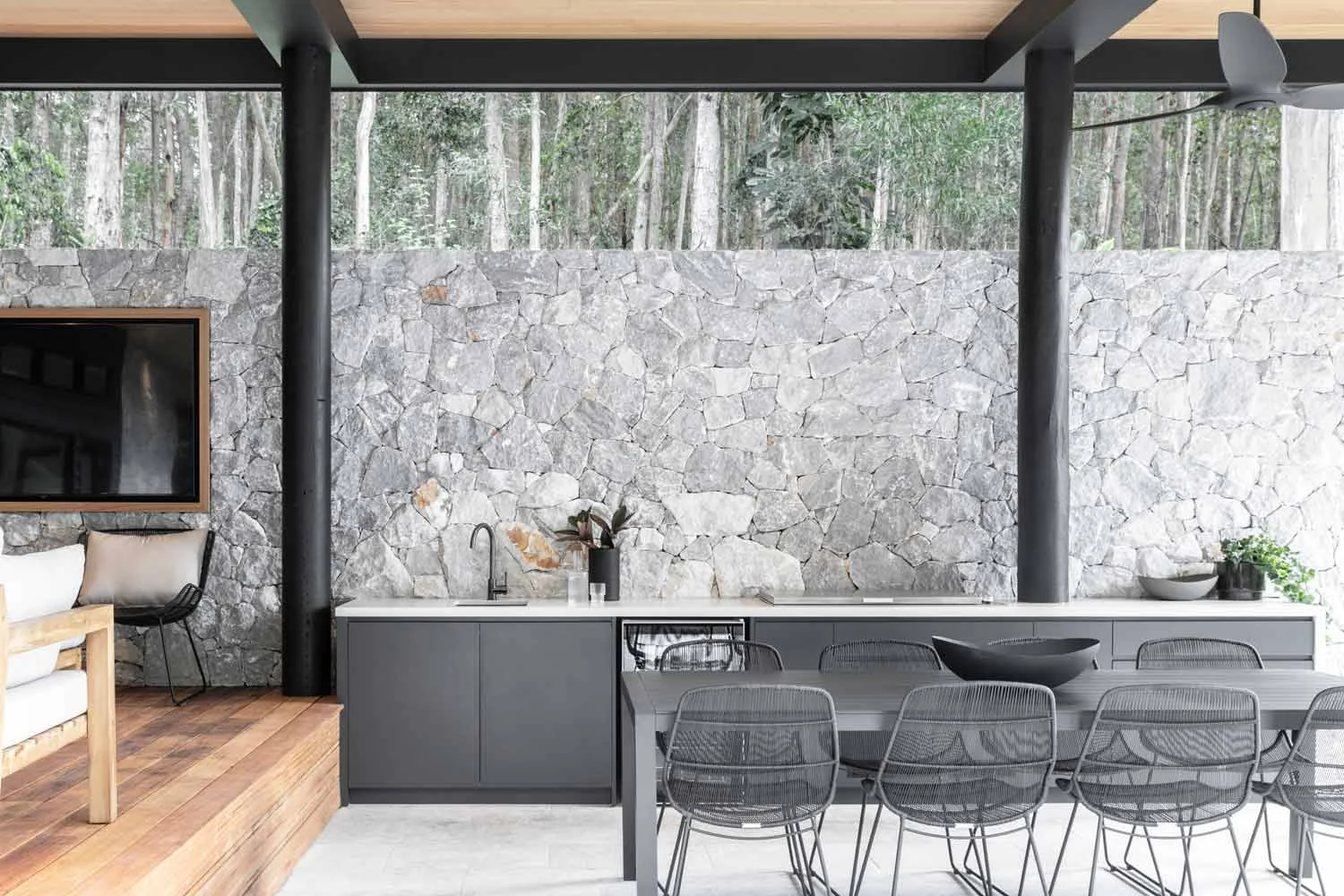 To account for all your cooking utensils, barbeque tools, and cleaning supplies, practical yet stylish cabinetry should be indispensable for your outdoor kitchen requirements.

"Include ample storage for grilling tools, utensils, and cooking supplies," continues Rajput. "Also, install cabinets, shelves, or drawers with weather-resistant materials. Use hooks, racks, and magnetic strips for hanging utensils and tools."

To ensure aesthetic consistency, consider the stylish benefits of cabinetry pulls or knobs that will bring greater definition to your outdoor space, along with the convenience of magnetic knife blocks.
Outdoor Sink and Tapware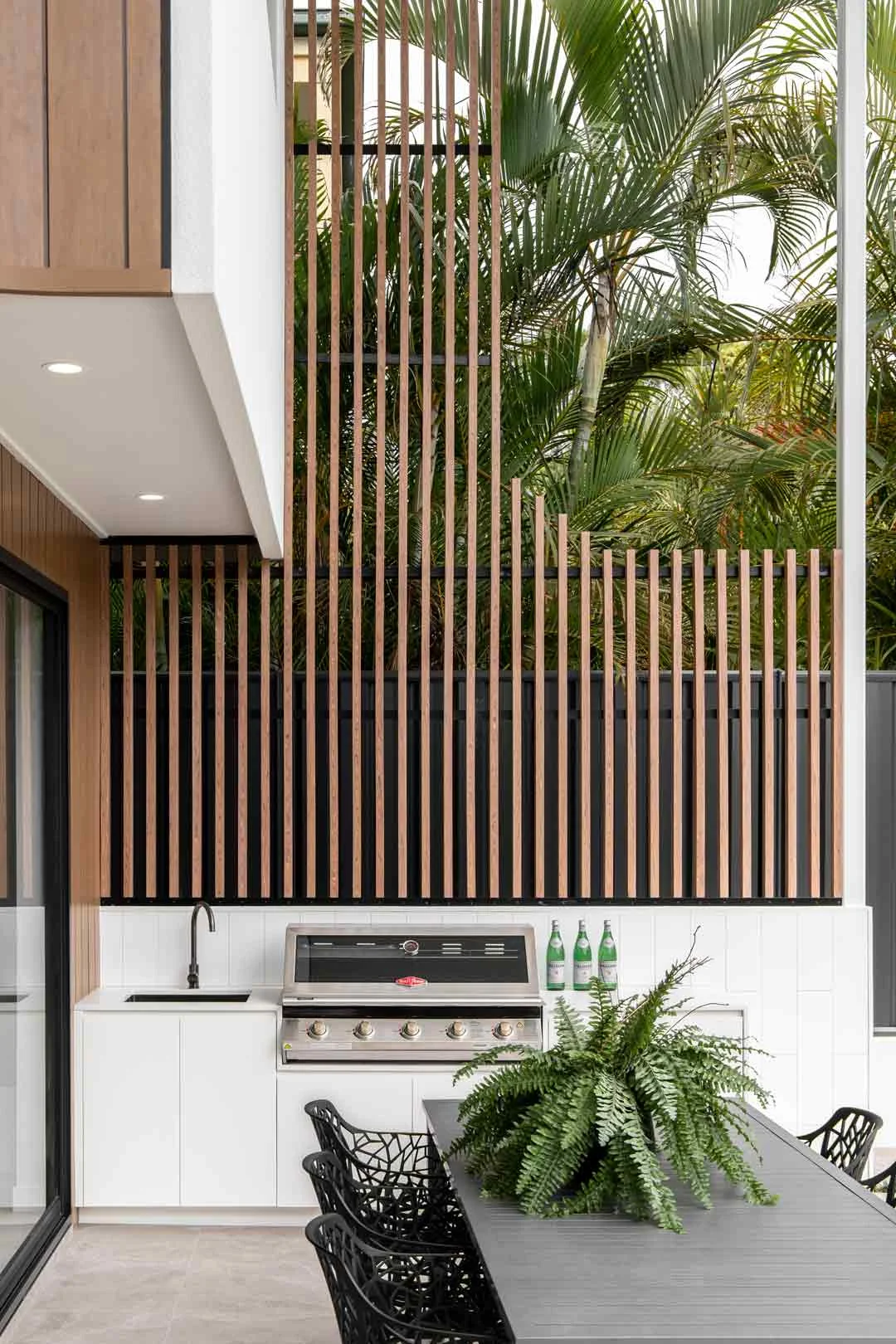 Covered outdoor kitchen ideas should also consider space for an indispensable outdoor sink — ideally close to the food preparation area, for greater clean-up convenience.

Complementing our existing aesthetically pleasing outdoor range, ABI Interiors has durable outdoor sinks and tapware constructed from highly durable corrosion-resistant 316 stainless steel and available in various attractive finishes to suit an outdoor kitchen.
Style with Kitchen Tiles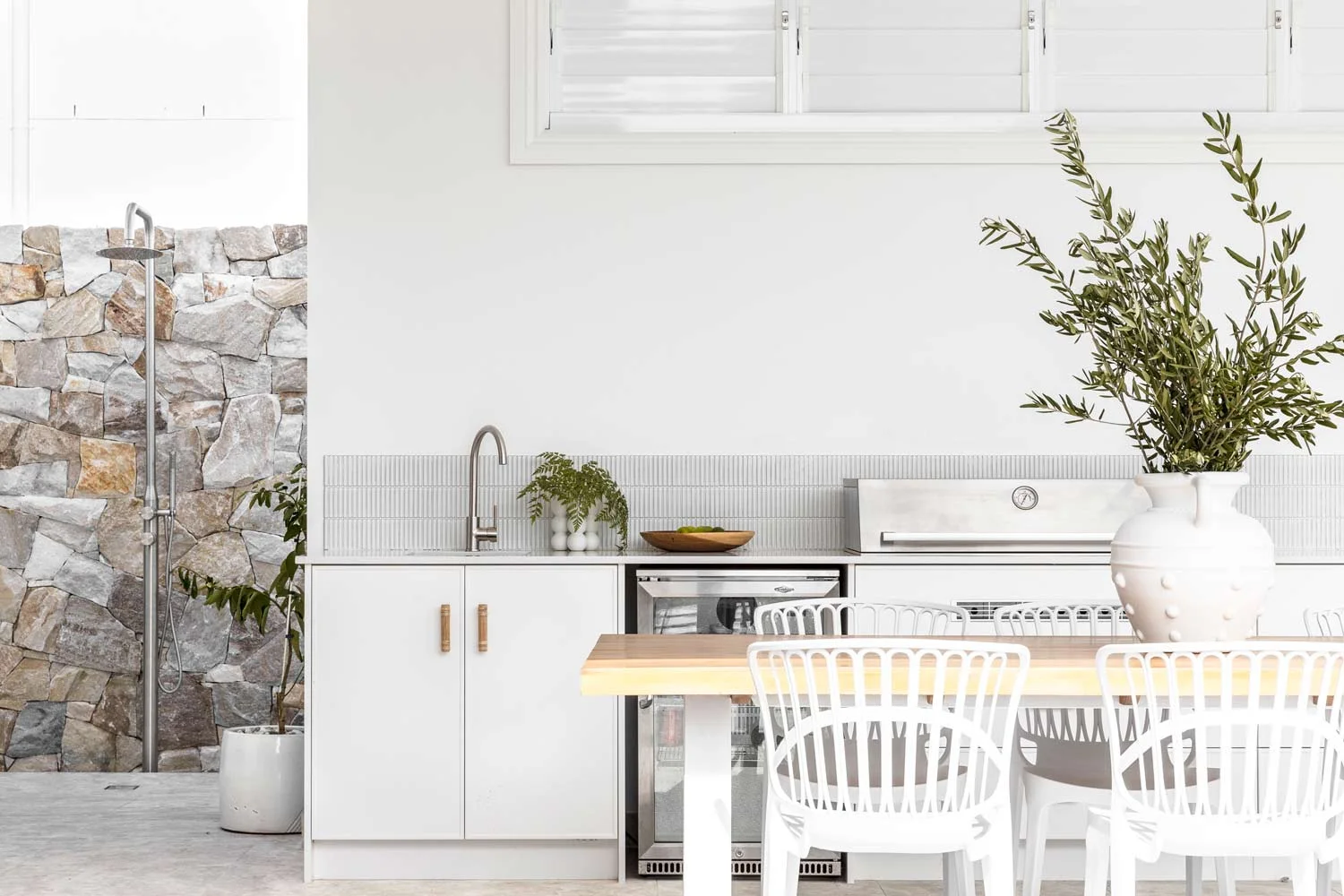 Modern outdoor kitchen ideas should include tiles, which is a great way to add character and creative style, whether onto the wall or fence above your appliances.

"You could use the leftover tiles from your indoor kitchens or pick up some different tiles on offer, or even a mixture of the two!" considers Ray. "The great thing about kitchen tiles is you can mix and match patterns and colours to create that striking backdrop for your barbecue."
Importance of Lighting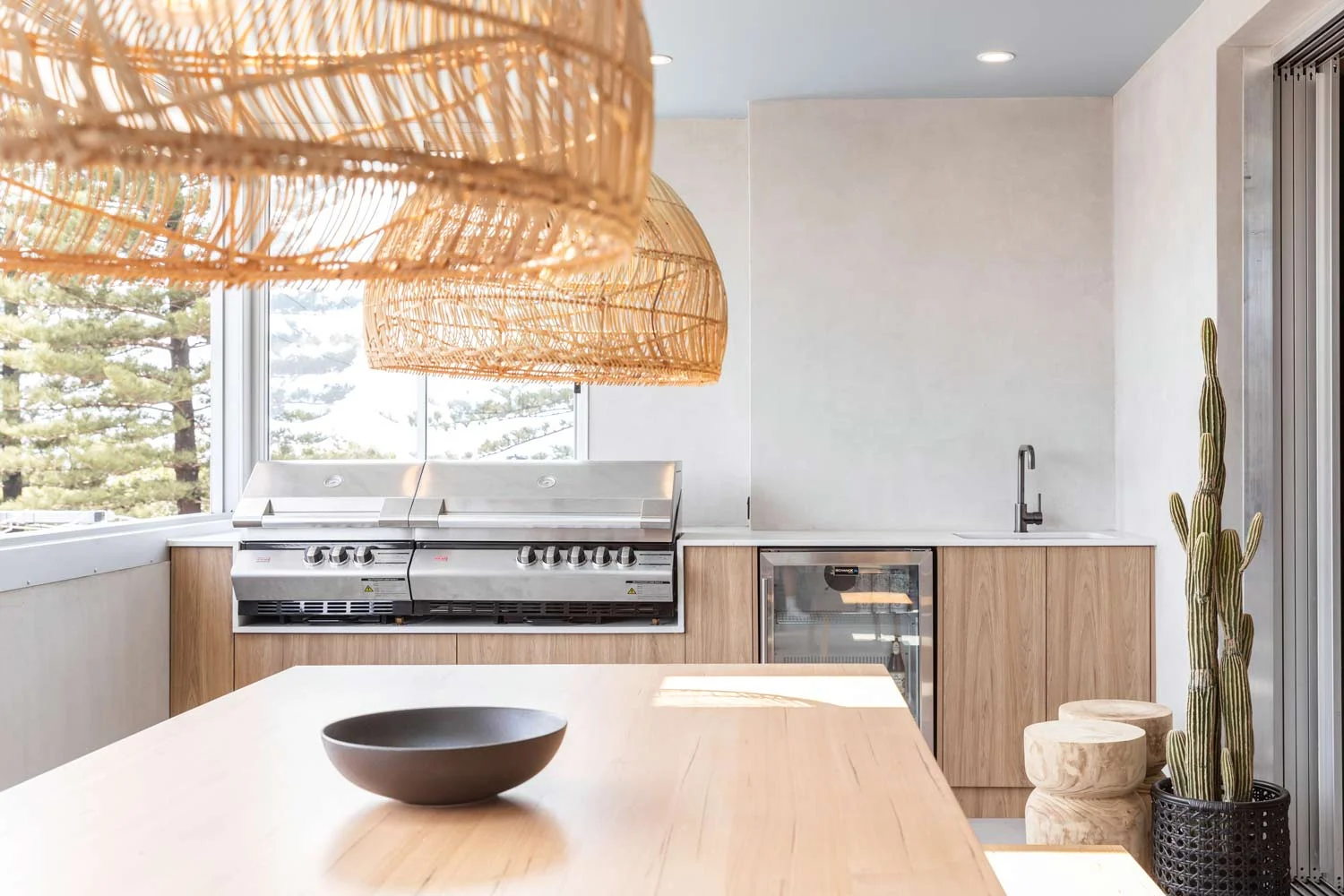 Lighting your outdoor kitchen shouldn't be overlooked either, as it's crucial for functionality and creating ambience. Ensure your grill and preparation areas are adequately lit, and consider adding decorative lighting to accomplish a tranquil atmosphere — heated lighting features are also a good measure to keep people comfortable through cooler nights.

"Task lighting over the grill and prep areas is essential," says Llia Mundut, founder of online home décor store HeftyBerry.

"Add decorative lighting, such as string lights or lanterns, for a cozy atmosphere. Remember that the perfect [barbeque] kitchen space should not only be functional and aesthetically pleasing but also cater to your specific needs and preferences. Tailor the design to your cooking style and the amount of outdoor space you have available."
Help with Outdoor Kitchen Ideas