Desert Mid-Century Modern Dictates the Design of This Palm Beach Architectural Revelation | Behind The Design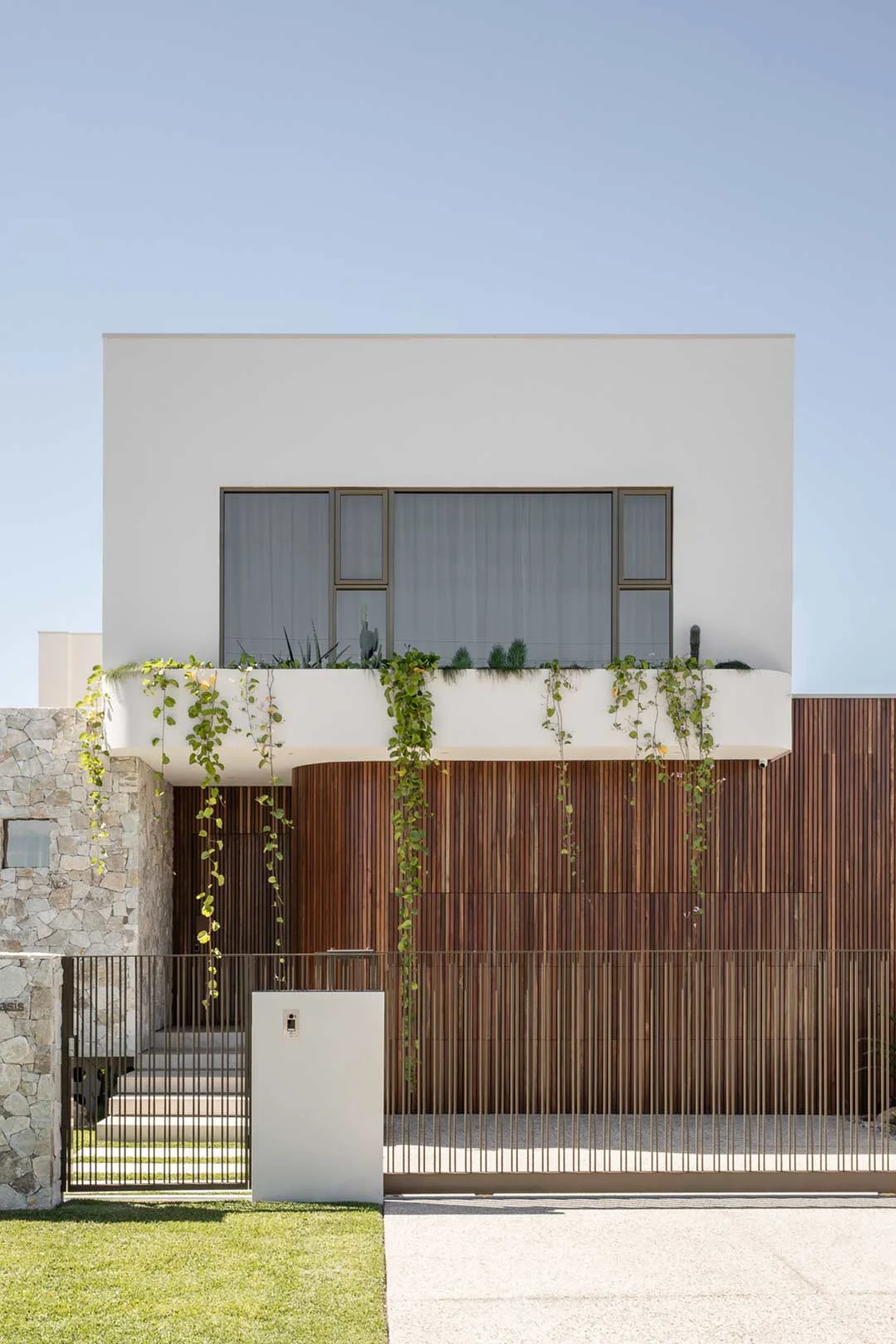 A point of difference on the Gold Coast is what was proposed with the design of Doasis — a luxury mid-century modern marvel with considerable curb appeal.

This grand architectural revelation has an impressive desert-home facade that takes further inspiration from Palm Springs' design while drawing on the advantages of its north-facing aspect to maximise natural light throughout the day.

As we shall see, a somewhat moodier, lived-in quality characterises Doasis' interiors — utilising travertine tiles to accomplish a balanced, muted undertone.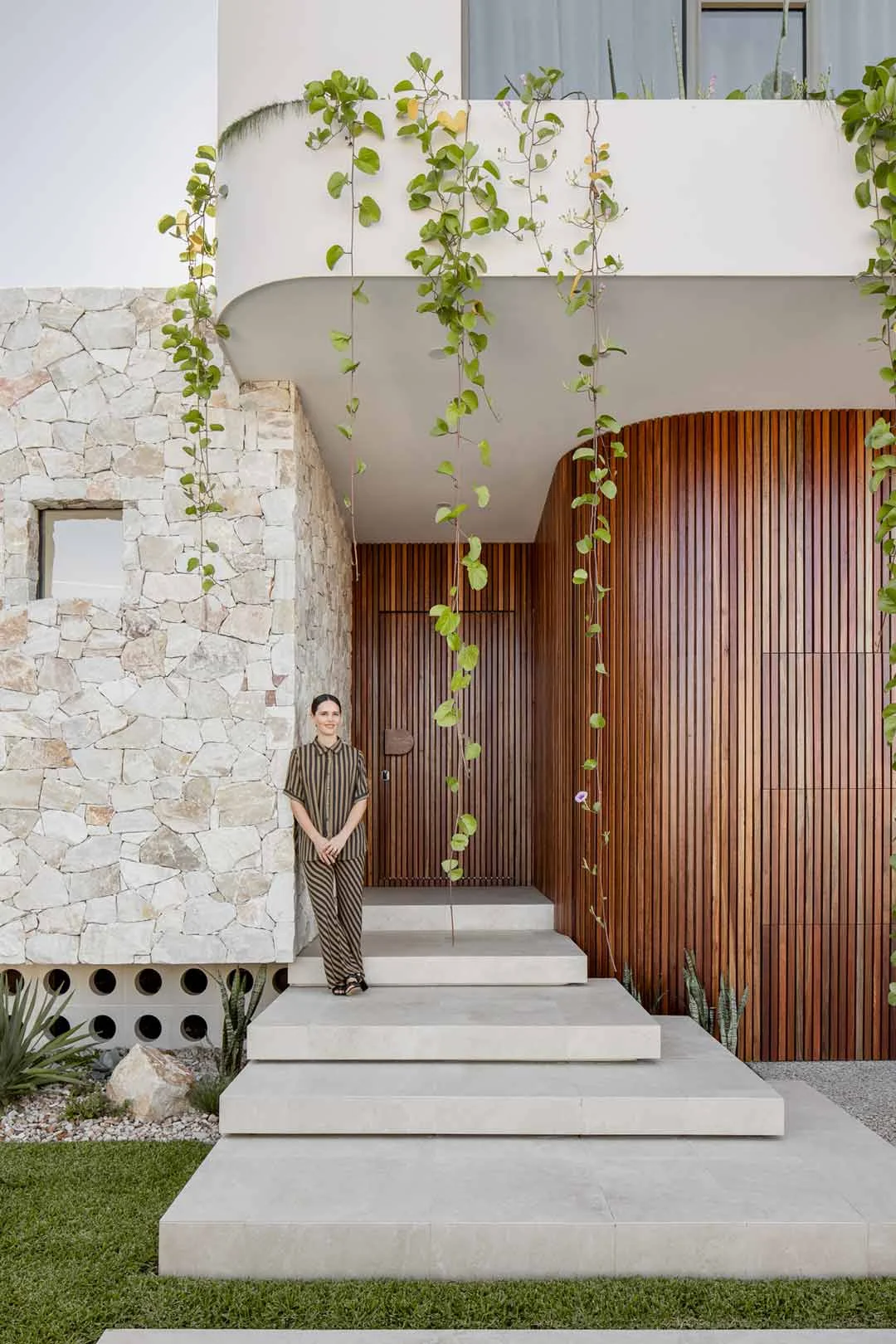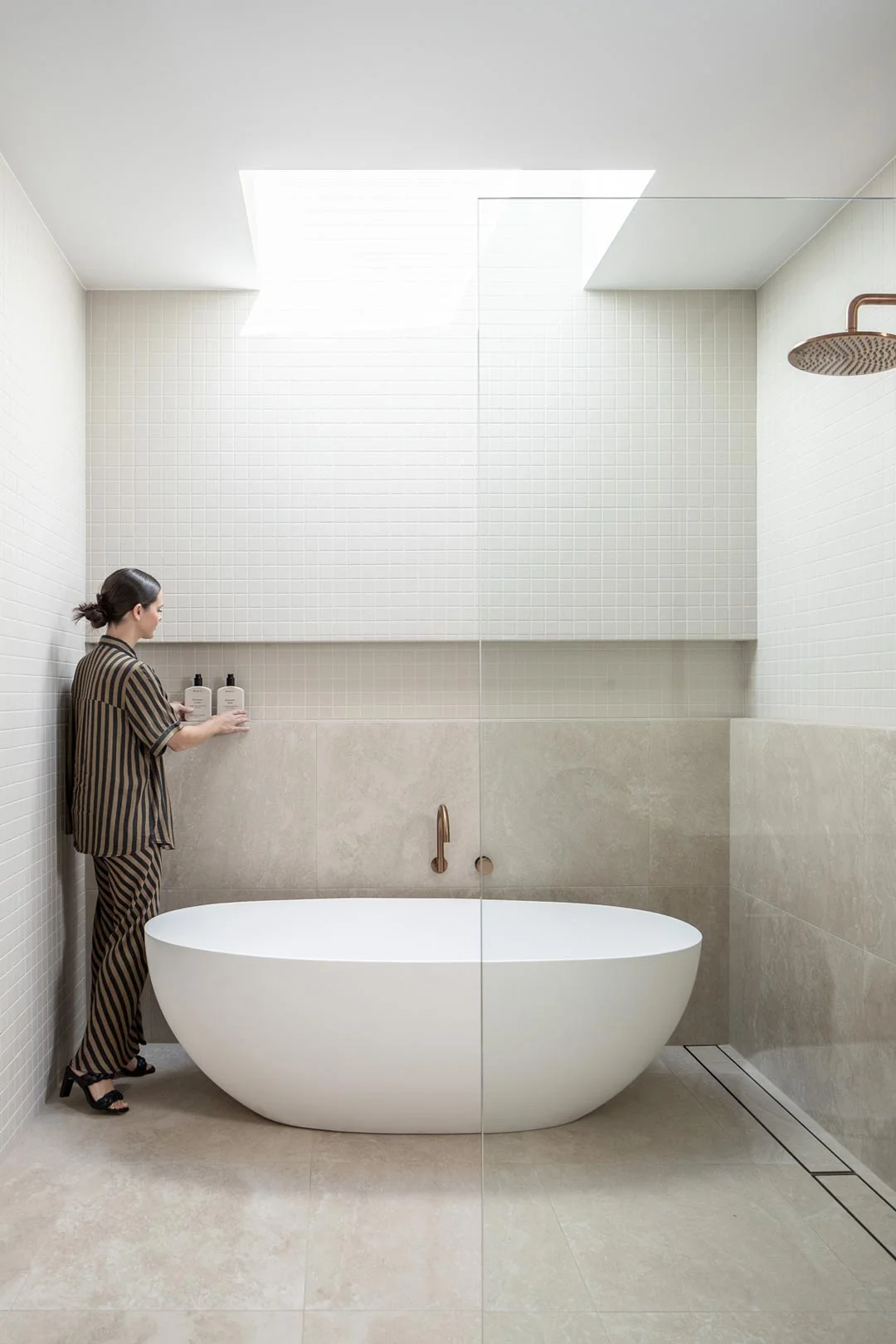 Doasis has a suitably grand entrance that juxtaposes a rock-formed wall on the left with a coffee-hued timber on the right — a fitting creative amalgamation of the elements we associate with desert and mid-century modern design, respectfully.

The earthy, vintage aesthetic of ABI Interiors' brushed copper tapware was selected to complement the neutral palette throughout.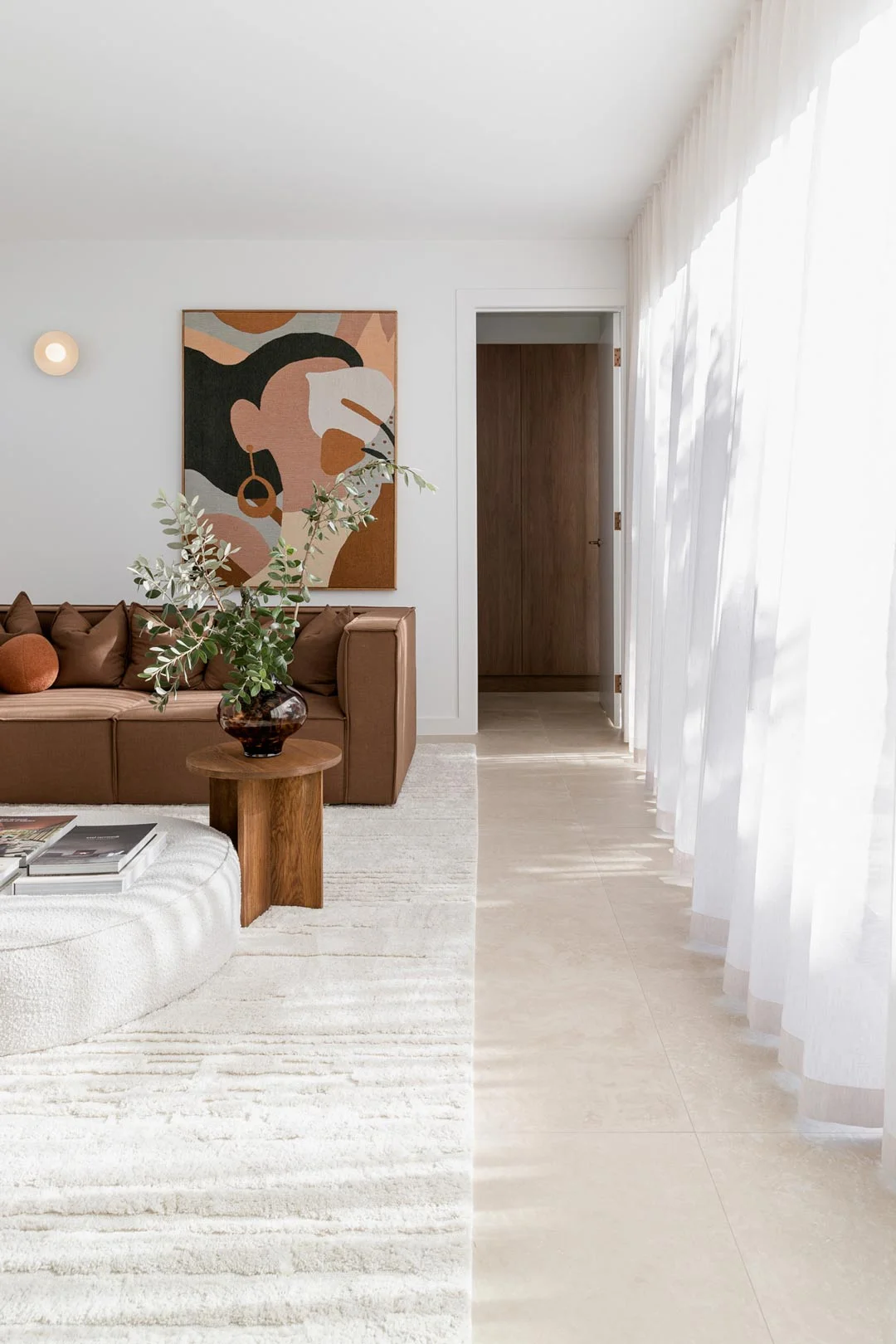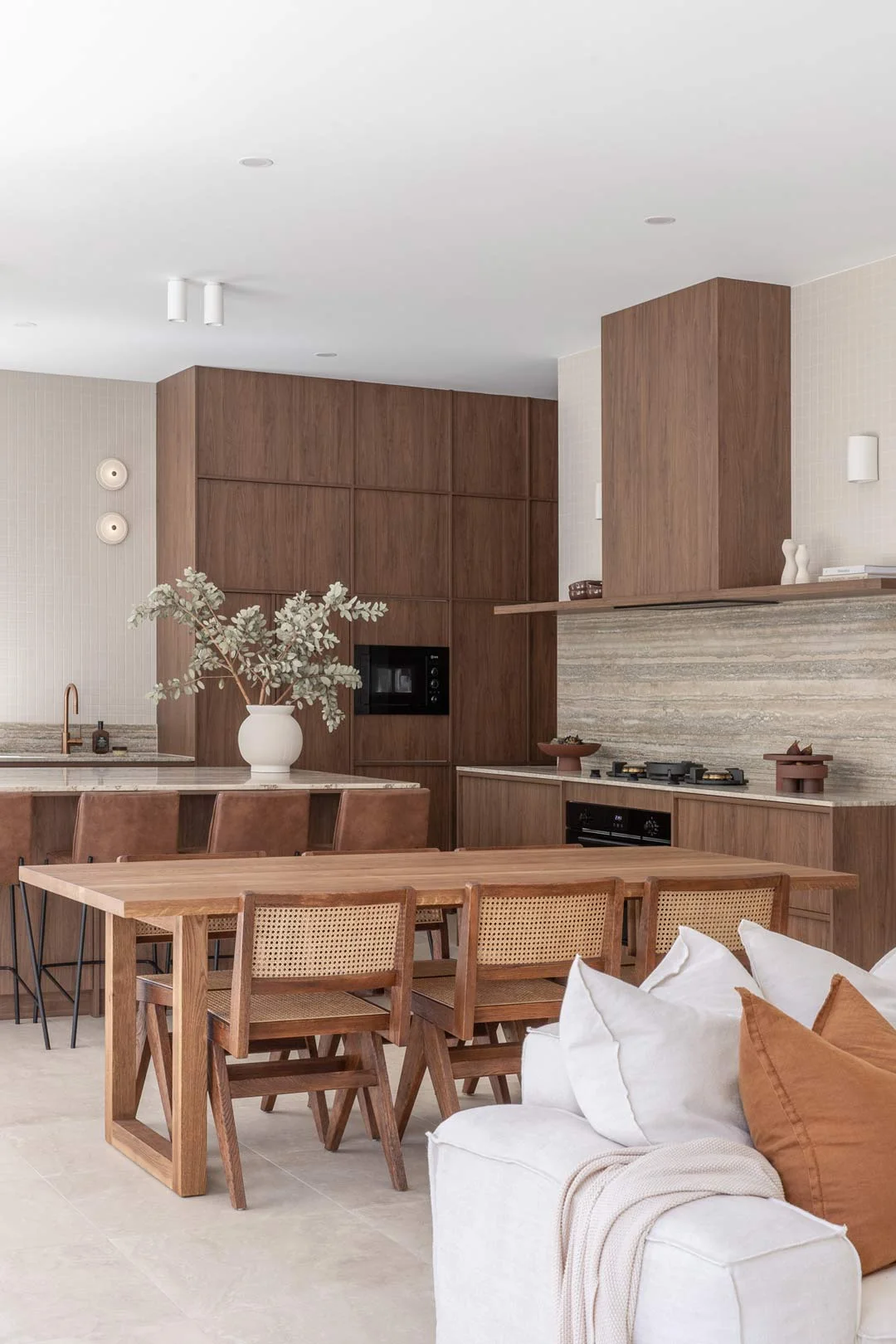 As you enter through the door, you are greeted on the left by an inviting, cosy living room with bright white walls and travertine floors, contrasting beautifully with single white and double chocolate brown-coloured couches.

You continue through a grand hallway to a laundry and the main open-plan living area.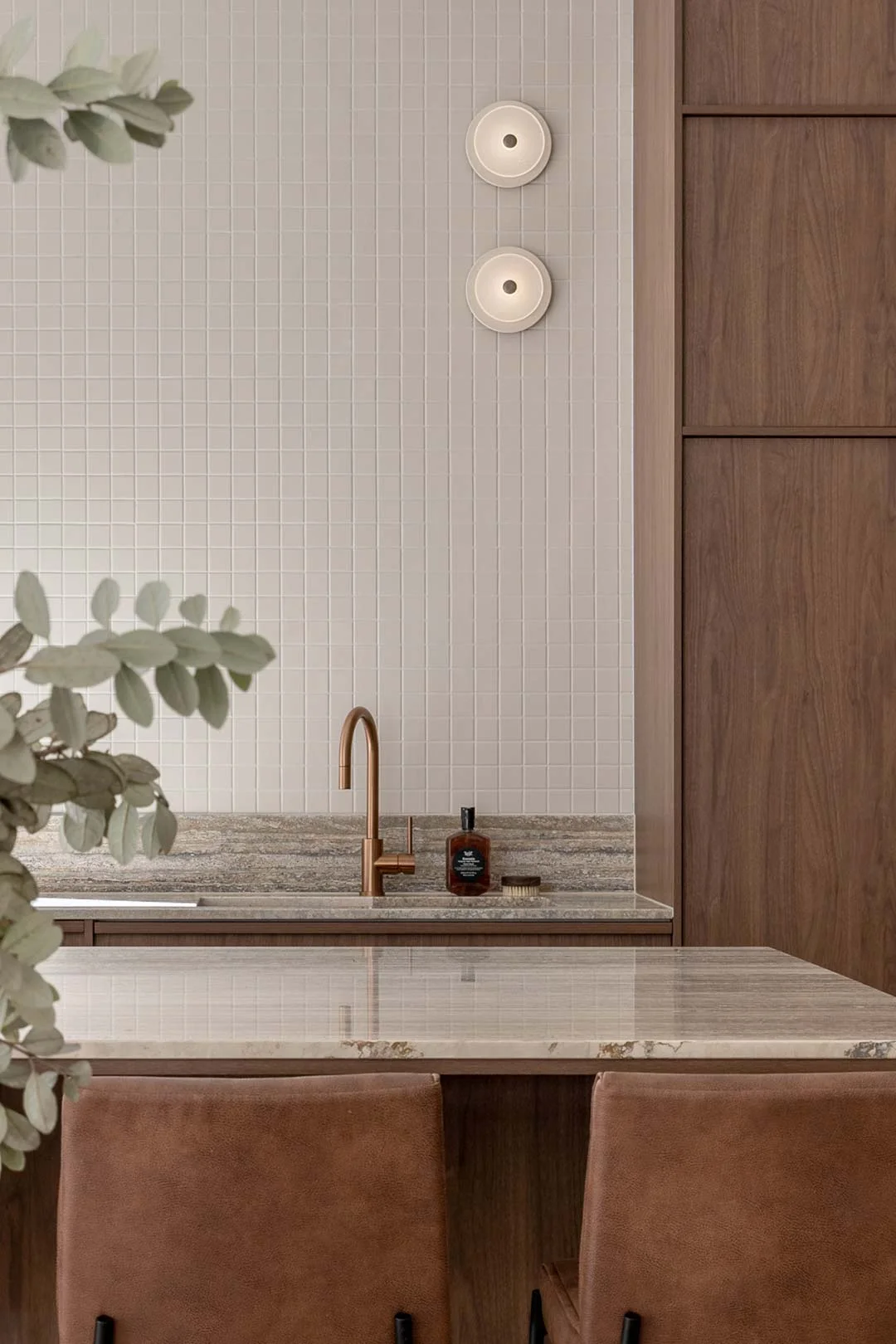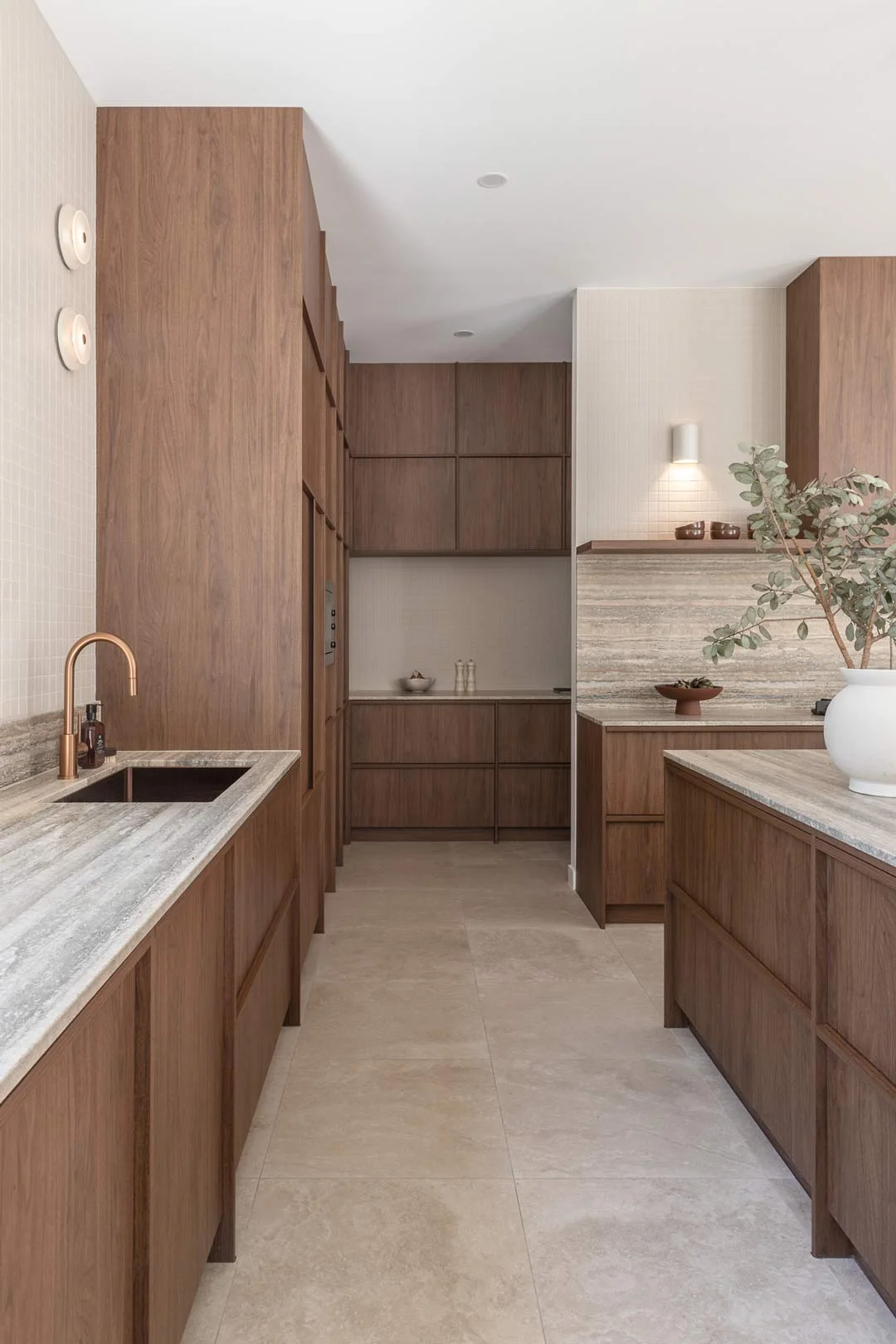 The mid-century modern open-plan kitchen has walnut cabinetry idealistically fused with brushed copper tapware and sink finishes against muted stone countertops leading to a convenient butler's pantry. Notably, unglazed ivory mosaic tiles and travertine floors establish a consistent natural flow throughout the property. A tastefully considered wine room makes an intriguing additional feature in Doasis, contributing to the property's pleasingly revelationary essence.

This theme continues upstairs, where you are welcomed by the indulgences of a spacious media room for snuggling up to a movie or celebrating a sporting event.

The wood-panelling theme of the mid-century modern kitchen is resumed for the vanity and overhead mirror in the master ensuite. This room has a spacious shower that takes full advantage of the natural rays from the skylight and is again accompanied by brushed copper tapware and bathroom accessories that complement those neutral tones.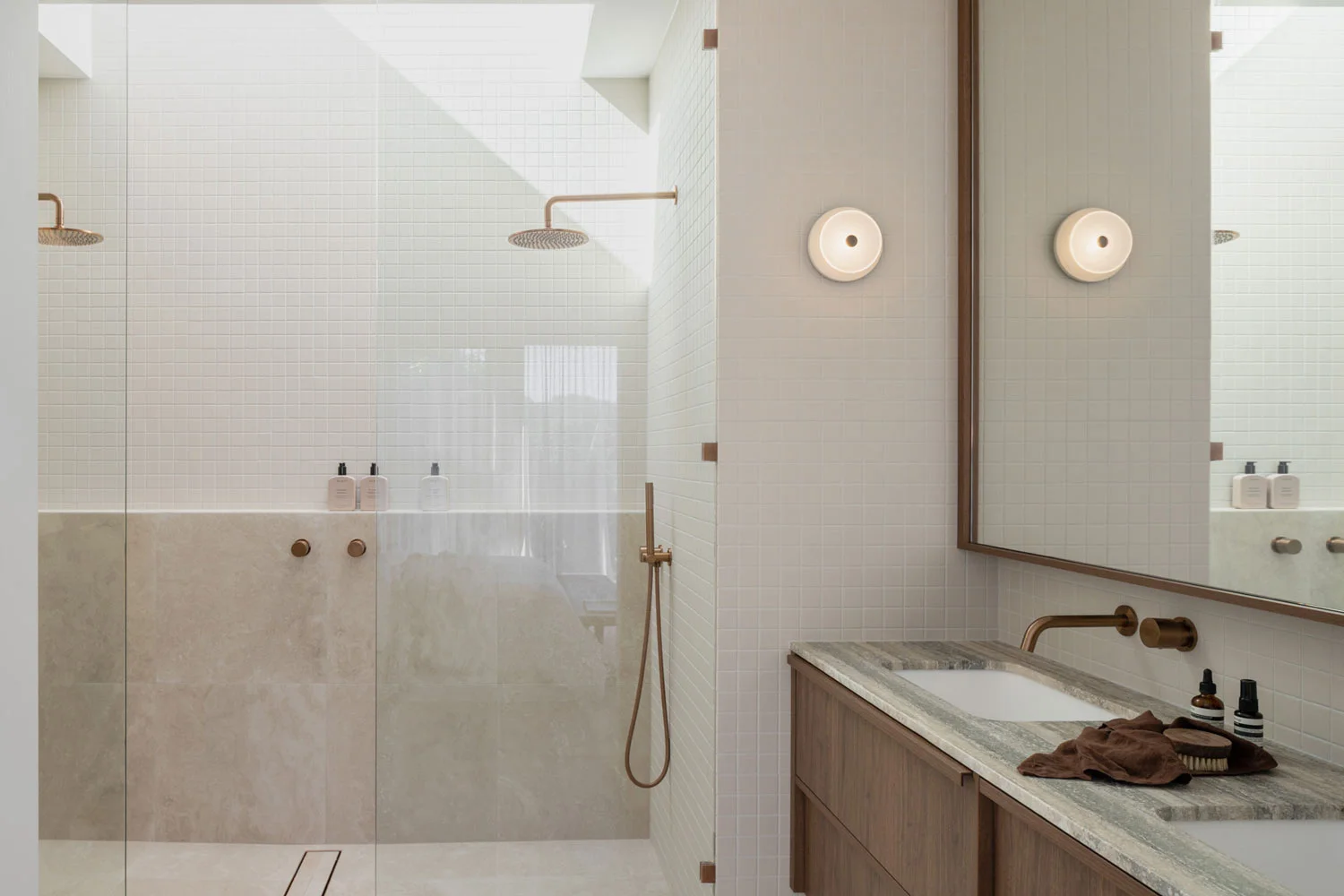 Warmth is alluded to through the muted tones of the vanity top, flooring, and aforementioned travertine wall tiles, which seamlessly balance the scheme.

White provides welcoming comfort in the main bedroom thanks also to the continued travertine tiled floors and the balance of chocolate brown touches. The strategic building positioning ensures natural light emanates the space beautifully throughout the day.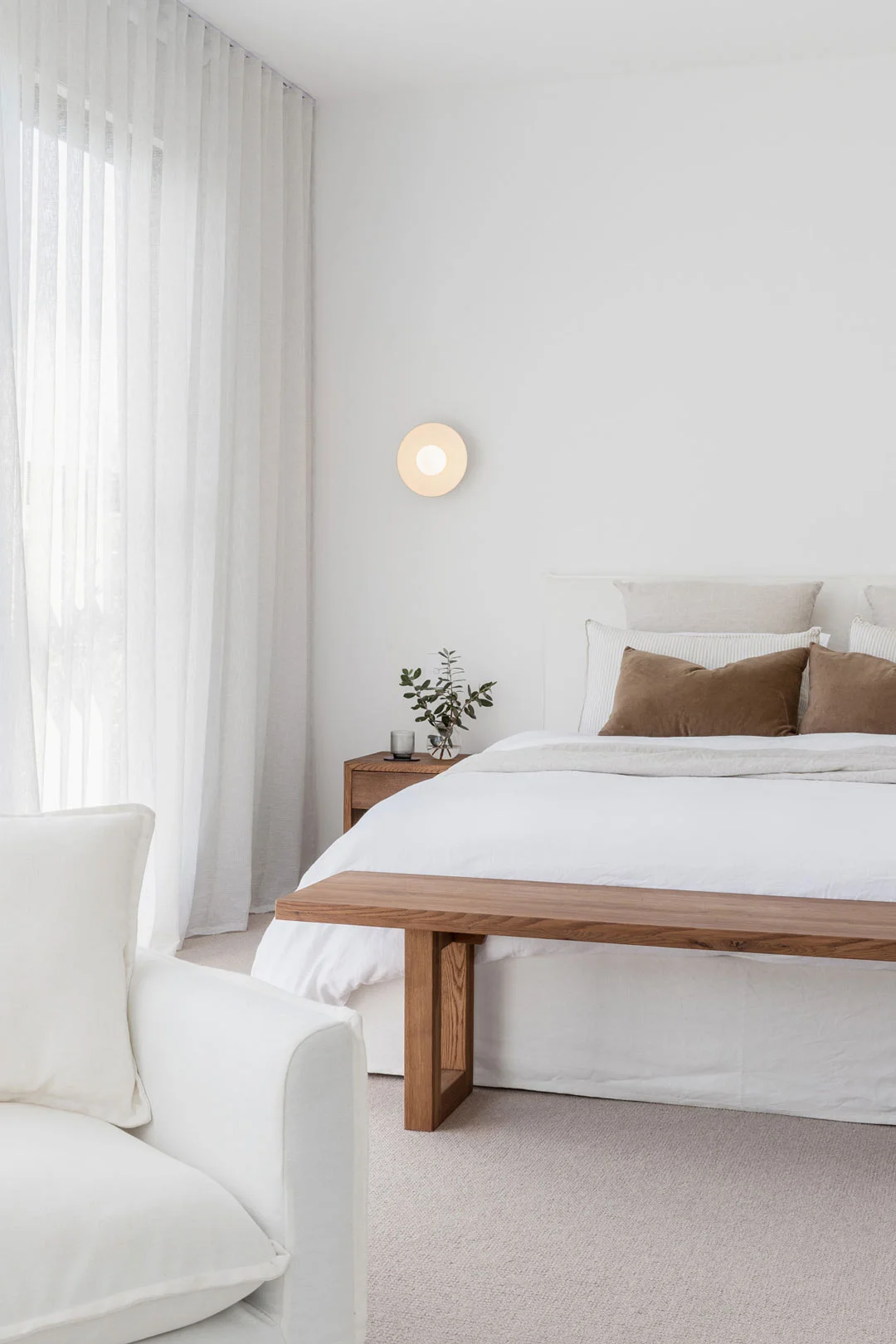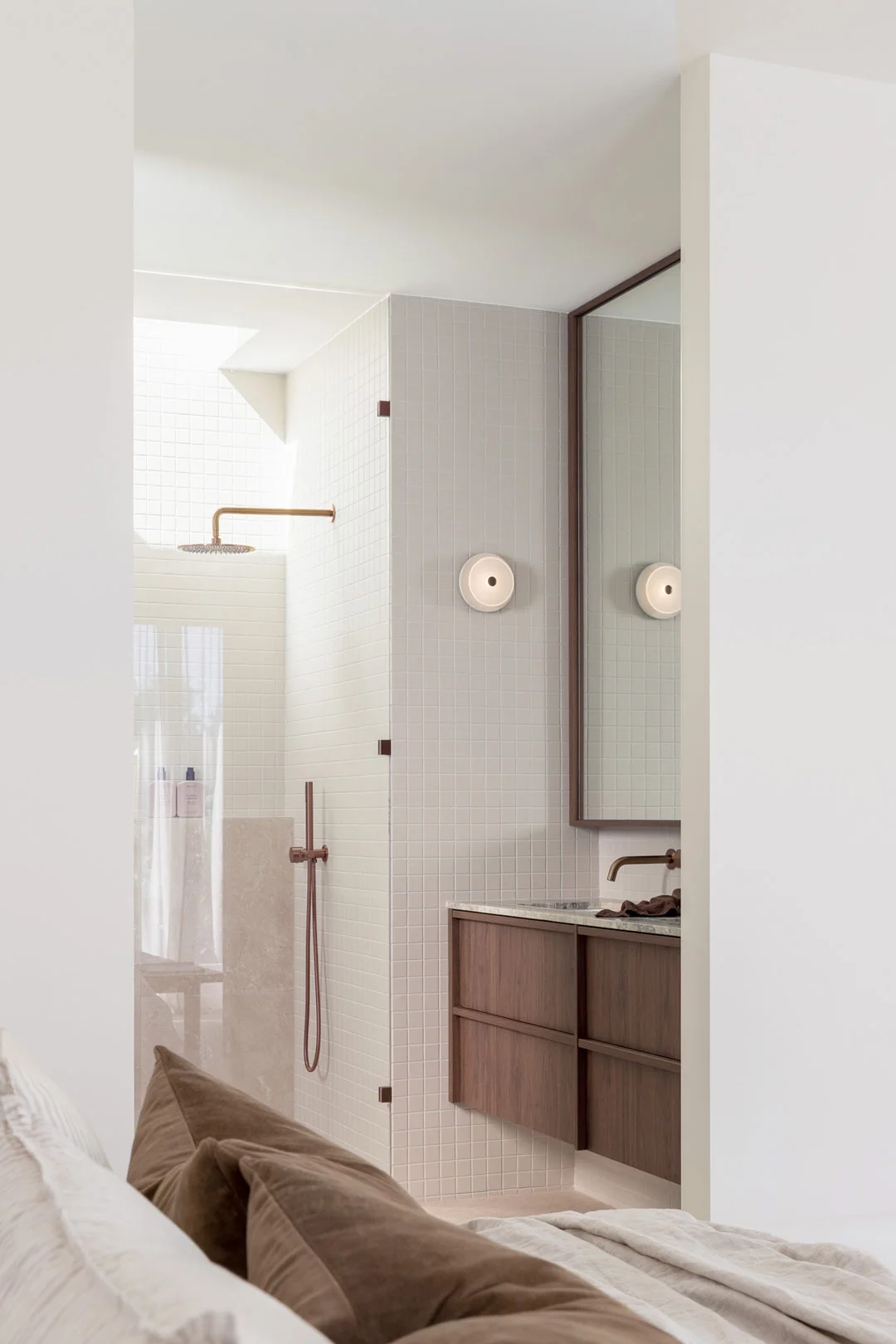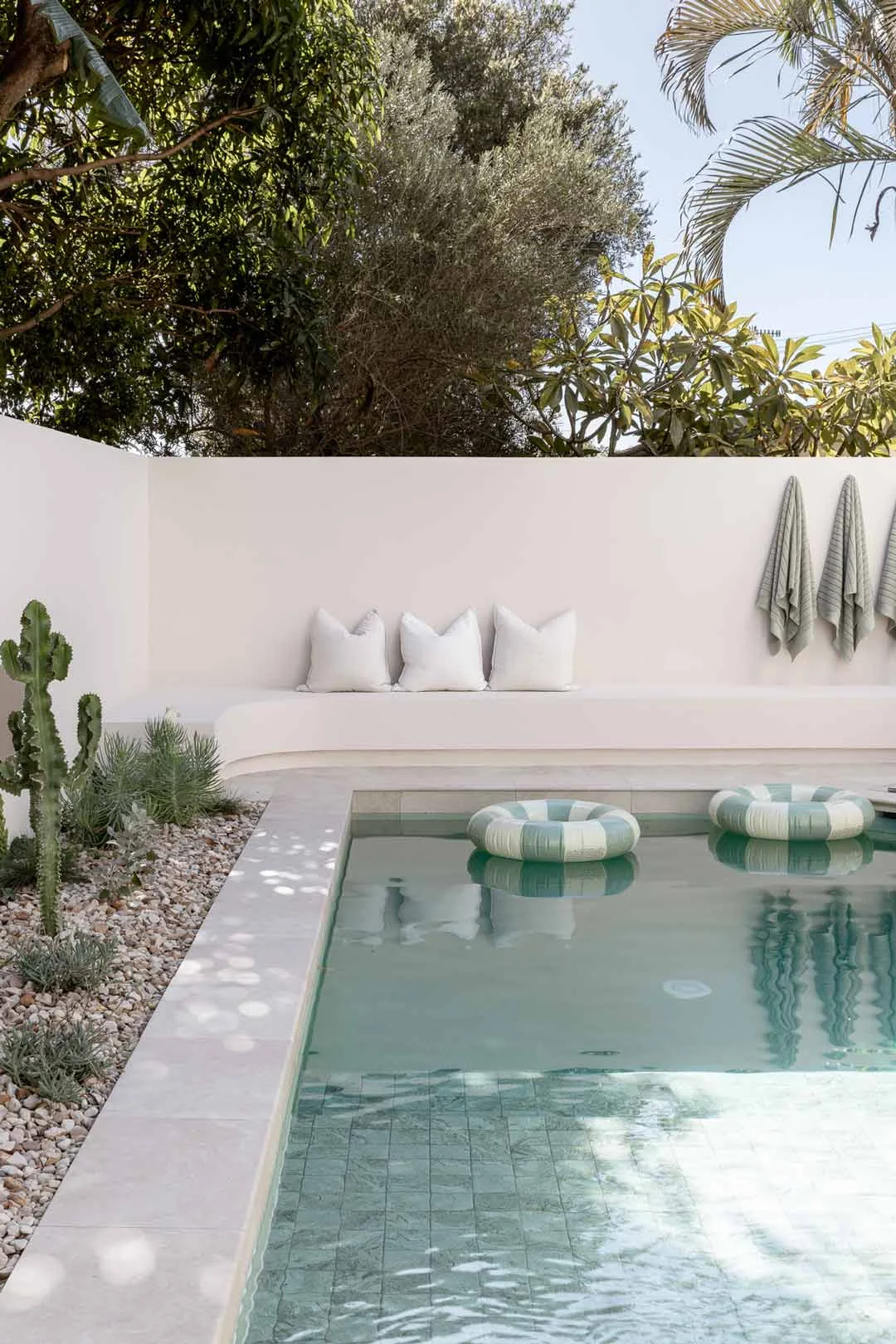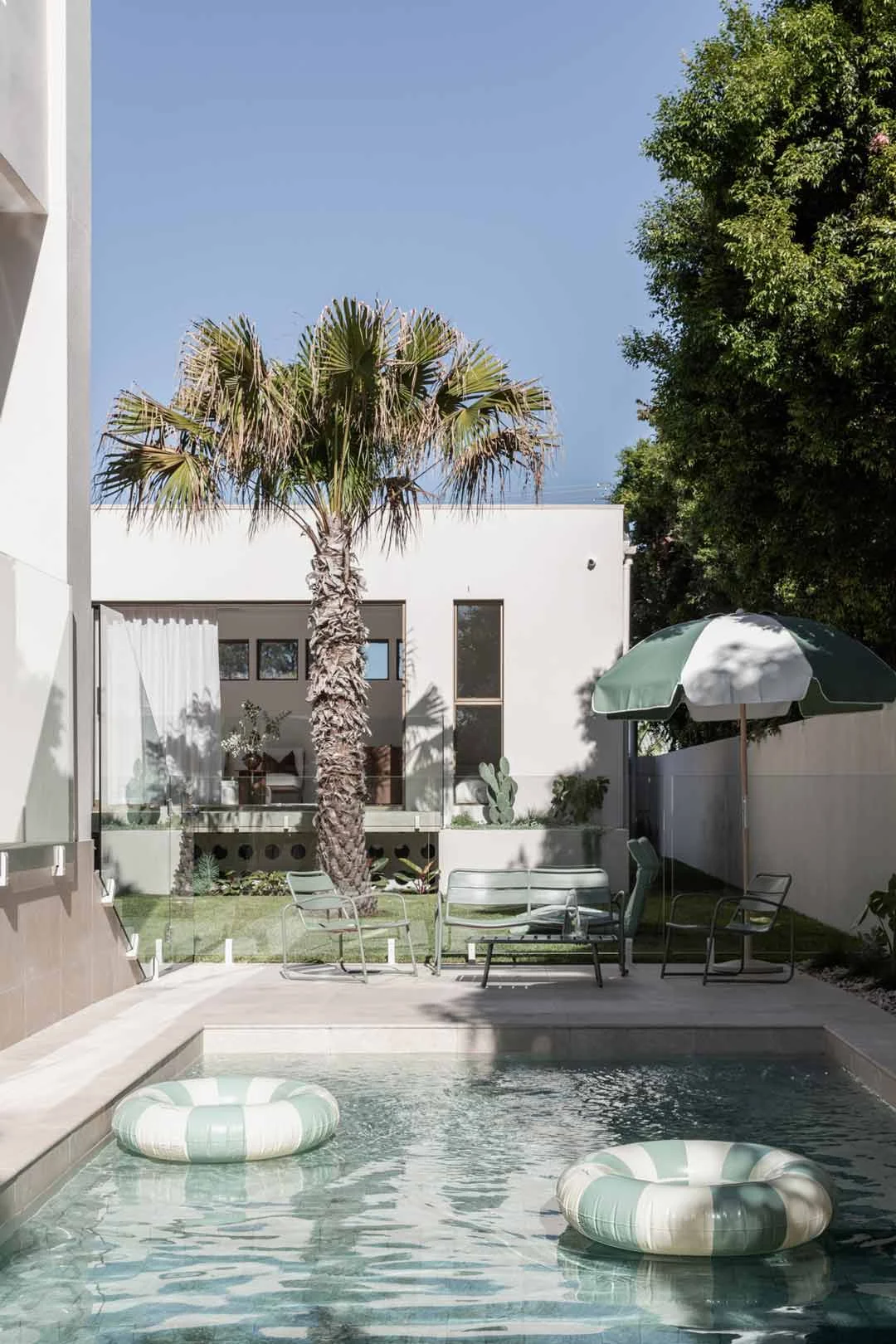 The owner sought an inside/outside flow where you could easily entertain amongst relaxed surroundings. This is evident with the desert garden that defines the exterior abode — a welcoming retreat to unwind amongst tranquillity, including a swimming pool that is layered tastefully with sukabumi tiles.

Ultimately, Doasis fulfils its brief — providing a welcoming Gold Coast haven distinguished by its stylish yet unpretentious facade where vintage and contemporary are fused to create an aesthetic that evokes pleasing harmony.

For more inspiration, check out 'Haight' — a home that equally embraces indoor-outdoor living with natural light.