Round Mirror vs Rectangle Mirror: Exploring the Styling Options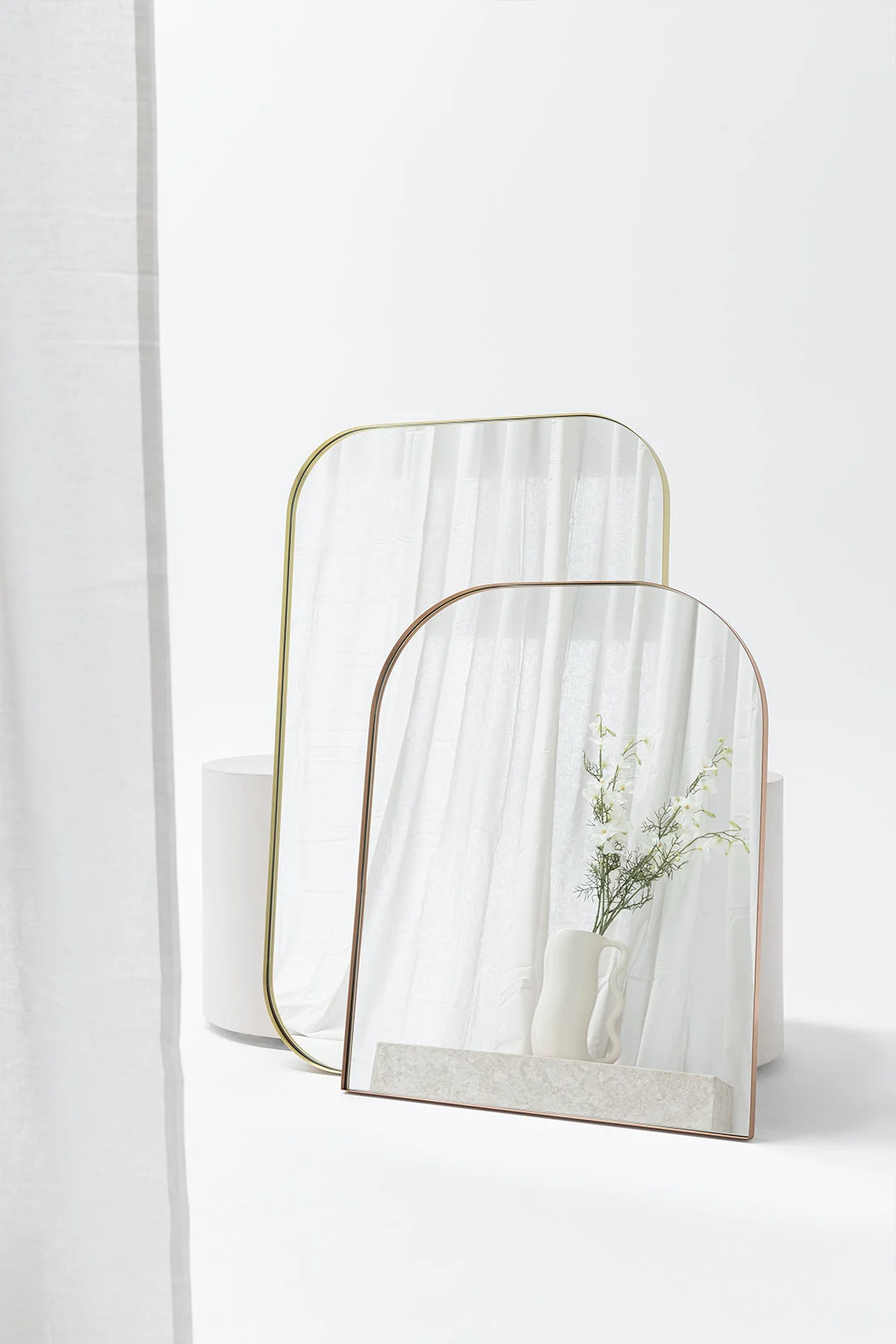 As superb statement pieces, mirrors can be a complementary reflection — helping elevate entryways and enhance the visual appeal of spaces. Styled creatively, they can dramatically impact your interiors, giving the illusion of more room while positively influencing its ambience.

However, how do you decide upon a round mirror vs a rectangle mirror throughout the interiors of your home? To settle this design debate, we speak to several home interior experts to determine which mirror shape works best in which space and the attributes each one contributes.
Round Mirror or Rectangle?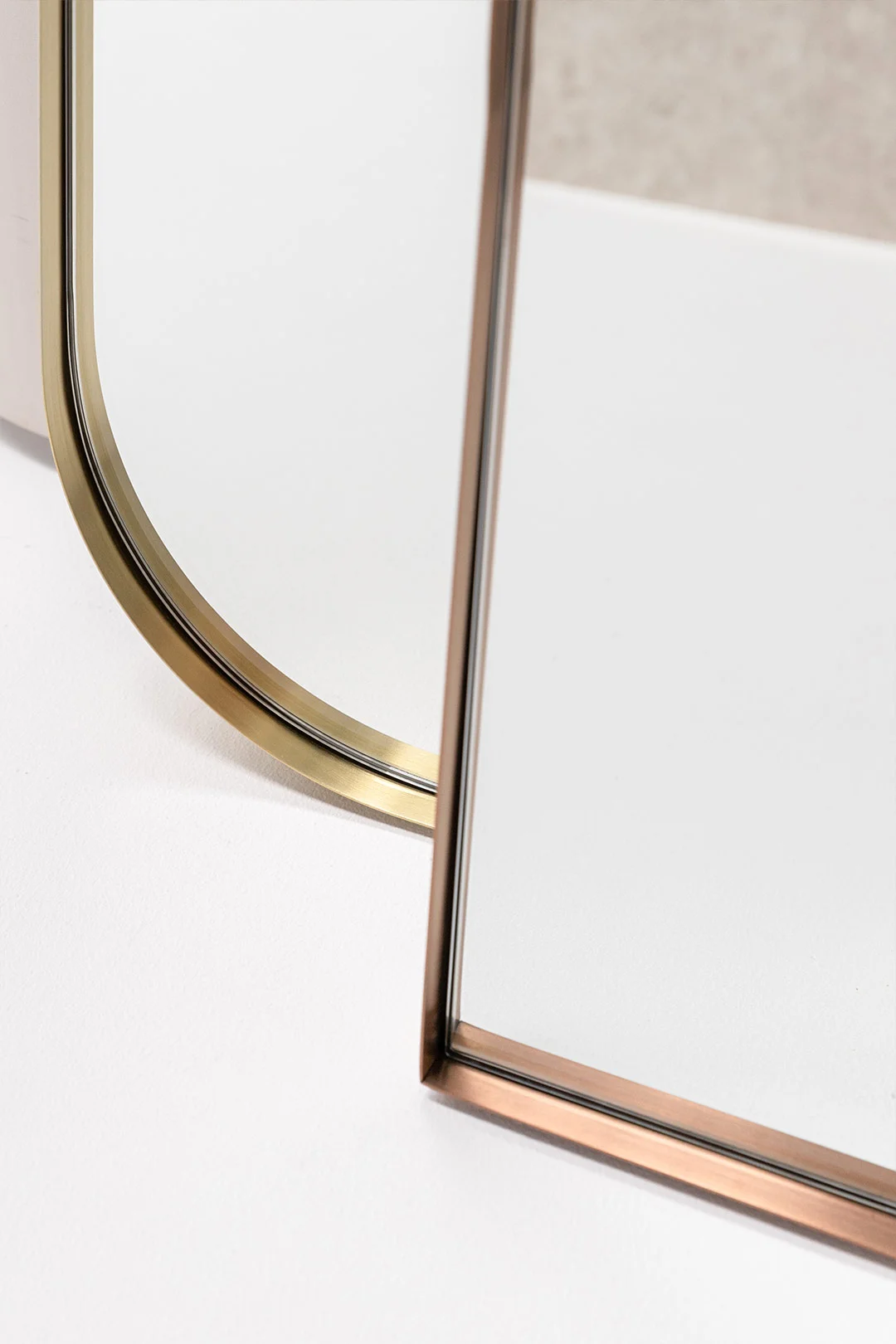 Generally speaking, the shape of your mirror can contribute character and overcome the monotony of conventional spaces. Careful consideration should therefore be placed on whether a round or rectangular mirror is best suited to your particular interior design purposes. Your mirror choice largely depends on your specific room, the furniture shape that's populating it, and the atmosphere you're trying to create.

"Round mirrors are a great way to break up the rigidity of straight lines, commonly found in furniture and architectural structures," says Brad Omni Smith, CEO and Lead Interior Designer of Omni Home Ideas. "Their gentle curves introduce a softer, more organic touch to a space, which can make it feel more relaxed and inviting."

Debra Waller-Pompe, an Interior Decorator at Freedom, echoes this mindset while considering the liberating design possibilities:

"A round mirror can add softness and bring a great curve to juxtapose against harsh edges. [They] can bring an organic shape and form to an otherwise straight room. A rectangular mirror is classic, crisp, and considered. It gives us room to play with proportion and create balance. It's safe."

Mirrors For Creating Space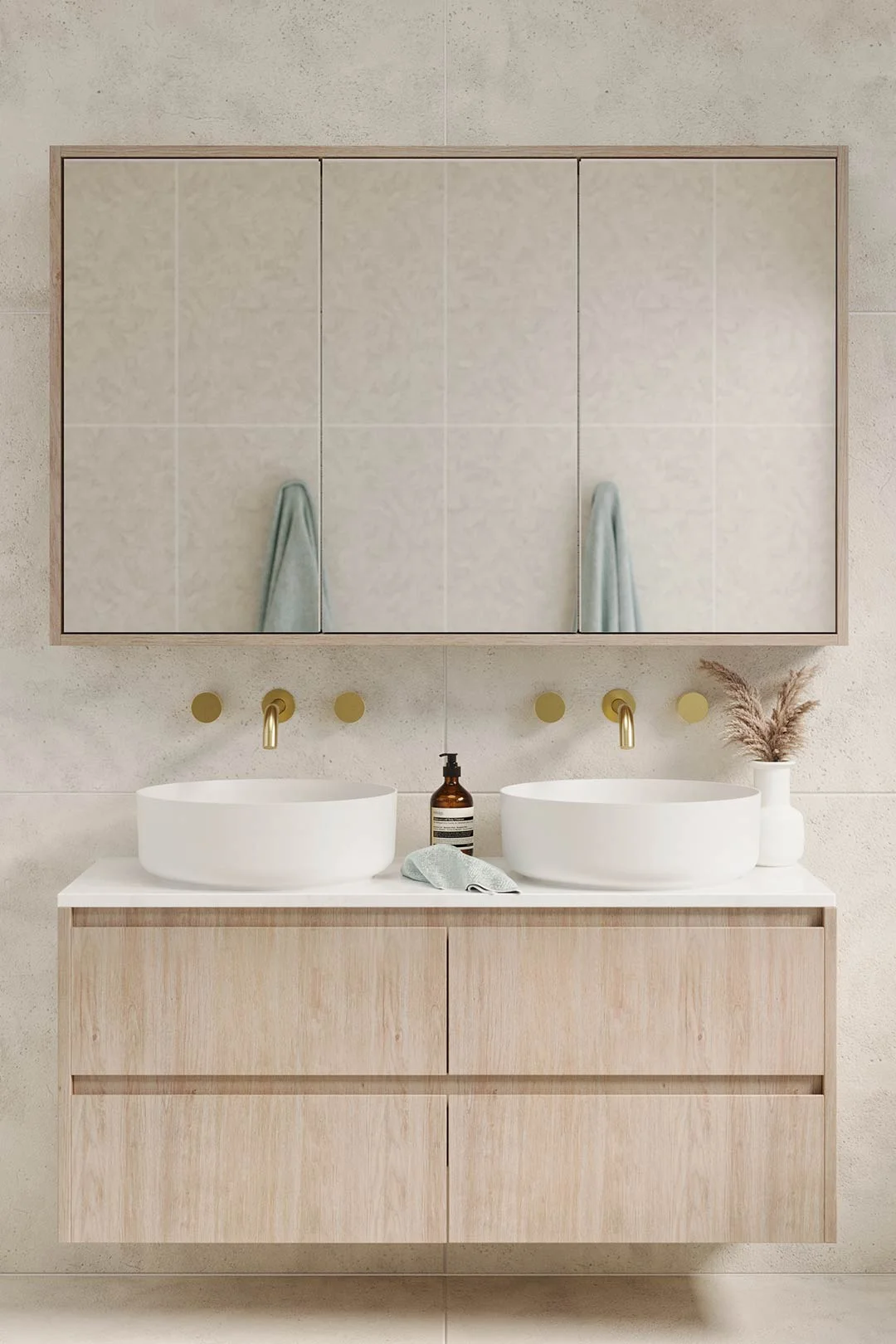 It helps to get down to specifics when using mirrors to bring new meaning to your home. This is, of course, determined by the type and size of your room and the attributes of that particular space that you are trying to accentuate.

"Large rectangular mirrors work well in living rooms or dining rooms, where they can enhance the feeling of space and reflect beautiful views or decor elements," continues Brad. "Smaller ones can be used as vanity mirrors or as part of a gallery wall."

Mirrors can help assist with each of the integral 7 Principles of Interior Design to instil a sense of harmonious character and contribute to the positive perception of a room too.

"If you have a double vanity or a long, narrow room, opting for a rectangular mirror can effectively balance the length of the vanity or the wall," adds Sydney-based Interior Decorator and Stylist Liz Hayward, founder of Hayward & Co — which offers design and decorating services.

"The choice also works exceptionally well in rooms with very tall ceilings, as you can hang a rectangular mirror in a portrait orientation to accentuate the vertical space."
Rectangular Mirrors For Walls and Practicality Purposes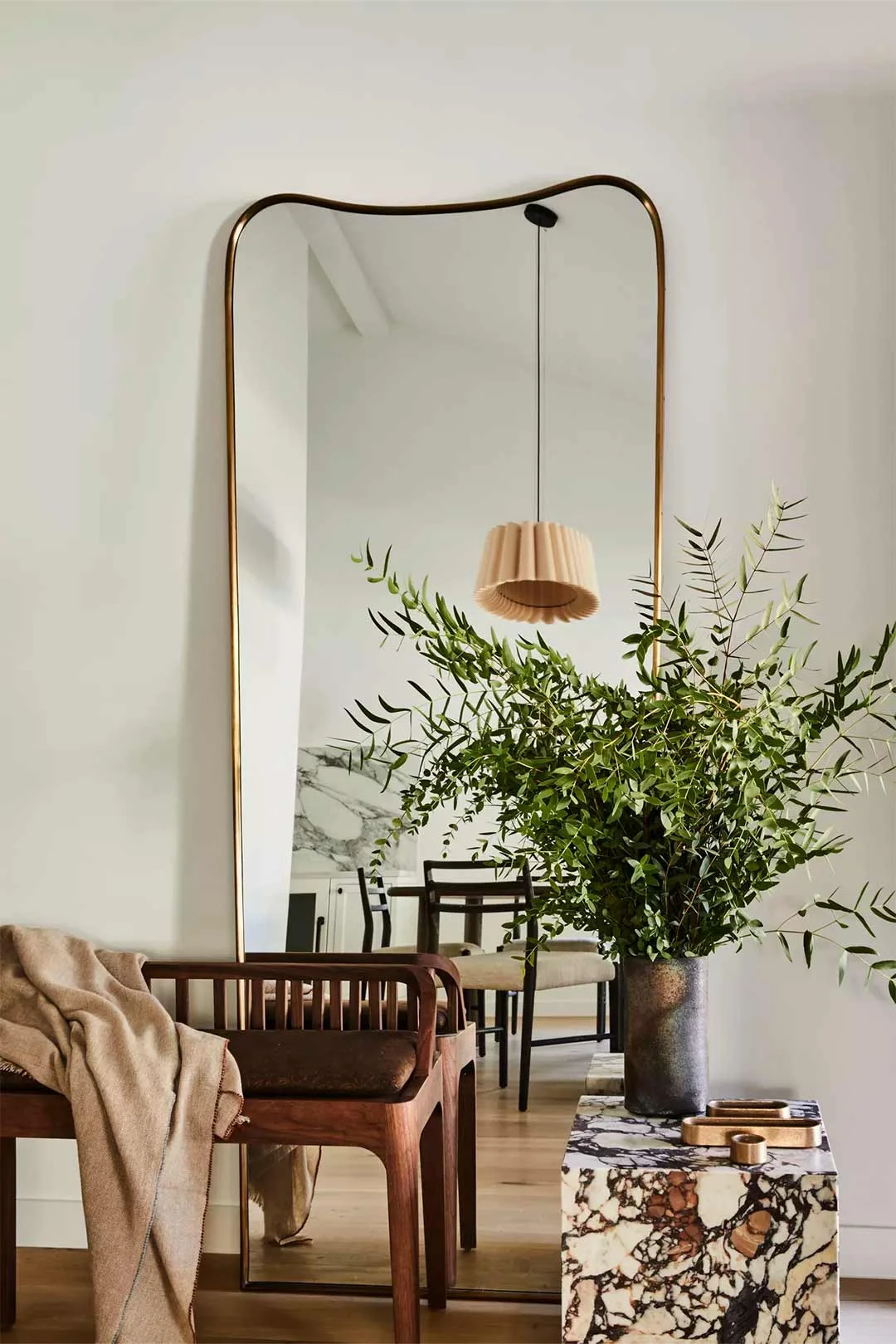 There's a good reason why rectangular mirrors are the classic choice for homes — their straight lines and easily defined angles complement traditional styles while helping to create a unified aesthetic.

"Rectangle mirrors exude timeless elegance with clean lines — perfect for adding sophistication to any space. Portrait-oriented rectangular mirrors are ideal for dressing and grooming, commonly found in bedrooms, closets, and bathrooms," offers Bree Steele, Interior Designer and Event Stylist at the Melbourne-based RJ Living, which offers designer furniture and homewares.

"They accentuate vertical space and make ceilings appear higher. On the other hand, landscape-oriented rectangular mirrors widen a room and create a cosy atmosphere, perfect for dining areas or living rooms."
Why Bathrooms with Round Mirrors Endure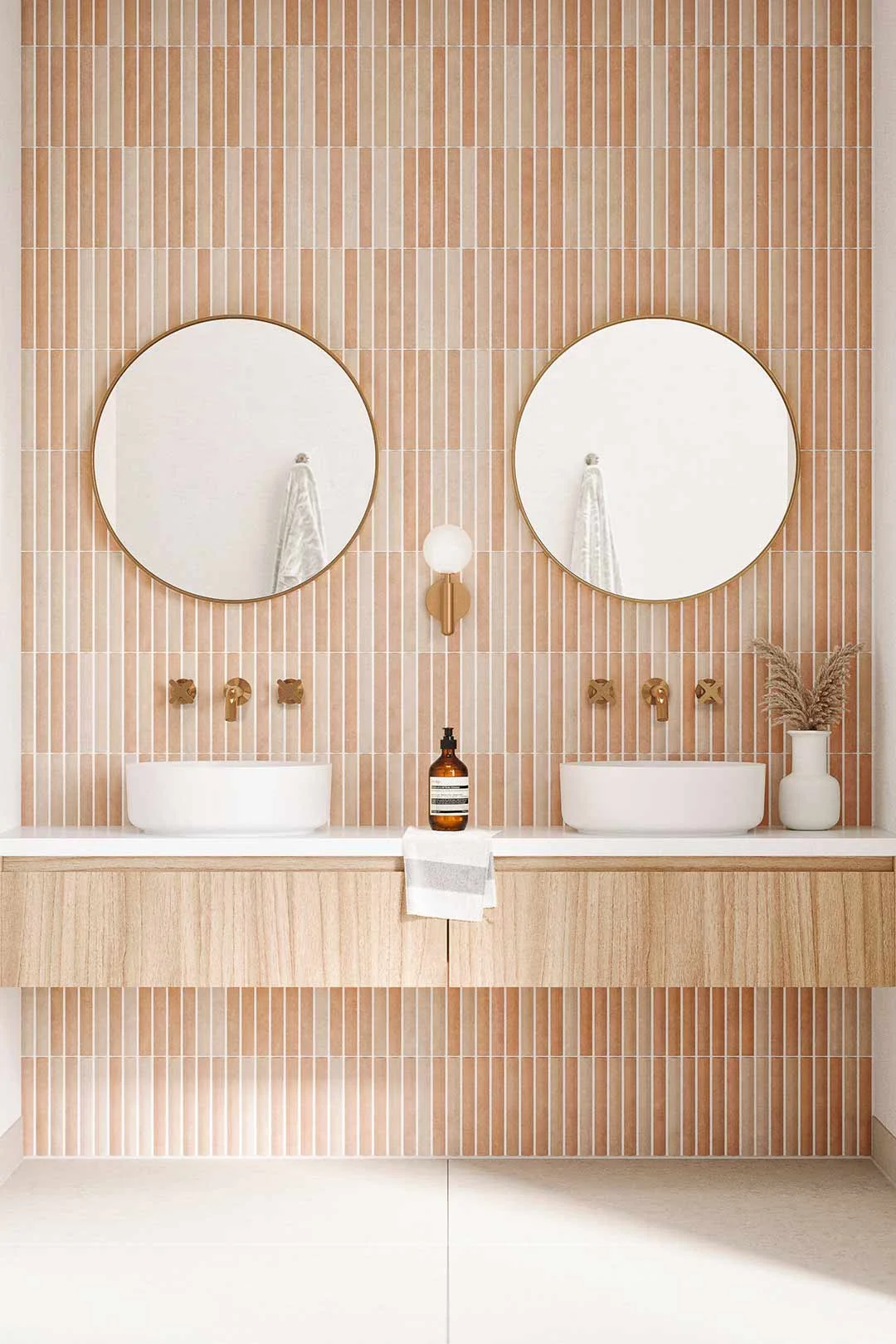 Several reasons dictate why bathrooms with round mirrors work exceptionally well too. The absence of sharp corners and edges contributes to a more relaxed and calming environment, while their soft, organic design brings a touch of elegance to these spaces. In addition, the circular shape expands the perceived reach — helping to maximise confined spaces visually.

"Round mirrors are versatile and work well in almost any room," considers Brad. "However, they particularly shine in smaller spaces like bathrooms [...] where they can make the space feel larger while adding a touch of sophistication."

"In conclusion, the choice between a round and rectangular mirror should be dictated by the room's existing decor and the atmosphere you're aiming to create," says Brad. "Both shapes have their advantages, and the best one for you depends on your individual style and the space's needs."
Help with Enhancing Your Space with Mirrors