The Sociable Weaver's Off-Grid Living Paradise in Australian Bushland | House Tour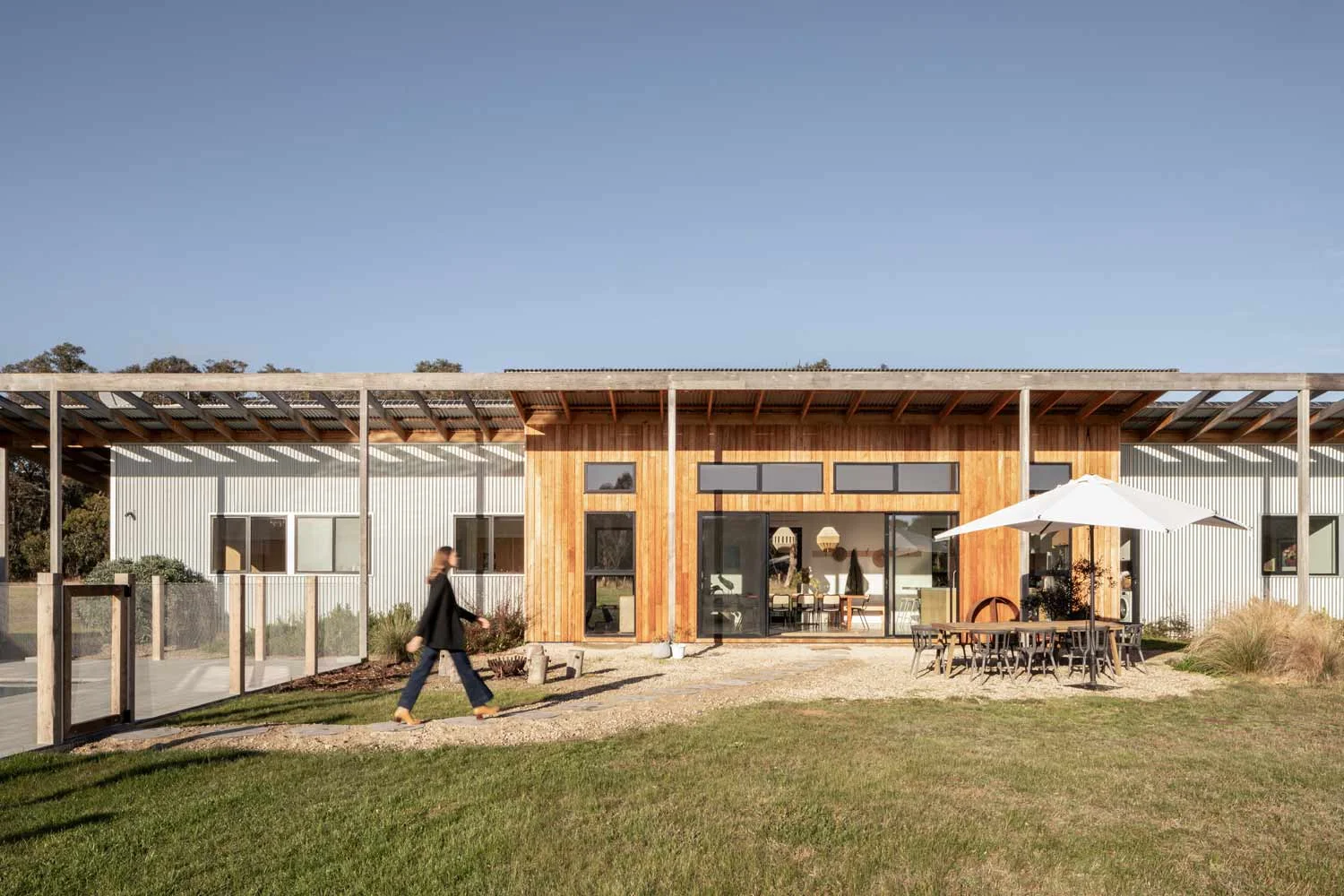 Australian design is responding more and more perceptively to its most important client — the environment. Our ancient country nurtures some of the world's most unique and vibrant biodiversity, and the structures we call home should be a supportive offering to it.
That is why The Sociable Weaver has always impressed us here at ABI Interiors, and we've admired from afar how they put sustainability front of mind when crafting houses. The chance to visit one of their latest projects, Driftwood, was an honour and taught us more about the cognitive approach that goes into a building of this calibre.
Set on Wadawurrung Country in Victoria's Surf Coast region, it's a treasure of off-grid living, cradled by trees on a vast bush block. The self-sufficient home features its own passive solar design, waste removal system, and rainwater tank — with our brushed brass and brushed nickel tapware as the delivery touchpoint.
Come with us as we tour Driftwood, a project that takes endearing country Australian design elements and teaches how well they can coexist with their surroundings.
Over its lifespan, it is expected that Driftwood will emit 635 tCO2e less than average or standard buildings providing the same functionality."
"...this amount is equivalent to 3,807 trees planted; or 167 cars taken off the road for a year; or 85 zero energy Australian homes for a year; or 19,000,000 balloons of CO2 gas removed from the atmosphere!" — Bri Horne, The Sociable Weaver.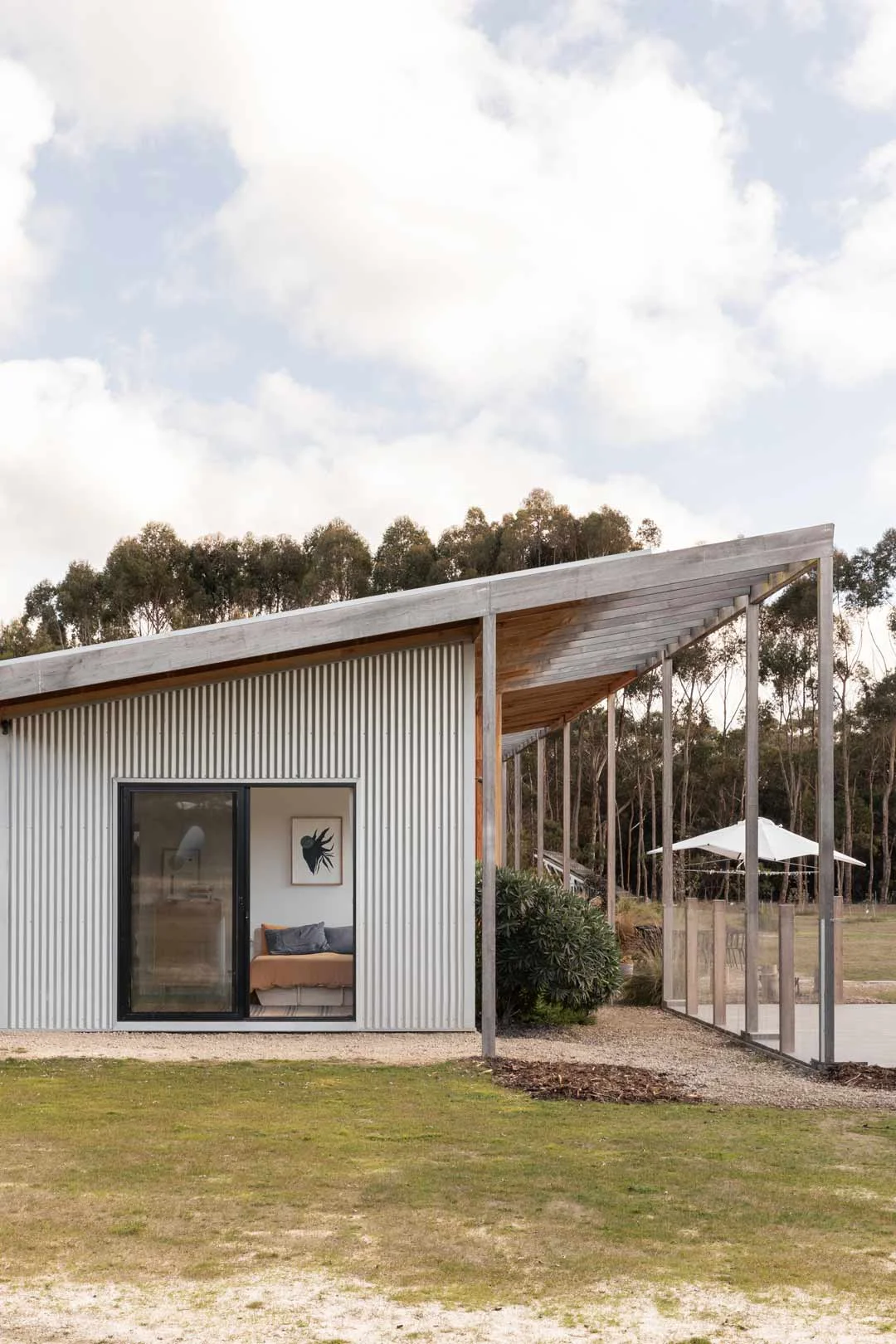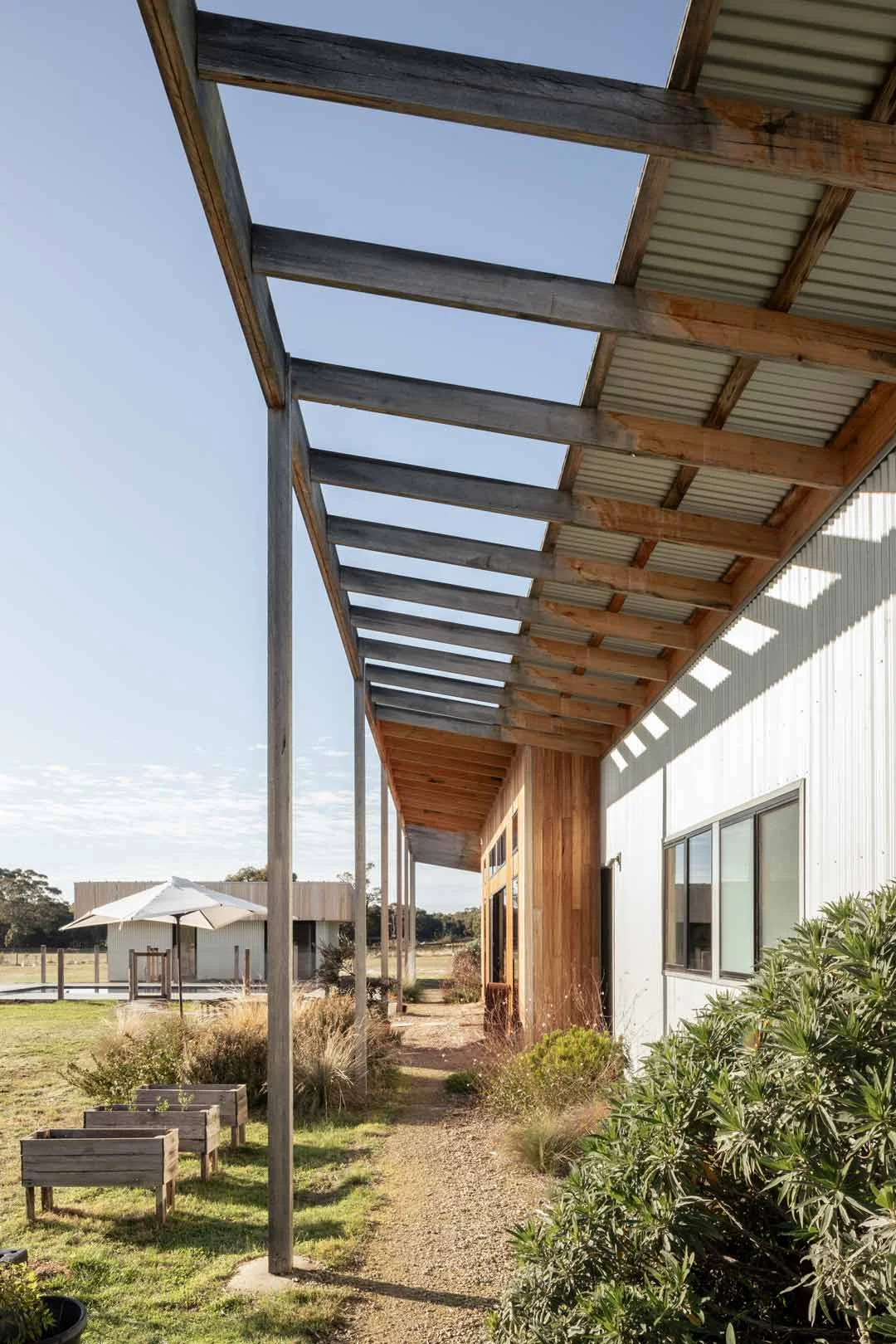 Driftwood is a long, low-profile, four-bedroom home that sets a world-class example of off-grid living. It attests that this lifestyle can differ from the stereotype of rustic structures in the wilderness.
From the outset, the silvertop ash timber and corrugated iron facade hint at the bucolic charms of rural homes — and both materials are incredibly durable against extreme conditions. Silvertop ash provides good resistance to fire, while corrugated iron holds well in both snow and fire. A slanted roof, brimming with solar panels, naturally lets water run off behind the home, adding to the 'no-maintenance' ethos of the build.
These external features are just the start of Driftwood's eco-living story.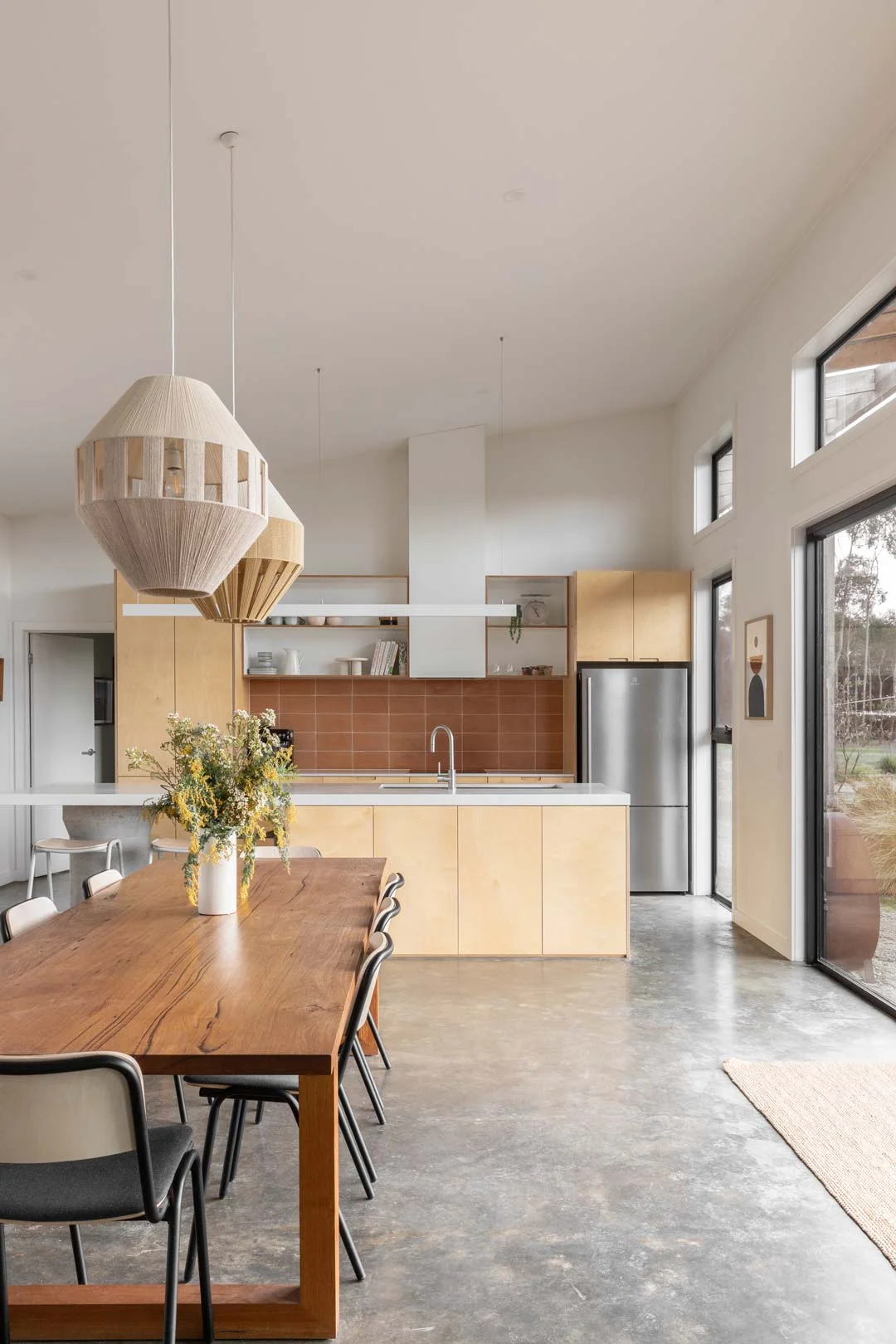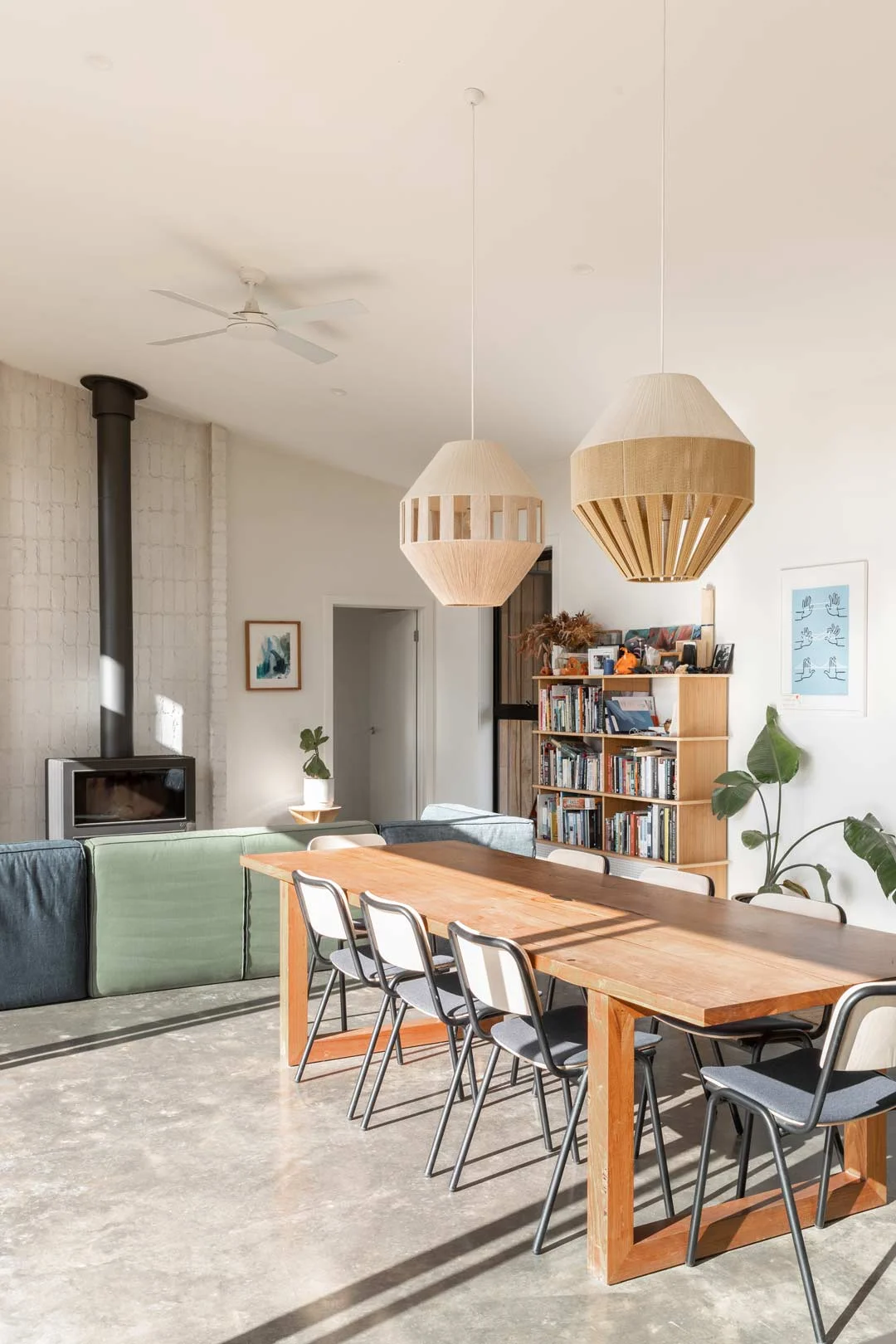 Its passive solar design is most apparent when you step into the kitchen, living, and dining. It takes the "heart of the home" idea seriously, with large north-facing windows and clerestories using the winter sun to heat the space. The sun's rays are hugged into the concrete floor, its warmth collected well into nighttime, reducing the need for heating appliances.
Driftwood's orientation means that the sun's summer path emits less direct light onto the home, with ample opportunity for cross ventilation to keep cool.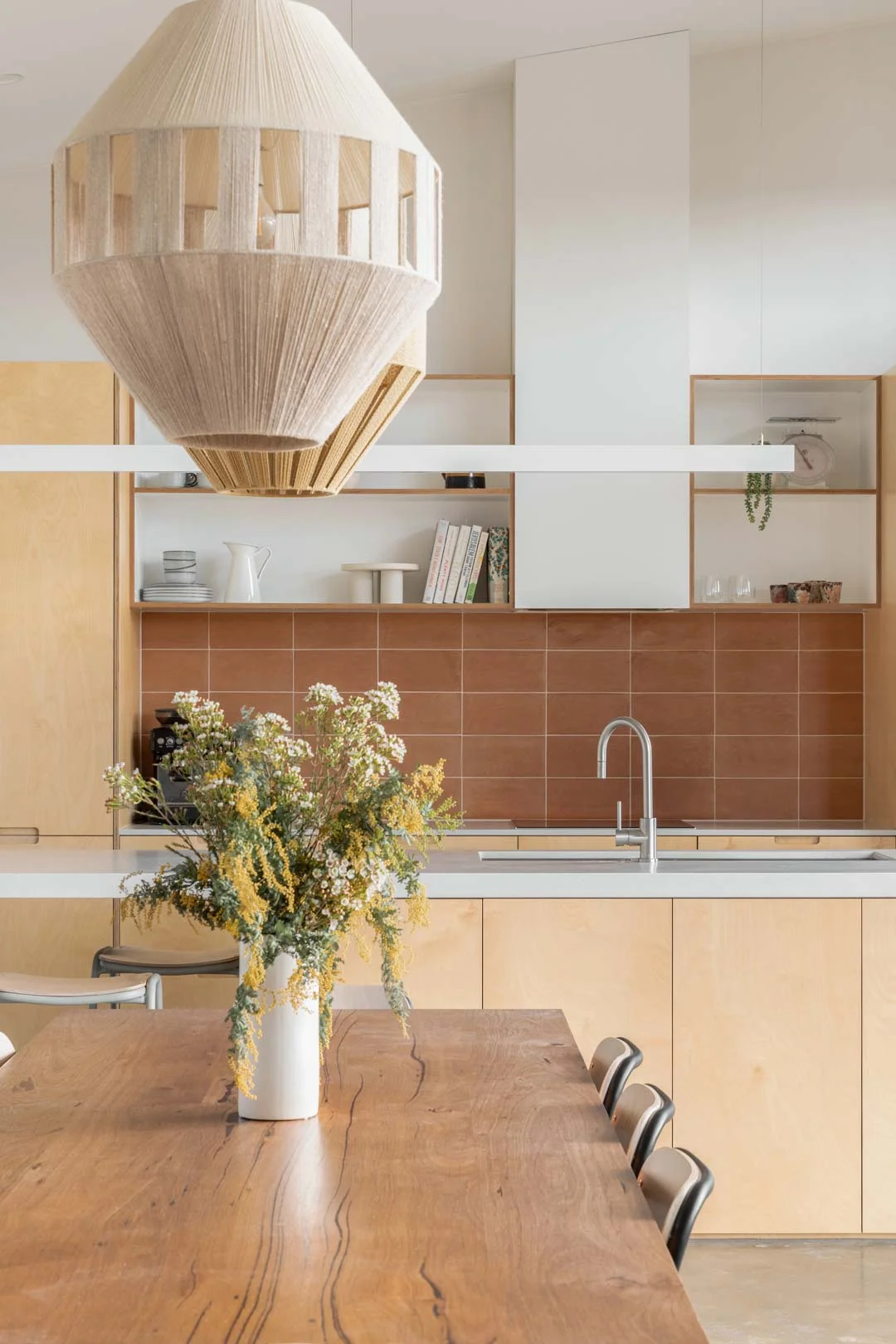 The off-grid living design adopts palette shades akin to Australian landscapes. In the kitchen, warm low-tox plywood and rich ochre tones are reminiscent of coastal sand and desert dirt — simple nods that appreciate the terrains that live wildly far away.
The Elysian Commercial Pull-Out Kitchen Mixer works in tandem with the concrete floor and countertop, anchoring the space with a palpable, almost industrial, air of sophistication.
It's exciting to see our ranges included in eco-living and self-sufficient homes, selected not only for their aesthetic but their high WELS rating, too — ensuring that water is saved as much as possible.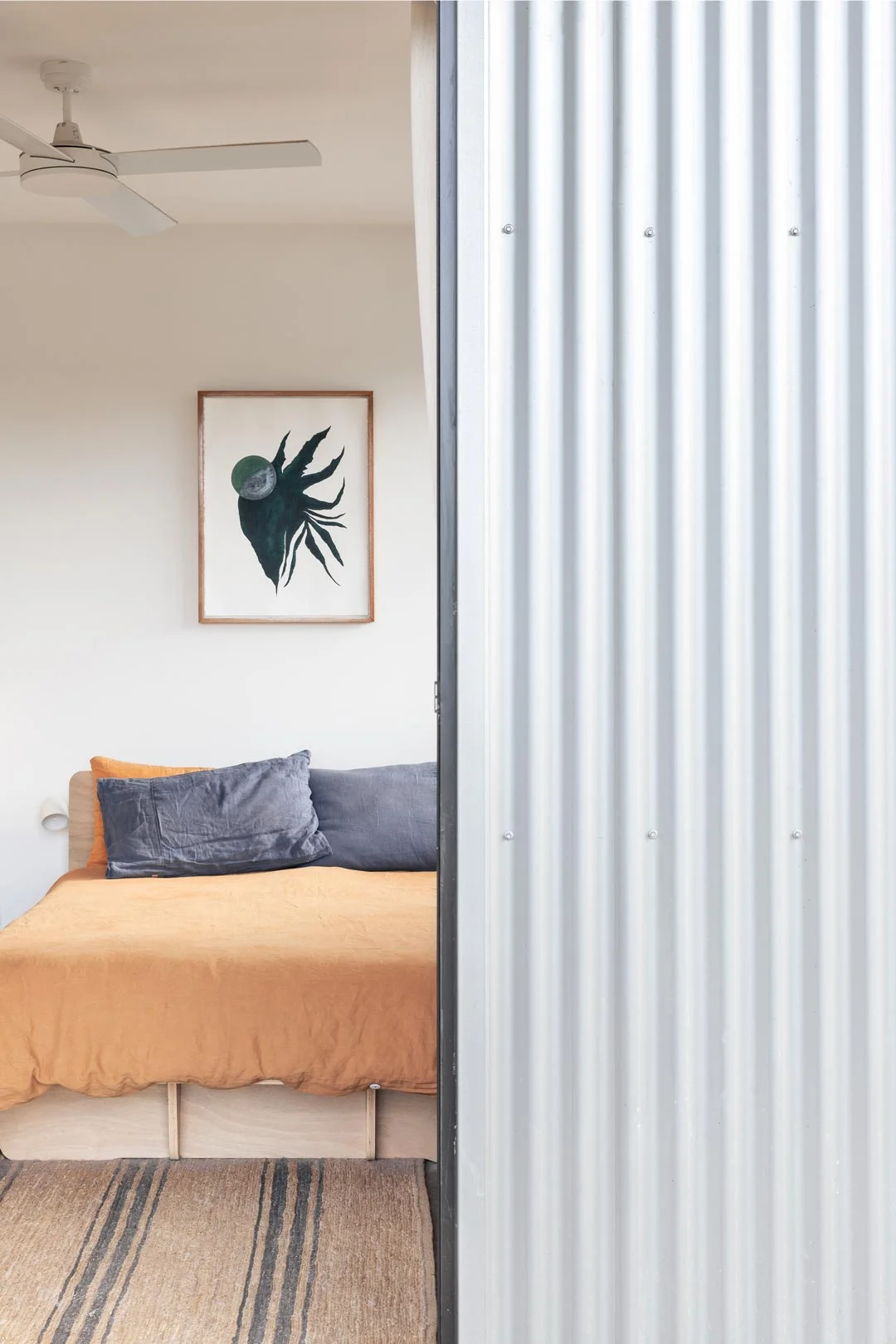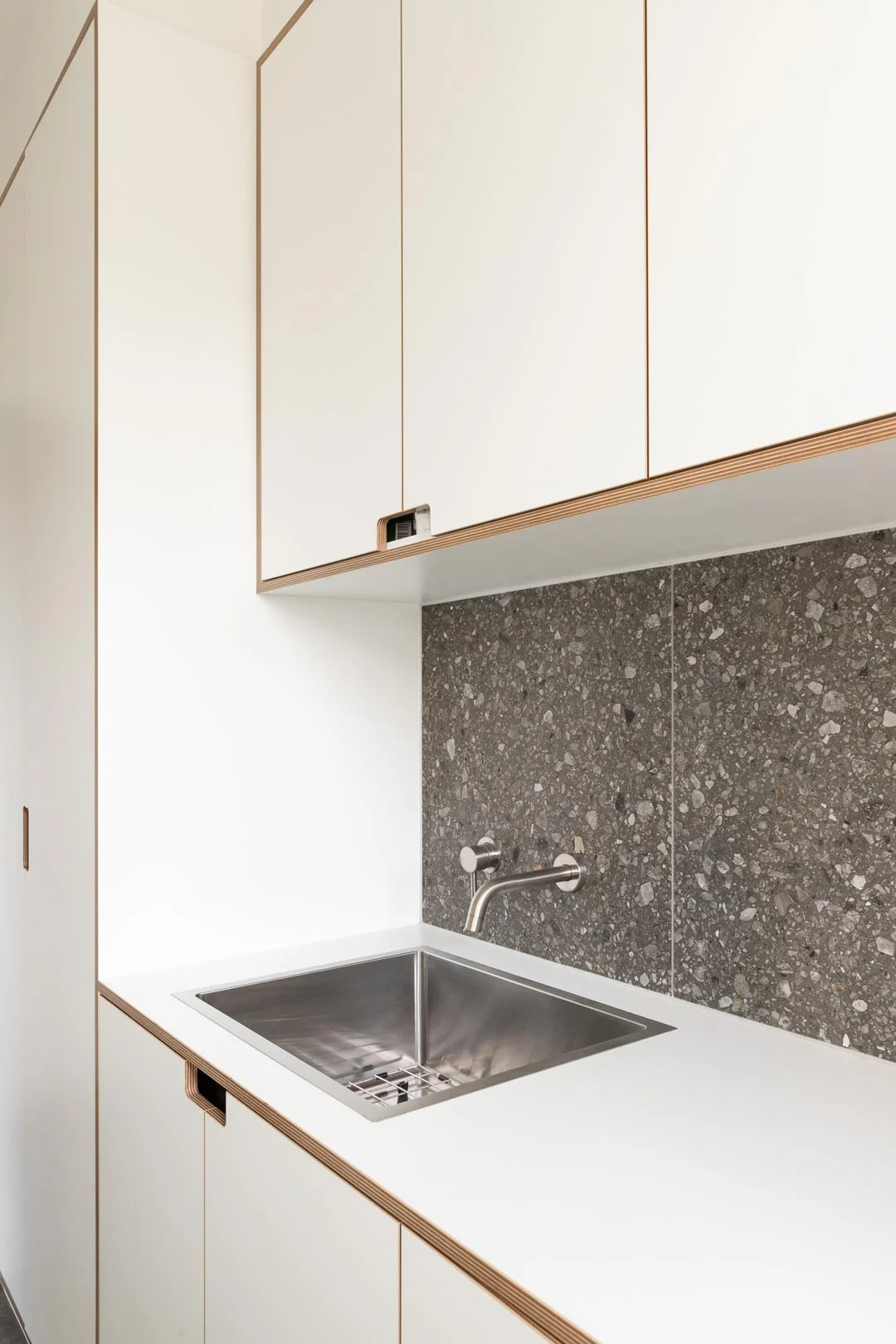 "We really wanted to show that an off-grid home doesn't need to just be sustainable, it can also be beautiful, and spacious." — Michael Nowlan, The Sociable Weaver.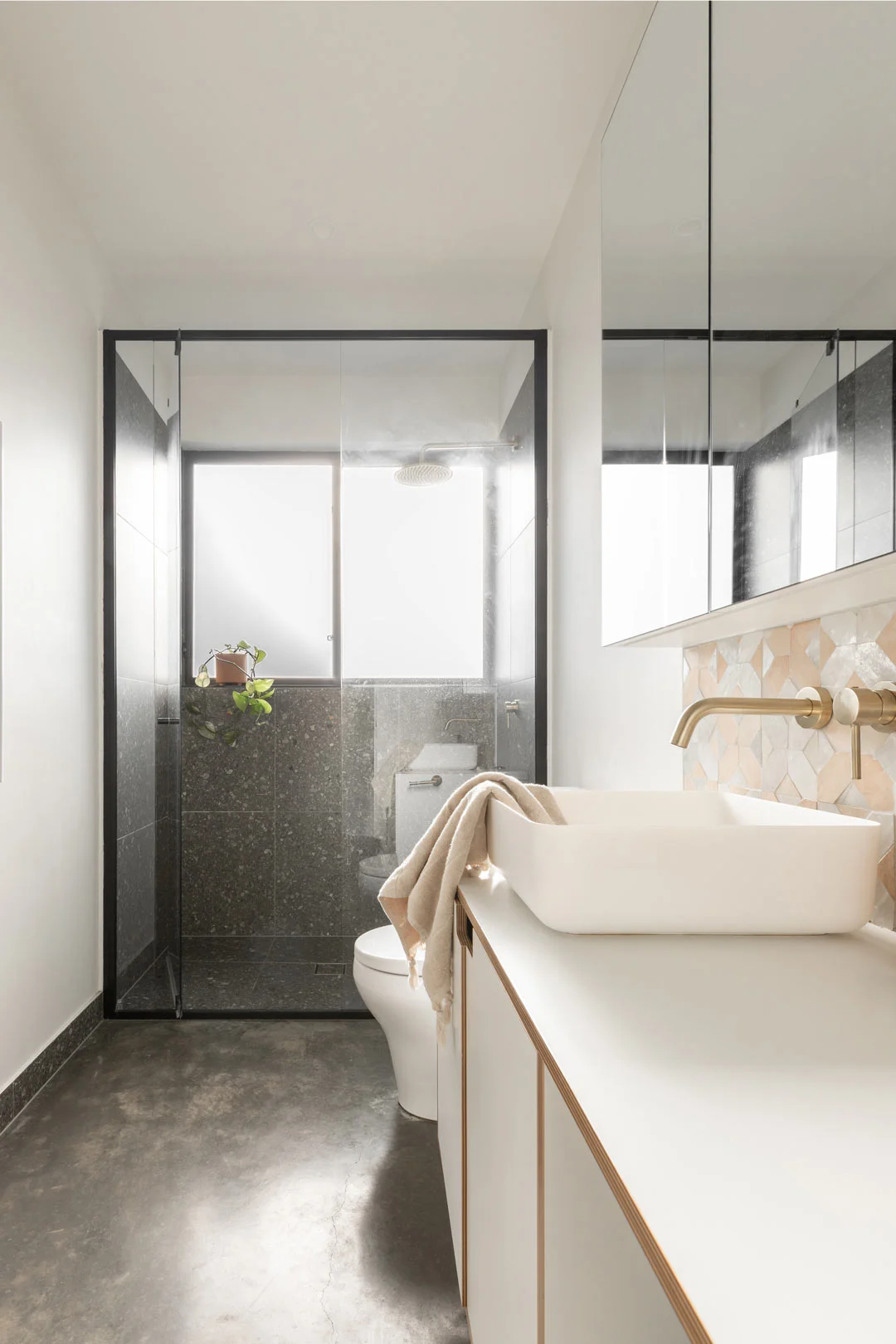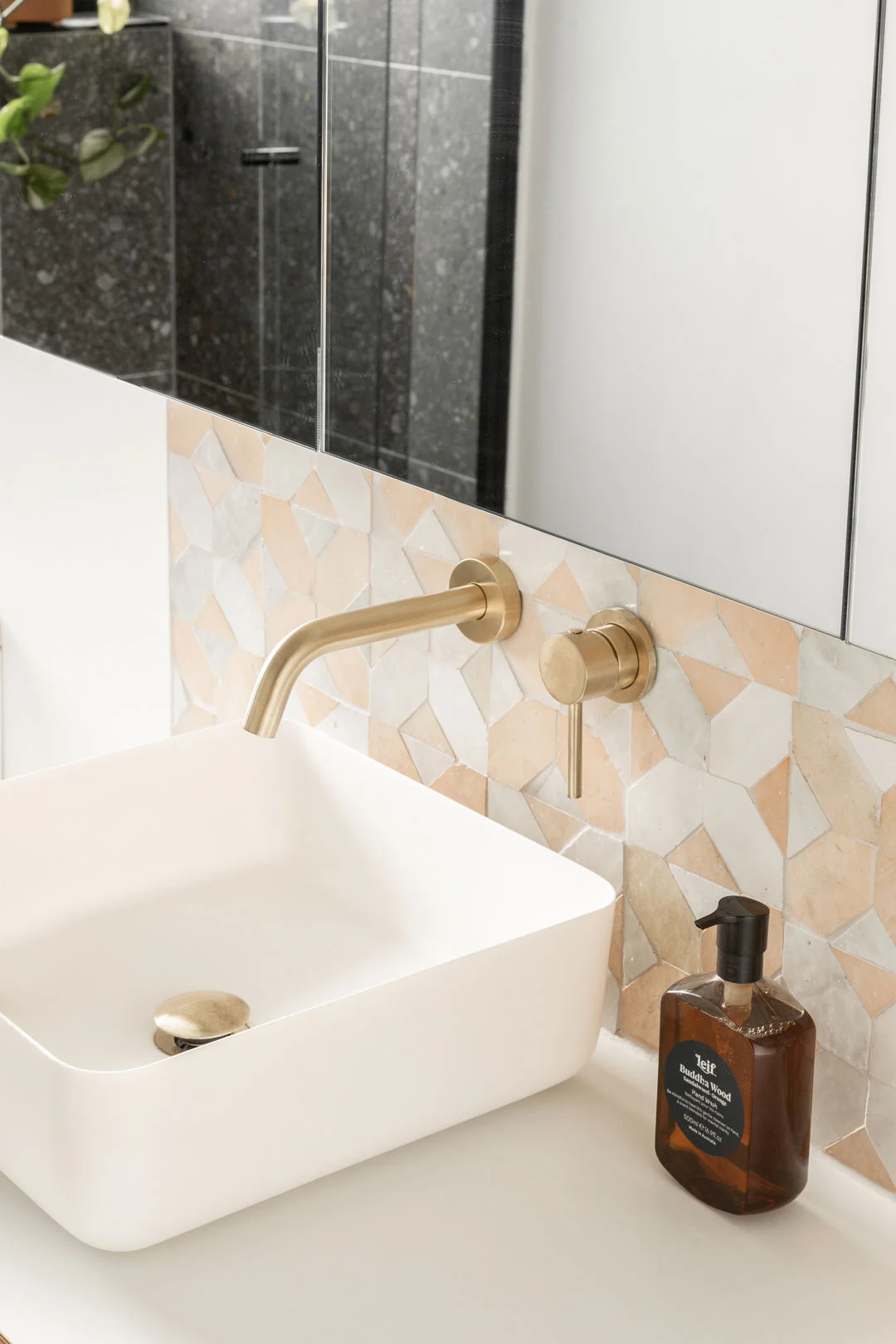 Concrete floors bring continuity to the primary bathroom, as this space deviates slightly from the rest of Driftwood. At first glance, it's darker and edgier, but as the scene mellows into view, warm patterned tiles, brushed brass tapware, and white ply cabinetry soften and balance — making for a harmonious blend of spheres.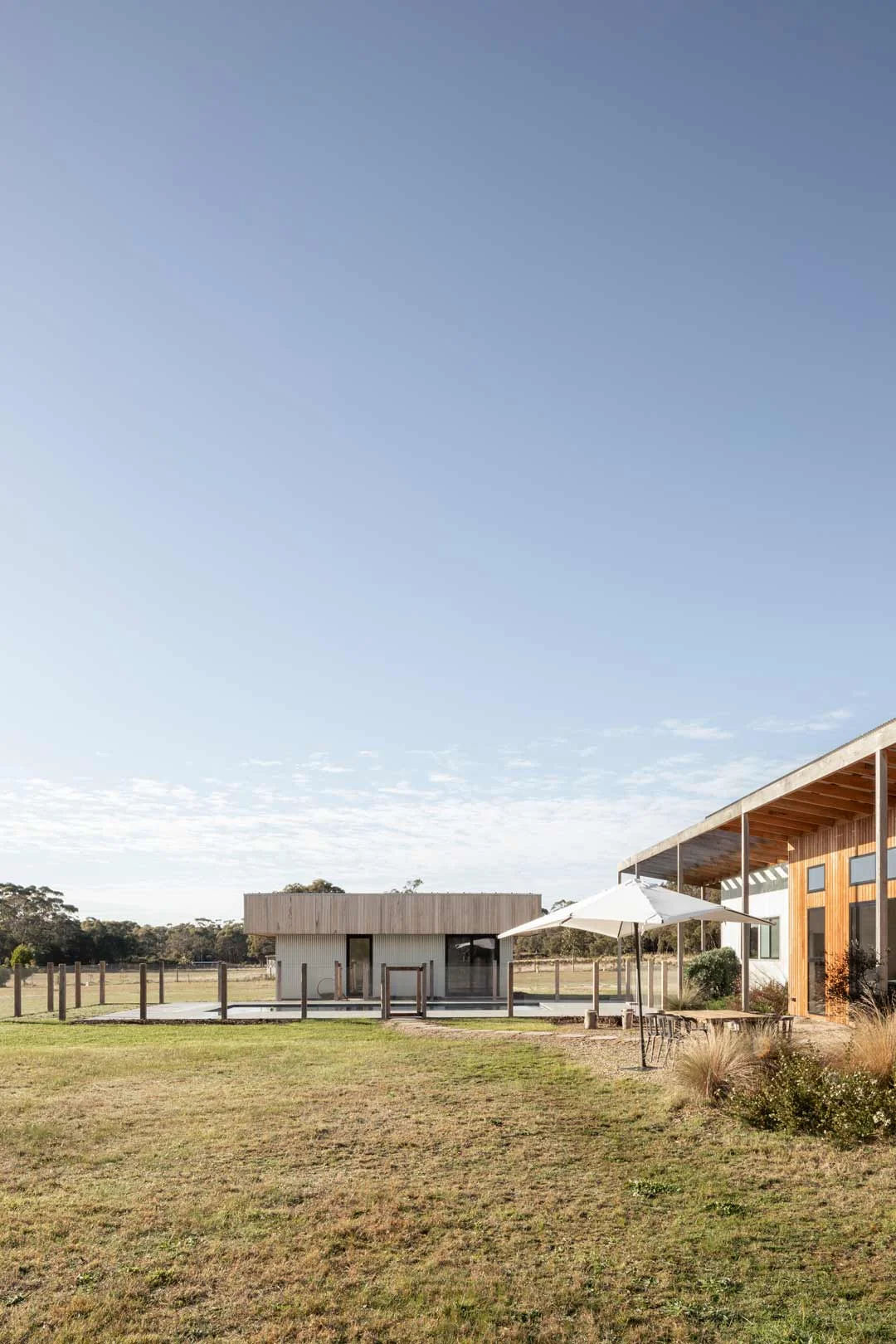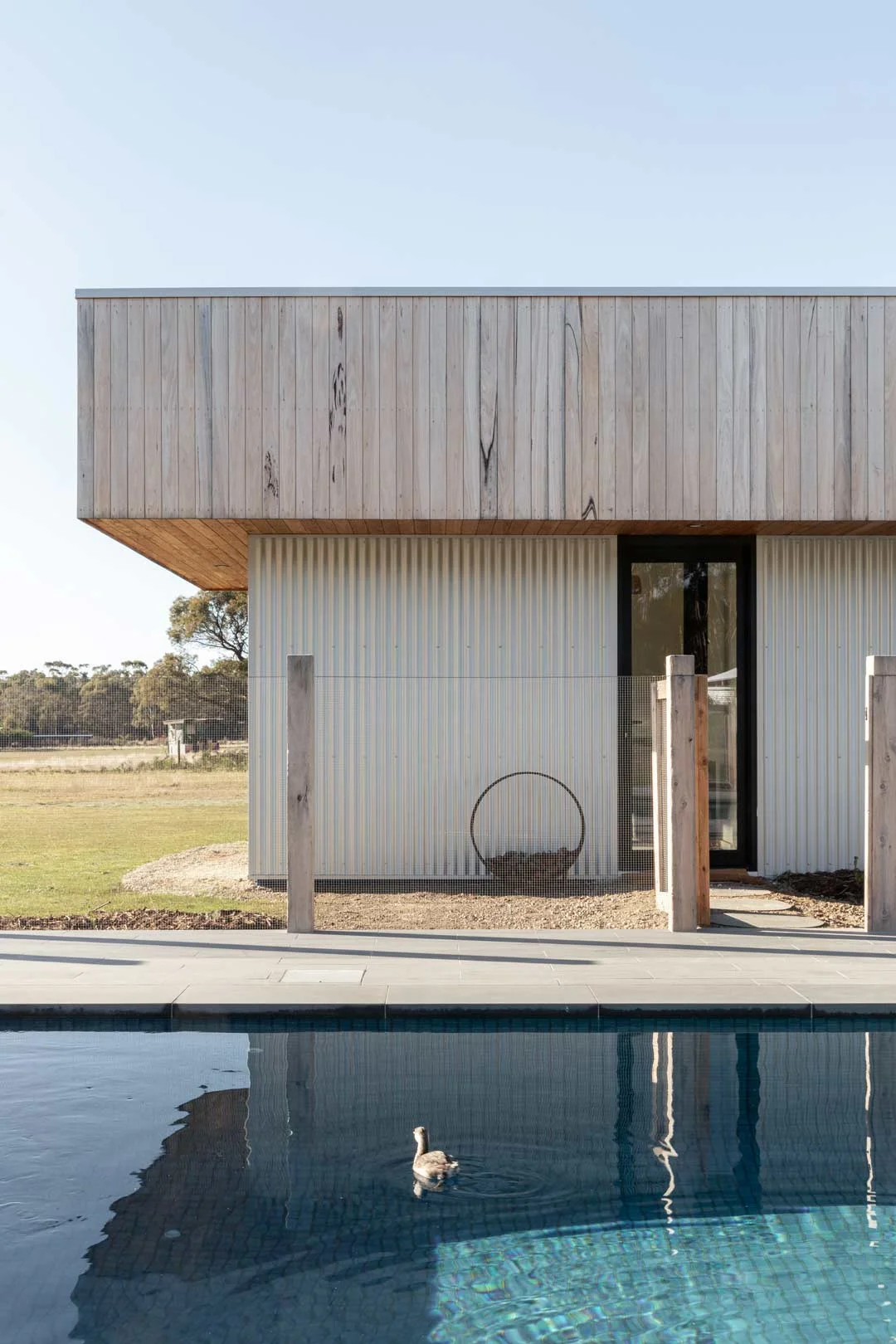 Part of Driftwood's off-grid living arrangement is a detached guest house by the pool. It features one tidy bedroom and lounge area in a west-facing position. With this in mind, The Sociable Weaver has cleverly accounted for summer days when the sun will hit this site more intensely, with concealed pull-down awnings in the eaves for protection.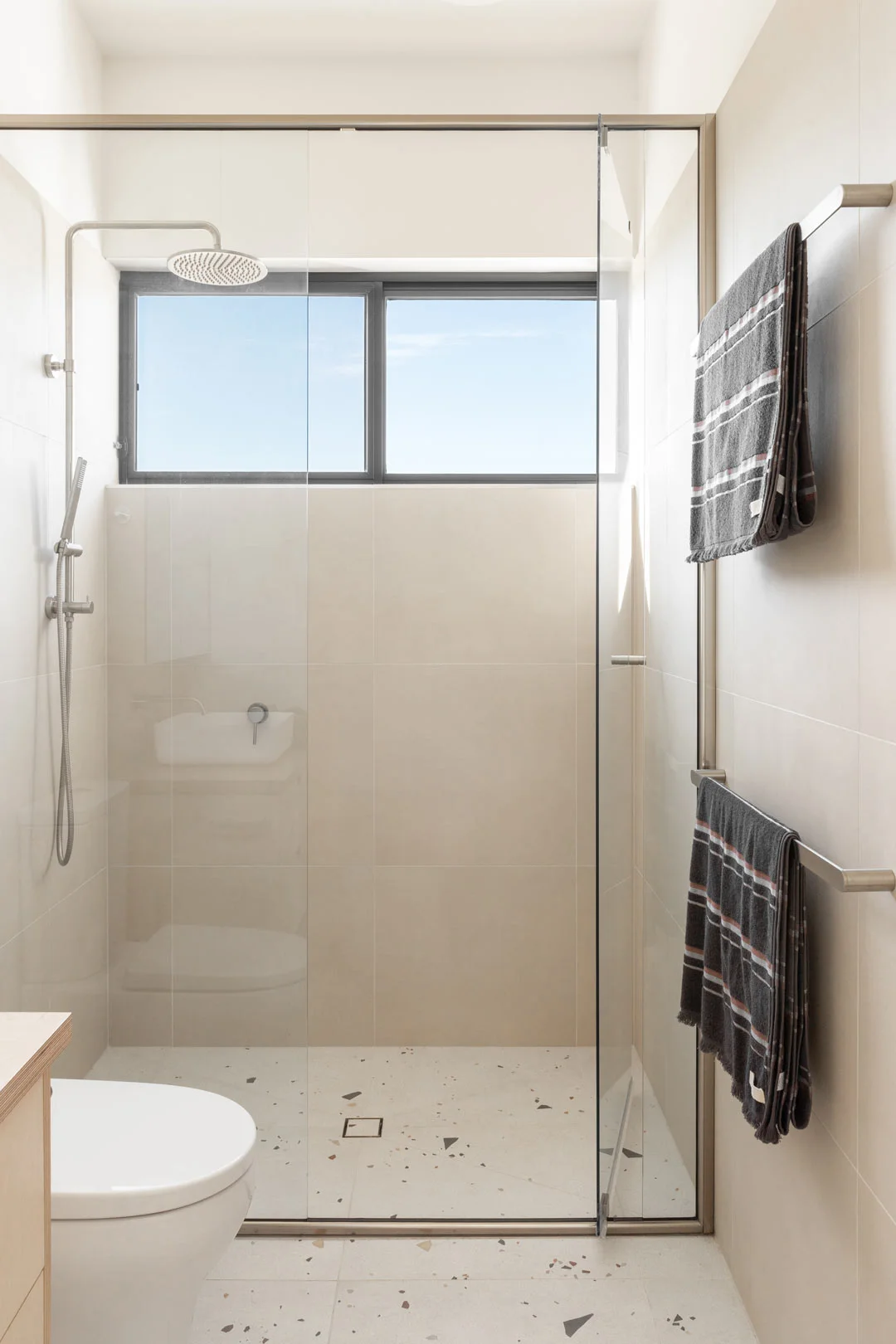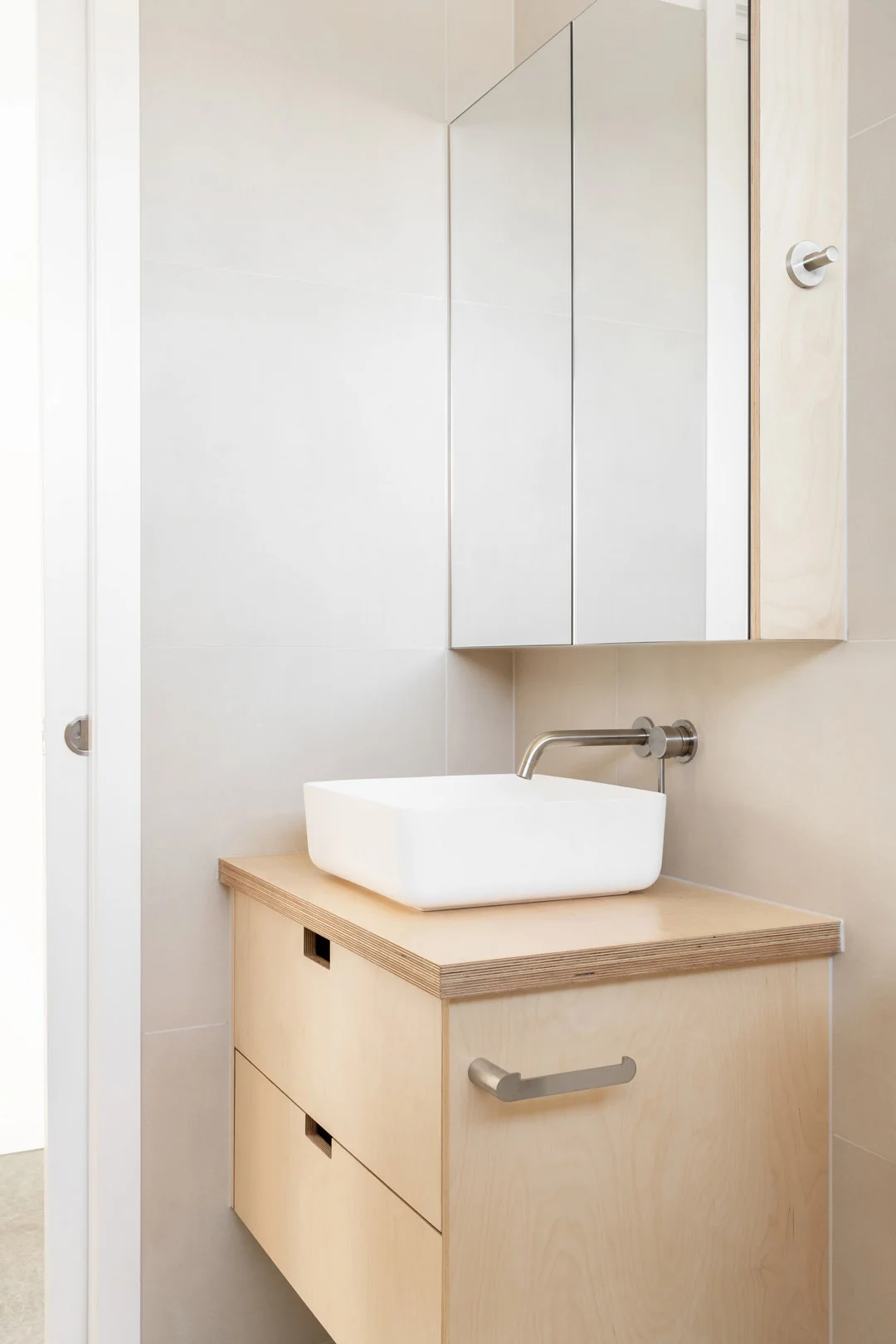 Brushed nickel tapware in the guest house bathroom, along with the plywood theme, make the separated site still feel uniquely attached to the main home. These pared-back style selections display simplicity's beauty, shining a spotlight on careful craftsmanship.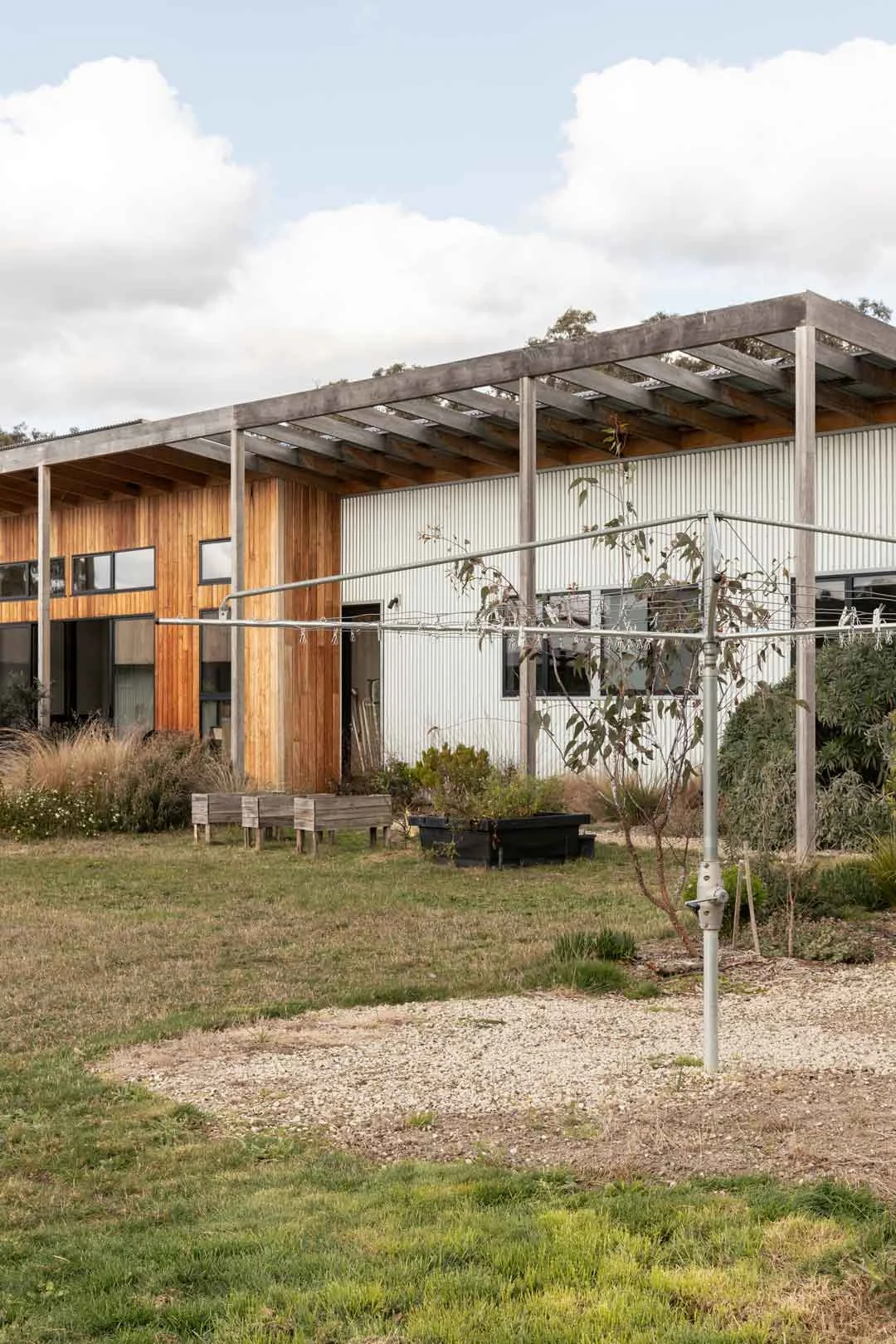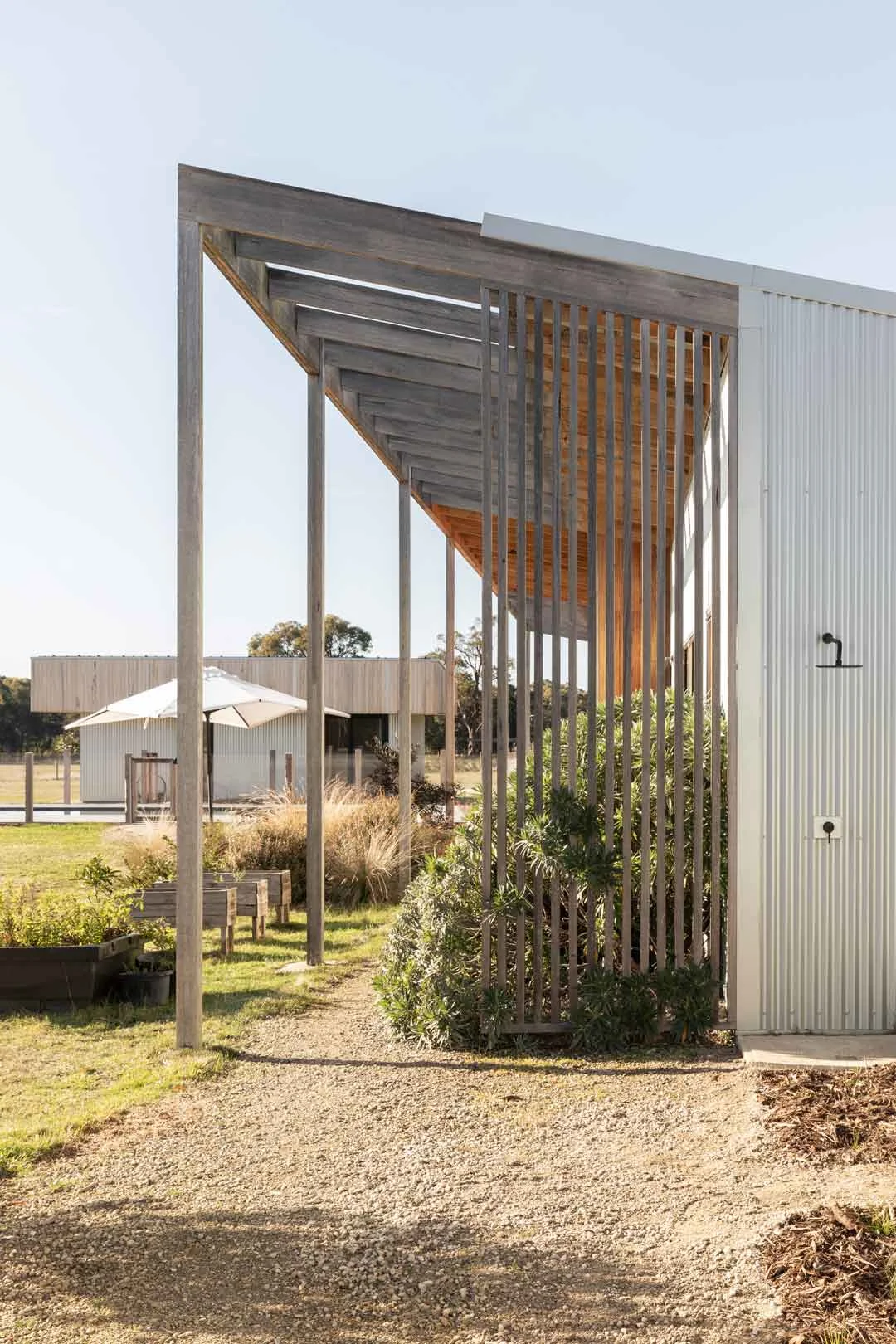 Driftwood is a reminder that house design shouldn't hyperfocus on featurism. It should leverage creative excellence to synergise people and planet for mutual prosperity.
Living each day where you can look around at each architectural choice, knowing it was made out of care, embeds a tenderness into each laugh around the dining table or walk in the hallway. It's much more than just a tree-filled backdrop.
Great design elevates the visible while enriching the invisible — feeling. And if Driftwood is anything to go by, we think The Sociable Weaver are great designers.
Want to learn more about designing for off-grid living? We chatted to Fallow Ridge Retreat in New Zealand about how they approached their sustainable accommodation.