Pros and Cons of Outdoor Showers and Baths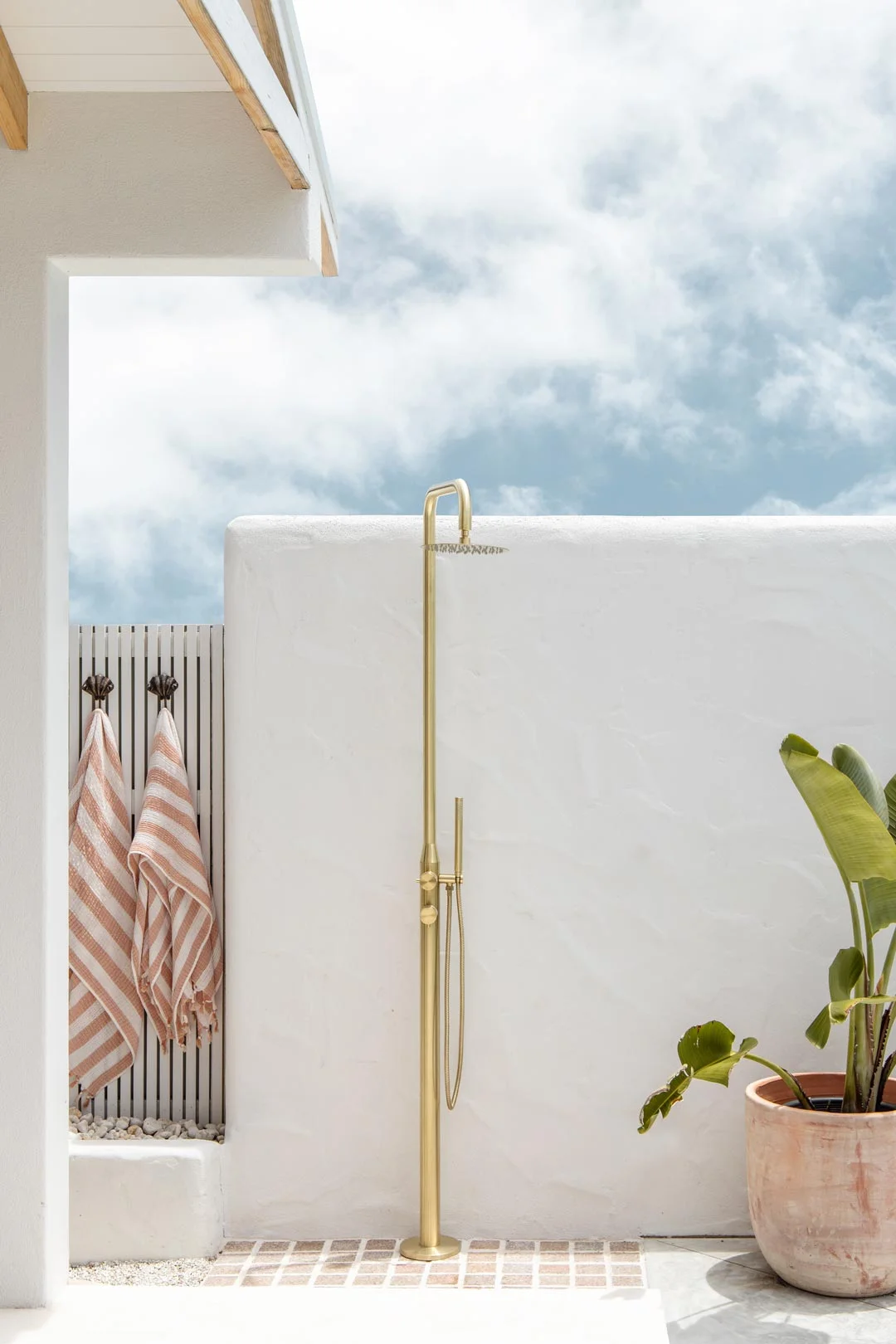 As the mercury rises, outdoor bath and shower ideas start to come into the renovation psyche. These are advantageous additions to an outdoor space that denote a sense of luxury and connection to the outdoors — in a way that indoor counterparts can't replicate.

If you've been mulling between outdoor bath and shower ideas and are unsure of which direction to go in, this article will provide pros and cons for each option, along with some creative design prospects.
Outdoor Shower Ideas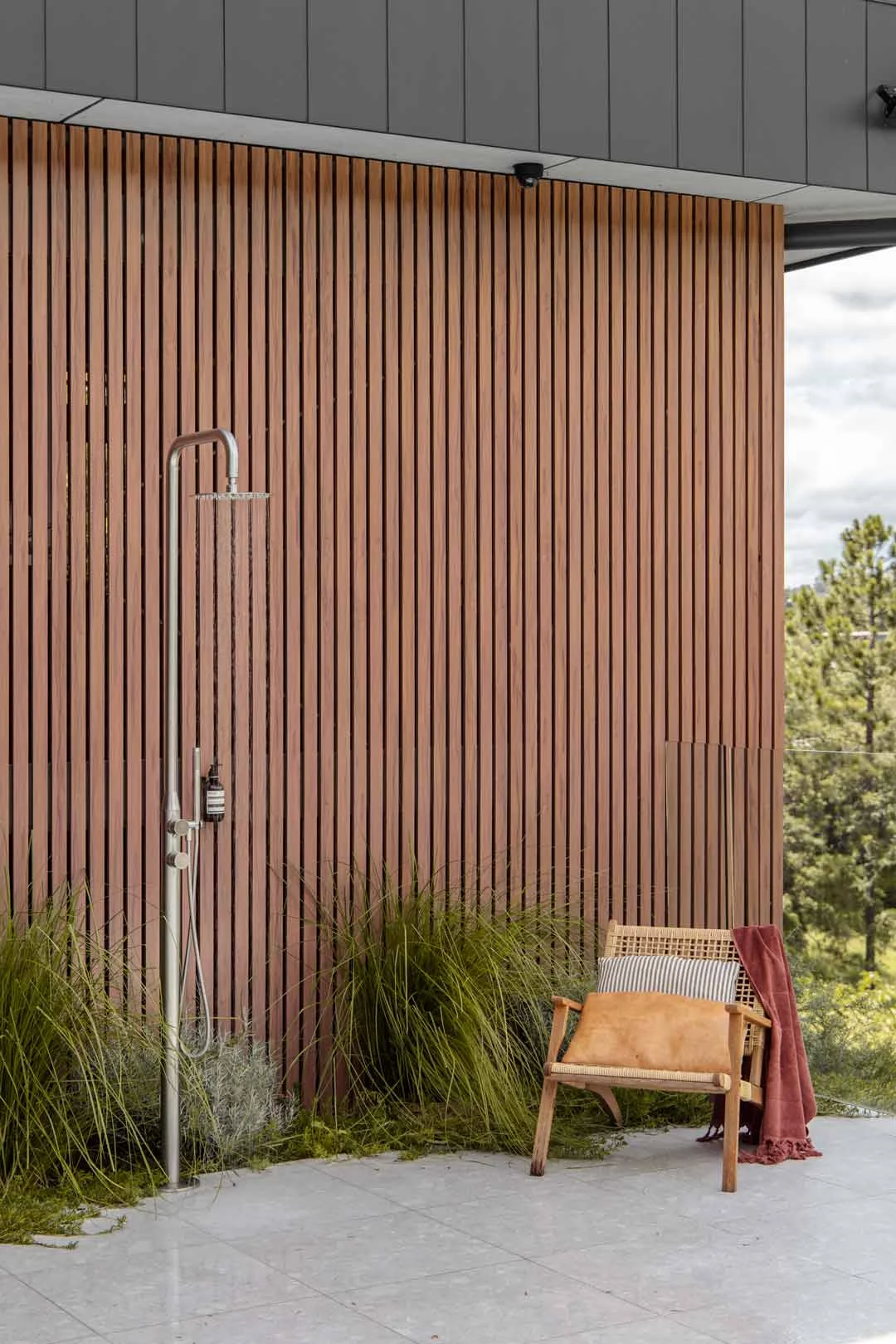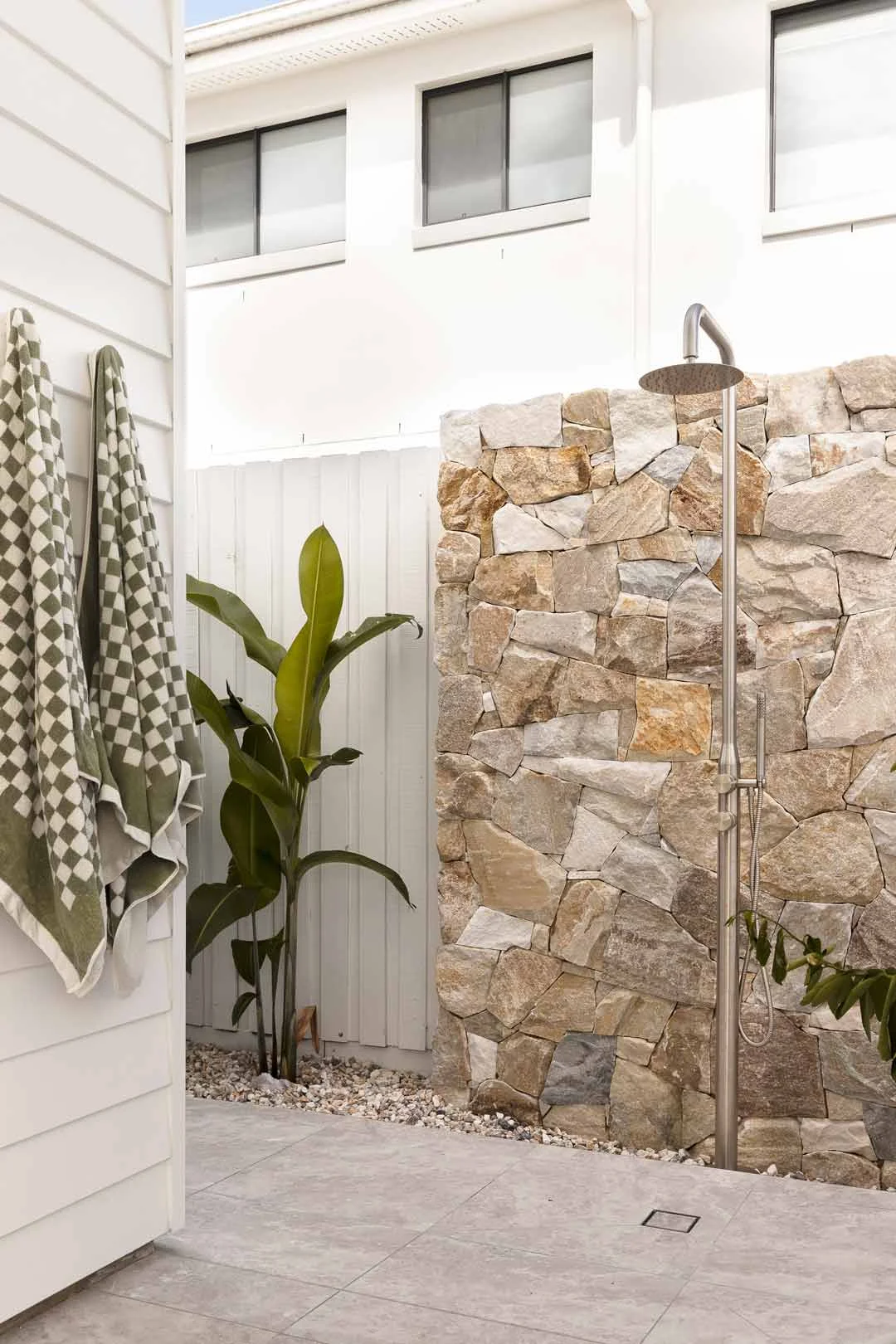 An outdoor shower is a bathing facility often located in a side passageway or backyard. It typically features a freestanding rain shower set up with drainage and may include an enclosure for privacy. They're primarily used to wash off dirt, sand, or chlorine before entering the home — an incredibly advantageous option for coastal regions.

Popular outdoor shower ideas include a Mediterranean style with rendered walls and brushed brass shower set or industrial-esque brick walls paired with stainless steel outdoor fixtures.

For more outdoor shower ideas, view our dedicated Pinterest board to inspire your next outdoor reno.
Pros
Easy Maintenance: Outdoor showers are slimline and hardy fixtures, which makes them easy to maintain. They are less prone to collecting leaves or dust like their bathtub counterpart and only requires a quick wipe-down from time to time.

Water Conservation: Due to the nature of showers in general, they tend to be a fixture that isn't used for an extended period of time and use less water when compared to baths. As an extra bonus, excess water can also run into surrounding gardens.

Versatility: Outdoor shower usage extends beyond just leisure; you can wash off pets after the park, clean gardening tools before they head into the home, or clean sandy boards from a day at the beach.
Cons
Privacy: If you plan on using an outdoor shower in the same token as an indoor shower, it's important to make sure you have adequate provisions for privacy. Backyards are exposed places, so it's important to know how you're going to keep your shower time sheltered.

Temperature Constraints: For regions with particularly cold winters, an outdoor shower may not be the most logical addition to your home. It may make for an uncomfortable showering experience, or even result in a long period of unused.

Limited Functionality: While able to provide quick rinses and washes, they cannot compete with the subversive element of baths and pools. This may not be the ideal selection for those wanting to bathe longer outdoors.
Outdoor Bathtub Ideas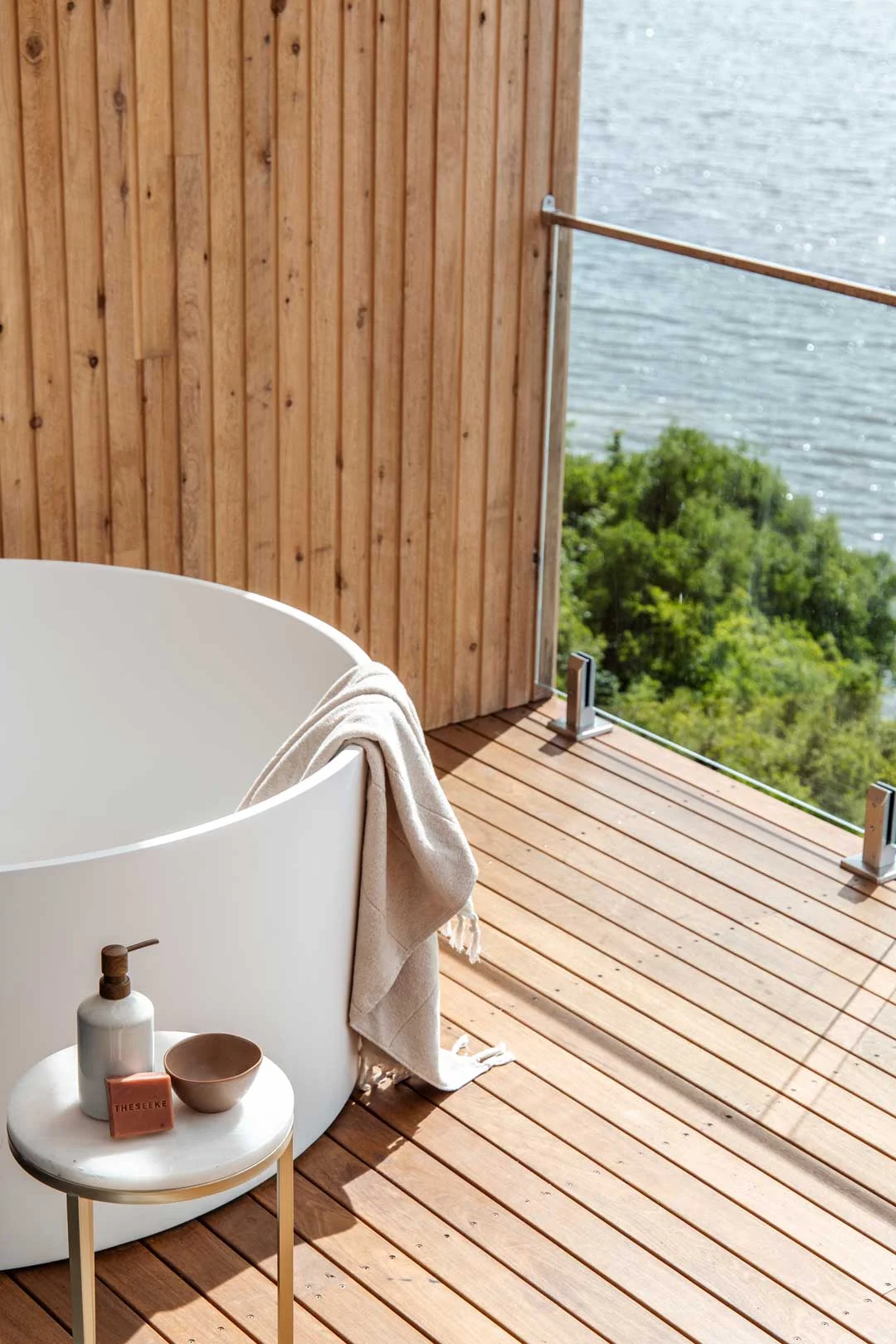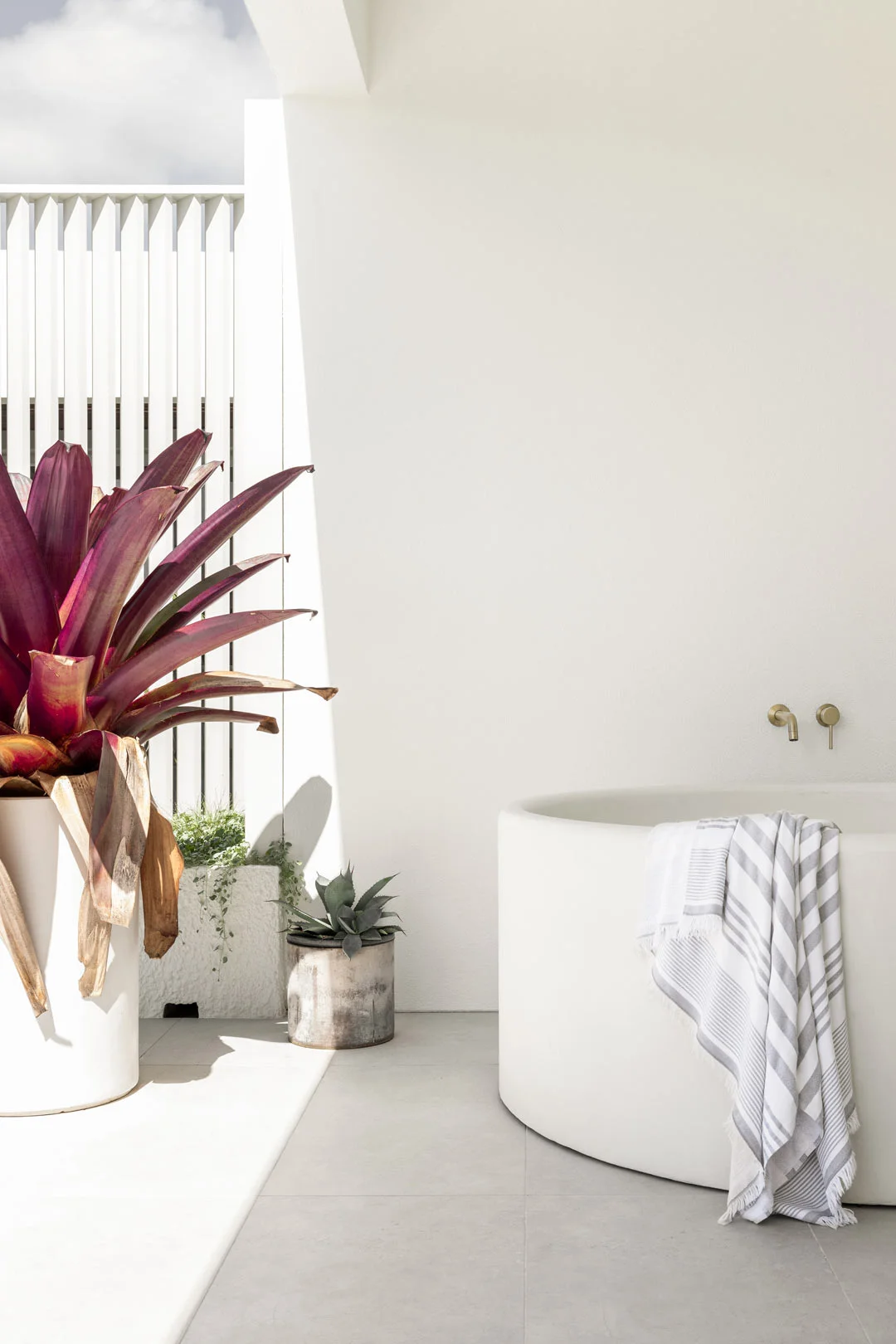 An outdoor bath is a tub that is specially located outside to enjoy open-air, nature-connected bathing. Typically fixtures are wall-mounted either on the exterior of the home or in a freestanding manner in a chosen location. They can suit both warm or mild climates and are primarily used for leisure.

Outdoor bath ideas may include an acrylic bath paired with brushed copper fixtures on a timber balcony or a rustic concrete bath with a shower set — just like in Camillo House.

Pros
Very Relaxing: Nothing compares to unwinding in a bath outside. Surrounded by scenery and sounds, it provides an unparalleled moment to dip into the senses and experience the outdoors.

All-Year Enjoyment: Depending on the setup or enclosure you create, your outdoor bath can be enjoyed all year round. Typically installed with hot water capabilities, this means that even in cool weather, you can still have a comfortable bath.

Visual Appeal: As it's quite a rare addition to most homes, an outdoor bath has a strong visual effect that serves as a striking centrepiece.
Cons
Water Consumption: Baths, in most regards, generally use more water than showers, particularly if one prefers to fill up the tub substantially. In areas with regular water scarcity, this may not be the wisest addition.

Costly: Creating an outdoor bath area with all the necessary plumbing (e.g. hot water), enclosures, space, and fixtures may be more expensive than an outdoor shower setup.

Cleaning: Due to its large surface area and typically light colour, bathtubs tend to catch and show dirt more apparently. Even enclosed, wind can still deposit debris into the bowl.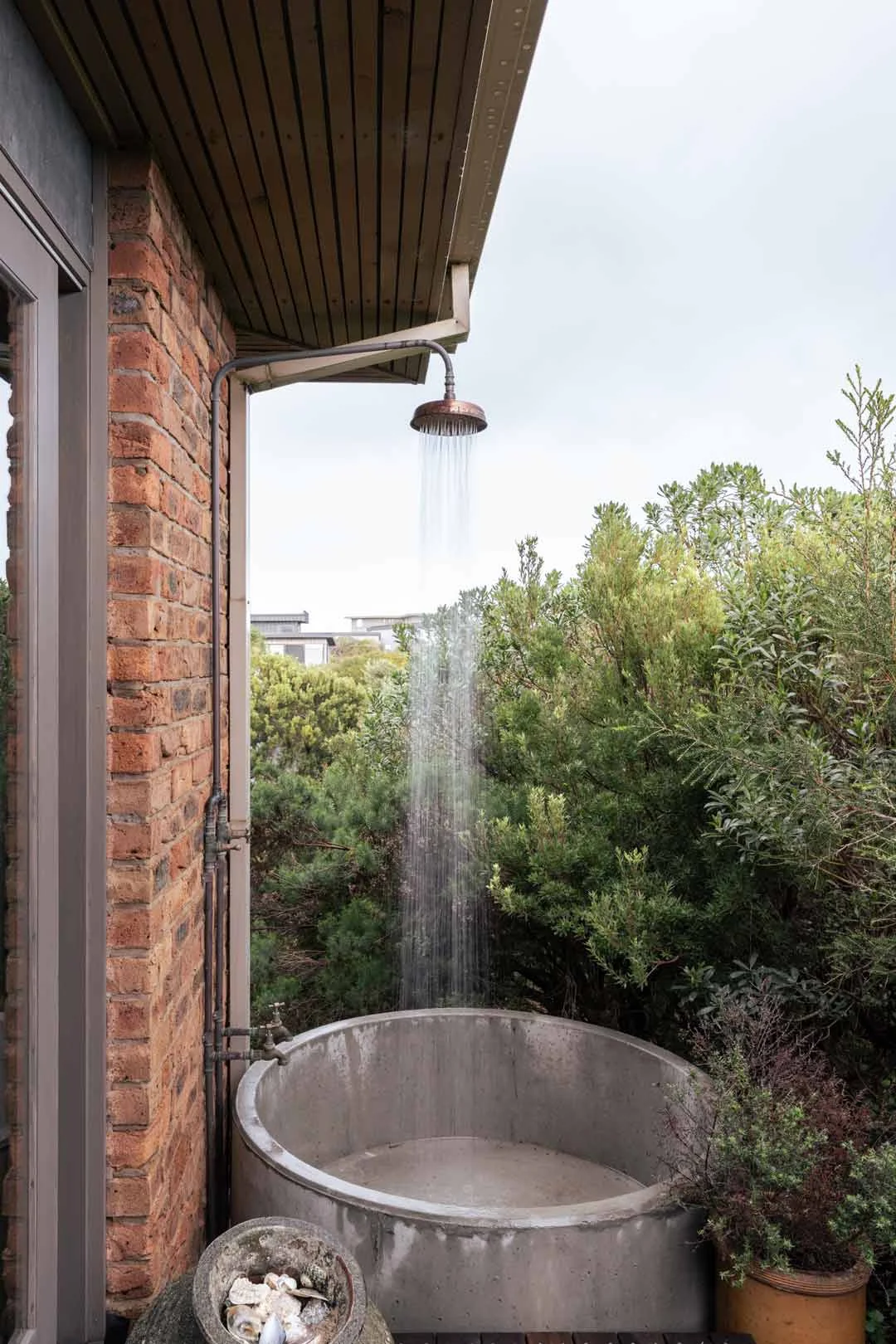 Amongst the listed outdoor bath and shower ideas, along with their pros and cons, could you see which one fits your circumstance better? Ultimately, it comes down to your personal preferences, available space, budget, and climate — amongst other necessary criteria. Whichever you decide to install, it is certainly a meaningful addition that connects you with the outdoors.
Want to see another pros and cons list? Find out if you should choose a built-in or freestanding bath.